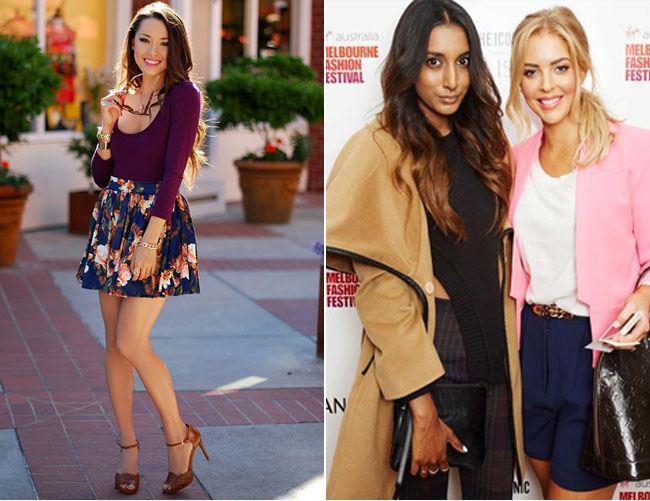 College days are one of the best days in a youngster's life: Those heady parties, those fun weekends and those evergreen days…Aah! College days. Sadly, one of the biggest things missing in a college student's life is 'money'! Yes, every student is on a budget, and going overboard on that budget means a month of misery! But a proper fashionista won't let money come in her way of a perfect outfit! Yes, there are brands which are cheap, affordable and trendy as well. Wondering what to wear on first day of college? Worry not! Keep track of these brands and be fashion forward always, without of course going overboard on your budget!
Forever 21
One of the most affordable fashion brands, you don't have to be 21 to shop here! It is one of the trendiest stores for latest in fashion. So shoes, dresses, skirts, tops, jeans and even accessories! This store has almost everything a college going girl would want in her wardrobe. What makes this store a favorite with a lot of youngsters is the sheer variety. From pastels and florals to rocker chick outfits – you name it and they'll have it. And even after you have shopped for a whole week's worth of clothes, you won't really burn a hole in your pocket!
Asos:
Asos is every college-going girl's dream come true. They possess fashionable and affordable clothing, and have worldwide shipping and are a rage in India here. There is literally an ocean of clothes and accessories and shoes in their online stores. It has no doubt the largest collection of apparels for both men and women and on a varied price range. So, whatever trend you would like to channel this coming week, don't worry, Asos will have you covered. The shipping procedure in India is a little tedious, but once your Asos parcel arrives from all the way, you would know that it was worth the wait!
[Also Read: Fashion Brands In India]
River Island:
Though this brand does not really have a store in India, you can buy their stuff online. River Island is a European-based retailer and has one of the trendiest items at a very reasonable price. They also have an option for student's discount. So, haute couture can be right at your doorstep with River Island! A lot of well-known celebs design lines for this brand. Rihanna is the latest to join the bandwagon. You can find her fierce collection on their website. River Island is definitely best affordable fashion one can ever ask for.
[sc:mediad]
[Also Read: Summer Fashion Guide for College Freshers]
Dorothy Perkins:
UK's favourite high street fashion brand has tied up with Jabong to deliver some of cutest dresses for the fashionably conscious here. The all-encompassing range of dresses makes it a favorite with college youth. Their denims and shoes are also very easy on the pocket and a lot of college students love to buy Perkins' stuff. Dorothy Perkins' USP is feminine dresses which are styled in the most chic way possible. They are casual staples and some of them can also be worn for formal occasions. She has a hint of formal in most of her designs.
Vero Moda
Vero Moda's classic style is very chic, modern and sometimes a little Boho. Not only does it have apparels for daily wear, but you can also trust Vero Moda to come up with an iconic dress that you can wear for a night out with your buddies. It's easy on the pockets and has some very trendy apparel to suit all your needs. Don't forget to check out their denim section!
Zara
The largest fashion retailer in the world is often confused as a very expensive place. College students shun this place completely. Yes, I agree, Zara is a little expensive when it comes to buying a good jacket or a formal blazer, but for jeans and tops, this place is quite a steal. Don't forget to check out the place when they have a sale!
Budget-shopping made easy for you! These brands have some of the best outfits and they stock up the latest in fashion. The best part: You won't be broke after a trip to one of these!
[Also Read: Online Shopping Guide]