Lockets are a fashion accessory paired with a chain that looks very elegant when made of gold. They have garnered a lot of attention due to the upcoming designs it can incorporate within itself making it look more contemporary. Gold locket designs can be worn with any outfit and on any occasion. Gold locket designs go well with any kind of skin tone. Mostly a locket made of gold is chosen to withstand durability.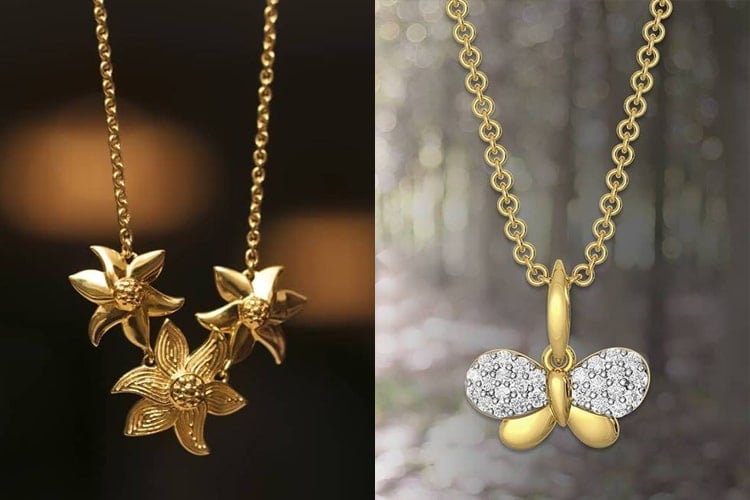 Gold Locket Designs:
Having a neutral or warm skin tone will make you look beautiful in a gold locket. Here is a list of some gold locket designs that will make you look charming and increase your confidence as well.
Heart Shaped Gold Locket Design:
This type of gold locket design will never get outdated as it itself is a very classic piece of locket design. A heart-shaped gold locket design comes in different sizes that can be small, medium or even large. It also comes in an open style where you can store the picture of your loved one. Choose the shape that will suit you best and flaunt your heart-shaped gold locket designs with price.
Gold Locket Design With Stones:
A gold locket gets an extra essence when a precious stone is embedded on it. They can be a pearl red stone, blue or even a green stone. These types of lockets get a very classic design as they are timed back to the Victorian style of wearing lockets.
Gold Locket With a White Stone Design:
These locket designs are always modish and are a choice for women of all age groups as they speak elegance. The white stone at the center of the gold locket can be a calcite, a pearl or a diamond. It is the perfect type of gold locket that can be gifted at any occasion as it is a favorite design of all ladies.
Gold Locket Set For Women:
If a gold locket comes with a pair of earrings, it is a hit among all women. This type of gold locket design can be either simple or a bit ornamented to keep up to the look of the occasion. The designs of such gold lockets come in interesting styles like hearts, butterflies and even stars. The set of earrings complete the look of the locket that beautifies a woman's look further whenever she wears it.
Golden Spheres Locket With a Gold Chain:
This type of a gold locket design can make eyes fixed at the sphere design because usually it comes as a golden sphere with some precious stones studded on it. It makes a woman stand out of the crowd when she wears it as it effuses a lot style, splendor, and grace.
[sc:mediad]
Gold Locket Design With Glass:
These gold locket designs have a vintage look in them as they have a beautiful painting in the glass part located at the center of the locket. These designs have a different appeal which speaks a lot of an epoch era. They are also very stylish and go very well with outfits fit for a vintage look.
Gold Locket Design With Photos:
These gold locket designs are always a welcome for many as they can keep the photo of their loved one into it. It looks fabulous with a different outer design, and when one opens it, one can see the photo of a loved one inside it.
Rose Gold Locket Design:
Rose gold is an alloy of gold and copper which has gained a lot of fame because of its elegant look. These gold locket designs come in very soft hues and are not for daily use. They are a bit costly but give a unique look as are not too common and emit a lot of grace.
Gold Locket With Evil Eye Design:
These gold locket designs are a common sight today. Some wear it for casual fashion while many wear it as a sign to ward off any ill luck coming to them. They are now not only worn as lockets but also as small gold earrings, pendants, and even the gold ring with stone.
These are some up to date gold locket designs that are a must accessory in every woman's list of styling ideas.