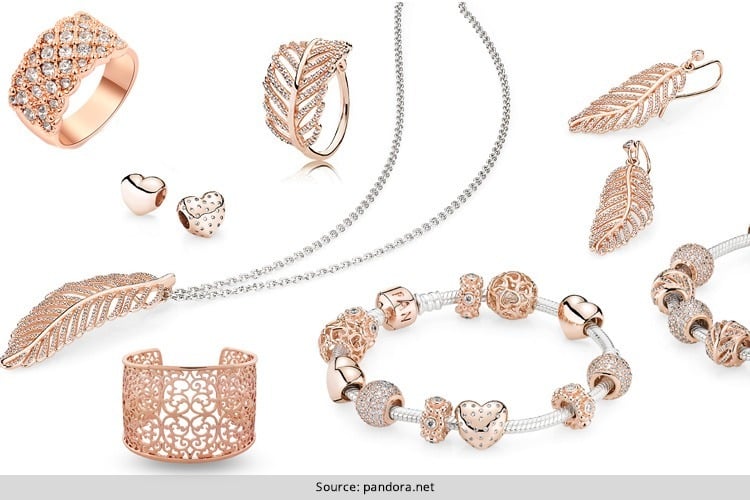 Quite a feminine touch it has, very trendy and pretty too, but not the easiest tone to match up with, rose gold accessories for long has been a confusing hue for PYTs that want to wear accessories in that shade, but don't know how to where it trendy.
[Also Read: Intricate Rose Gold Ring Designs For A Would-Be Bride]
You may have fallen head over heels for a Michael Kors Rose Gold watch, however are hesitant to pick it because you are unsure if it would match your wedding trousseau or not.
Rose Gold Jewelry Trend – Get To The Experimentations Now
With rose gold accessories, the best part is that the accessory can be worn very close to the skin without hesitation; there goes your fear. It is the first thing that everyone would notice, in addition to the outfit you would flaunt.
Use your love-intuition when picking rose gold accessories, a color that soothes and compliments your skin tone.
We have warm and cool skin tones, and rose gold jewelry chosen in accord to that would be the best thing to do. Here's how.
If You Have Cool Toned Skin
Pick rose gold jewelry trends that have opal, aquamarine, rubies, emeralds, zircon and tanzanite on them for an elegant hue to match your skin tone with to come through.
If You Have Warm Toned Skin
You would want to choose rose gold jewelry trends that have fantastic designs embossed with citrine, alexandrites, morganites, rubies, yellow diamonds and garnets.
[Also Read: Pure Gold Jewellery Design]
Not Just Silvers And Golds
In Indian homes, mostly we would see the reign of silvers and golds as neutral shades that can be worn with just about anything. While the same is absolutely true, there are gold accessories necklace, earrings, midi rings, wristlets, anklets, kamarbandhs, passas, maangtikkas et al, made in rose gold hues and as fabulous as ever too.
You could wear dark shaded stones embossed on rose gold numbers, since the dark hues enrich the brightness of the metal and the richness of the golden hue.
The metal itself is a warm colored tone and lesser glaring than that of yellow gold. So if you have to wear gold and don't want the stereotype hues, choosing rose gold would be your best bet.
[sc:mediad]
Why Is Rose Gold Gaining Popularity?
To be honest, the metal shade is an amazing one which helps accentuate the mushy undertones it provides. In addition to that, rose gold can match up with the myriad range of Indian skin tones, and doesn't look harsh when worn during the day time parties or the night time sagas.
The hue is soft but it does make a statement, and you can pair it with charcoal shades to khaki, nude to neutrals, corals to turquoise, and browns to coppers and peaches to pinks too.
One could also try wearing it as a mix and match routine, for example, gold hair accessories with rose gold wristlets and watches.
One could also make a statement wearing long dangling gold hair accessories for Indian weddings, paired with extra long chains for the neck in pure gold. Opulence defined and you would be the stunner for the big day, everyone would be talking about in high notes.
Combining silver-gold bangles with rose gold jewelry or copper gold bangles with rose gold hair accessories for your wedding too can make a fashion statement, only if you are willing to whole heartedly experiment and complete a look.
Go Nude With Love
With the gold accessories for women we mean and not otherwise. You can embrace the hues of rose golds to bring about a feminine and a very soft touch. This means going nude color wise, which would help you pair up the wedding lehenga in creams, taupes, pinks to peaches and corals too very well.
Do let us know how you liked this post on rose gold accessories for women, and also the statement pieces we showed you right now.
If you are thinking of being the outstanding one amongst friends at your wedding or some special event, it would be the dance of gold accessories for women that would help you stand out and stay pristine!