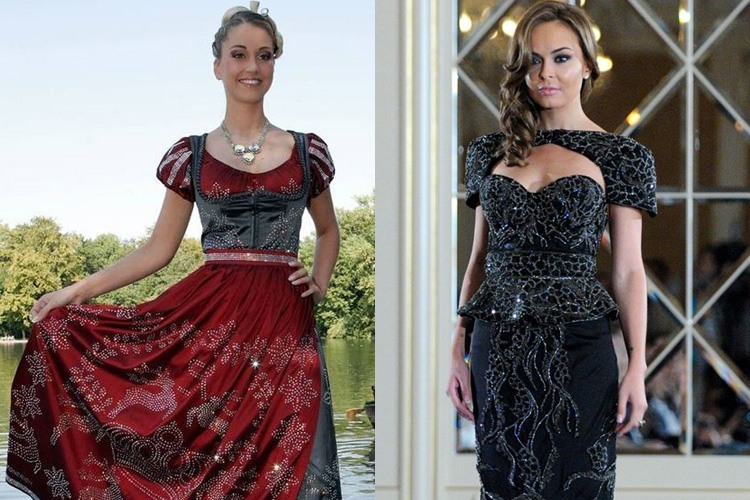 One thing that interests us ladies the most are the outfits worn and designed by various personalities that somehow get remembered throughout time. It is difficult understanding how some outfits can cost a whole lot, but there are! So want to know which outfits have made a mark in history so far? Read on to get an idea of the most expensive clothes, from the costliest to least.
[Also Read: Most Expensive Lipstick Brands]
Most Expensive Clothing Ever
What makes these clothes so pricey is the diamonds and rare rocks or stones that are utilized in creating them. Below are some of the most expensive clothing ever.
1. The Swarovski Crystals Evening Dress – approx. INR 204 Cr.
This is by far the most expensive clothing made in this world so far and is priced at a whopping Rs. 204 Crore ($30 million). It beautifully created by Faiyzali Abdullah and it is an evening dress composed out the following materials – taffeta, satin, chiffon and silk. Plus, it is sheathed with a 70 carat pear shaped diamond and exactly 751 Swarovski crystals. It was displayed in the "STYLO Fashion Grand Prix KL" festival, in the year 2009.
2. The Diamond Studded Abaya – approx. INR 119 Cr.
This wonderful design is the highest priced "abaya" or Muslim dress in the world and is also the 2nd most expensive outfit. This abaya was created in Dubai by a designer from Britain Debbie Wingham. The dress is bedecked with 2,000 diamonds and they are black and white diamonds along with a red diamond. The red diamond is unique and rare.
[Also Read: How To Take Care Of Your Clothes]
3. The Weightless Web Outfit – approx. INR 61 Cr.
This 3rd ranked expensive outfit is in a web shape and is fairly weightless. It is lined with over 3,000 diamonds. This dress has a costing of Rs. 61 Crore ($9 million) had been adorned by the singer Samantha Mumbai in the year 2004 amidst the debut of the film "Spider-Man".
4. The Black and White Diamond Dress – approx. INR 37 Cr.
The second dress to make it to the top ten that has been manufactured by the fashion stylist from Britain, Debbie Wingham, and has been showcased at Kiev's fashion show. It is embellished with 1,000 black and white diamonds and got completed in half a year. The weight of the dress 29 pounds and is valued at Rs. 37 Crores ($5.5 million).
5. The Corset with Diamonds – approx. INR 12 Cr.
Embedded in this creation are over 2,000 diamonds. It has a distinguishing feature of a silk corset that has also been illuminated with diamonds. It was first portrayed at the fashion show of Maria Grachvogel. The worth of the dress is Rs. 12 Crores ($1.8 million).
[Also Read: Most Expensive Bollywood Wedding Dresses]
6. The Sequins Birthday Dress – approx. INR 8 Cr.
This dress has gone down in history as the first outfit to have a price over a million dollars. It was generated in 1961 by an American fashion designer Jean-Louis Berthaulto. It was spawned particularly for Marilyn Monroe who had adorn it on the event of the President John F. Kennedy's birthday party. The dress is beautified with gleaming sequins and Rs. 8 Crore ($1.3 million) was retrieved for it.
7. The Golden Coined Outfit – approx. INR 1.8 Cr.
Made by Ginza Tanaka, a jeweler from Japan, this golden dress was constructed by utilizing 15,000 gold Australian coins. This adds on weight to the dress and results to it being around 10 kilograms. The dress was displayed in the 2007 Fashion week in Tokyo and it is of Rs. 1.8 Crores ($267,948).
8. The See-through Wire Dress – approx. INR 1.6 Cr
Again, designed by Ginza Tanaka it is amidst the highest alluring evening dresses. It is see-through and constructed with gold wire. It carries a weight of 1.1 kilogram with its cost nearing a value of Rs. 1.6 Crores ($245,000).
[sc:mediad]
9. The Swarovski Crystals Corset – approx. INR 86 lacs
A costume influenced by Medieval clothes, made in Germany and displayed in 2006 in Munich. The costume is devised along with a corset and is veiled with Swarovski crystals. All this amounts its cost up to Rs. 86 lacs ($127,000).
10. The Silk Chiffon Dress – approx. INR 85 lacs
A wonderful dress created exclusively for Princess Diana by Catherine Walker. Princess Diana donned this silk chiffon ensemble 2 times. Once at the London opening night of the opera "Miss Saigon" in 1989 and again at the Cannes Film Festival in 1997. Rs. 85 lacs ($125,000) is the worth of the dress.
[Also Read: Most Expensive Handbags In The World]
Pretty mind blowing, right? These are the top ten most expensive masterpieces created yet. But who knows, what else will add on to the list. Let's wait and watch.