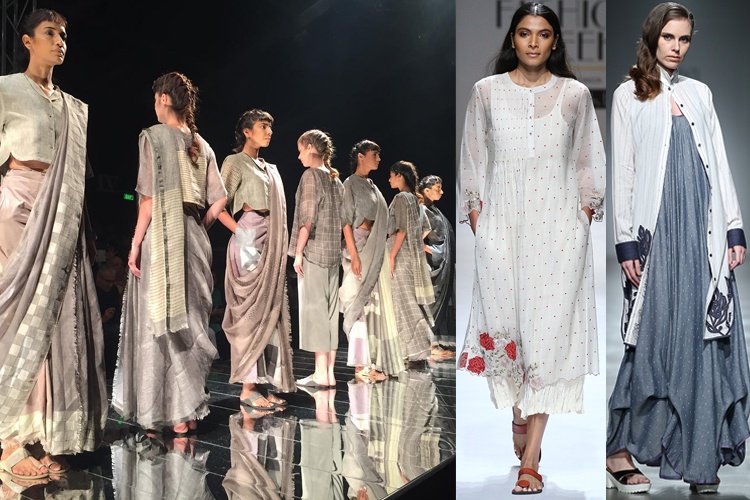 Day2 saw the AIFW SS17 raided with muted and monochrome tones with a burst of metallic shine. With organic fabrics ruling the collections the AIFW SS17 is turning out to be full of surprises.
Day 2 at the AIFW SS17 boasted of a power packed line-up:
Virtues by Viral, Ashish and Vikrant
Pinnacle by Shruti Sancheti
Prama by Pratima Pandey
Urvashi Kaur
Akaaro by Gaurav Jai Gupta
Anavila Misra
Payal Pratap
Abraham and Thakore
Nexa presents Ashish Soni and Rajesh Pratap Singh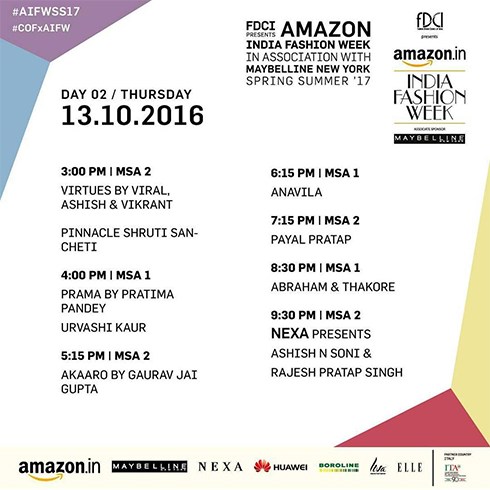 Virtues By Viral, Ashish And Vikrant
The opening show on Day2, unraveled a story namely, "Mrs Nair's Hi-Tea", which explored her love for traditional handlooms and weaves coming from Odisha. The designers interpreted and presented a collection based on the sustainable art of dyeing and weaving originating from the remote district of Kotpad.
[Also Read: Day 1 At The Amazon India Fashion Week SS17]
The models sashayed down the ramp wearing the organic fabric in its most contemporary form.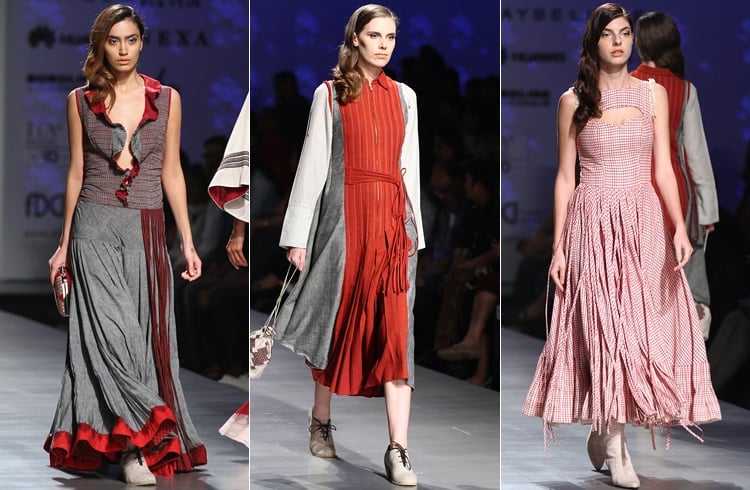 Pleats and A-line cuts gave definition to the collection. Set in the color palette of whites, creams, rustic reds, browns and maroons, every outfit reminded us of our roots.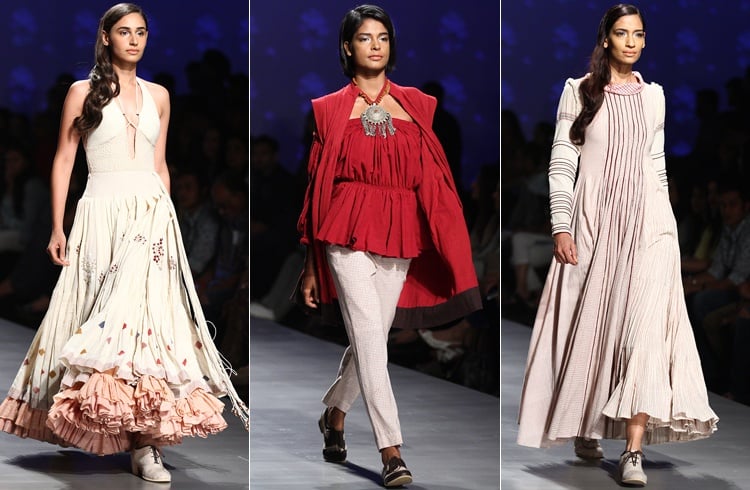 Leveraging a classic traditional meets modern combination, the designers created a wearable and breathable collection. Complementing the outfits was that dash of shimmer eye shadow and tresses let loose carried on one shoulder.
[sc:mediad]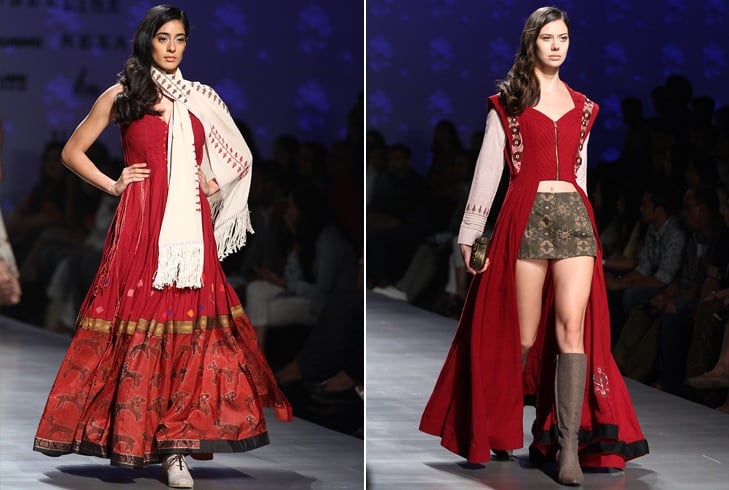 The highlight of the show indeed was singer and showstopper for the evening, Sona Mohapatra who charged up the ambience with her powerful notes.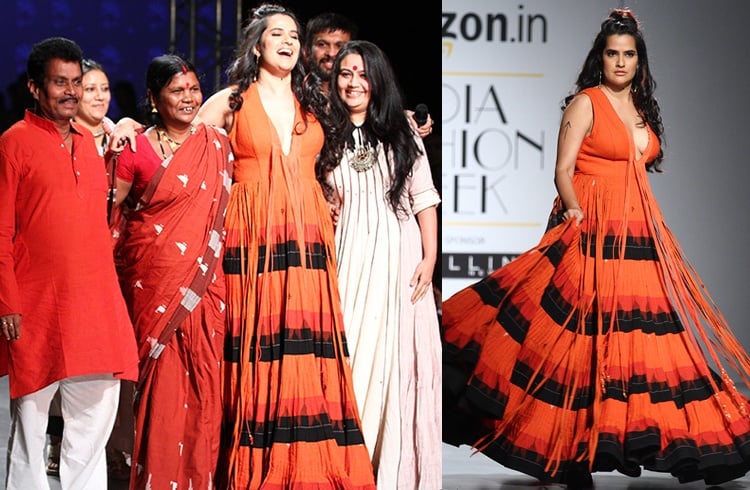 Pinnacle By Shruti Sancheti
Shruti Sancheti presented the collection "FolkFlaire" at the AIFW SS17 ramp. With traditional handlooms Shruti created a go-to summer collection.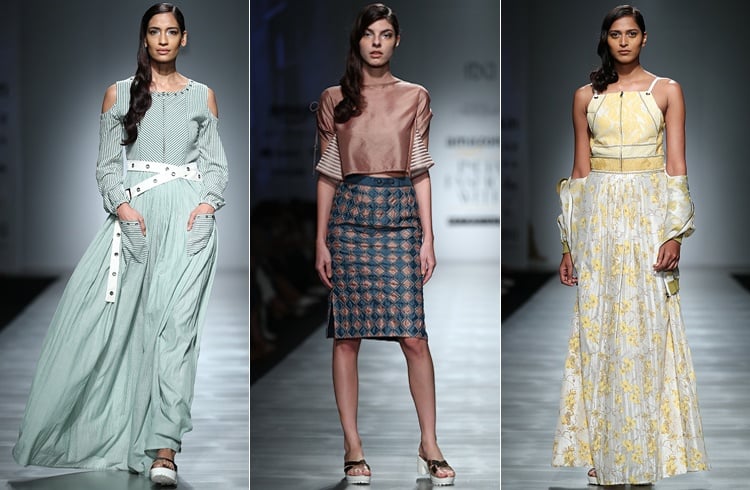 The show began with models walking in whites giving way to brighter hues of olive and blue. Delicate floral, flared bottoms and big pockets defined Pinnacle's collection.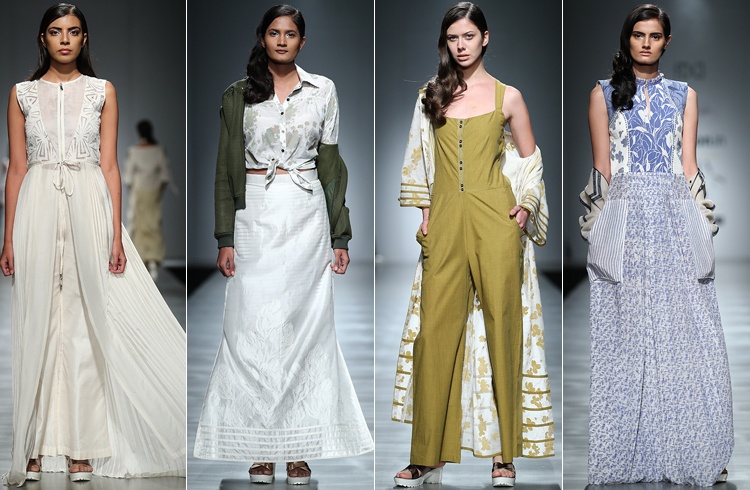 The collection spelled contemporary chic and every outfit could effortlessly make its way off the runway in real wardrobes.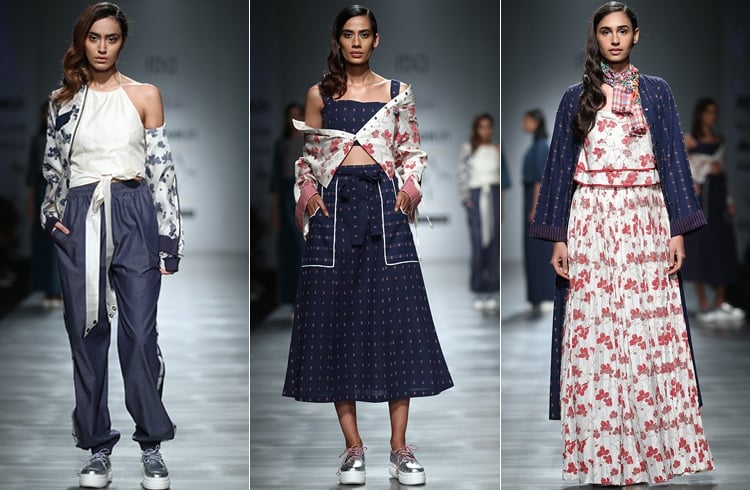 The eyeshadow and hair on one side elevated the overall look on the muses. Minute detailing's took the ensembles a notch higher on our radar.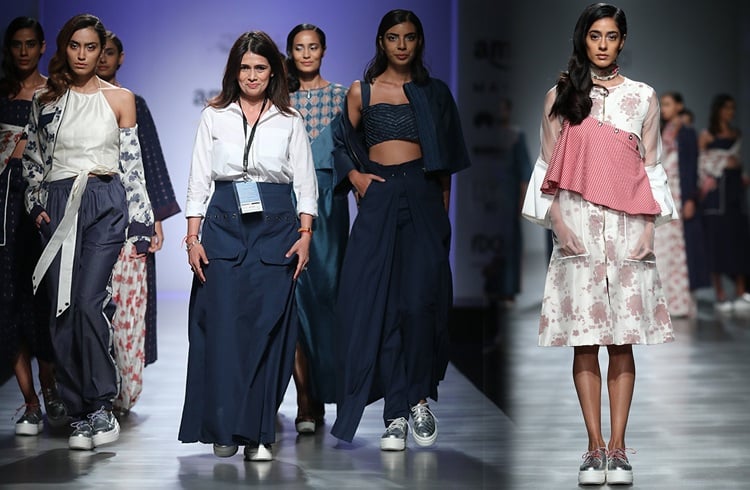 Prama by Pratima Pandey
Prama swayed us with her collection "A Thousand Pieces Of Love". The name says it all. Pratima brought together silk chanderi, sheers and floral with much love.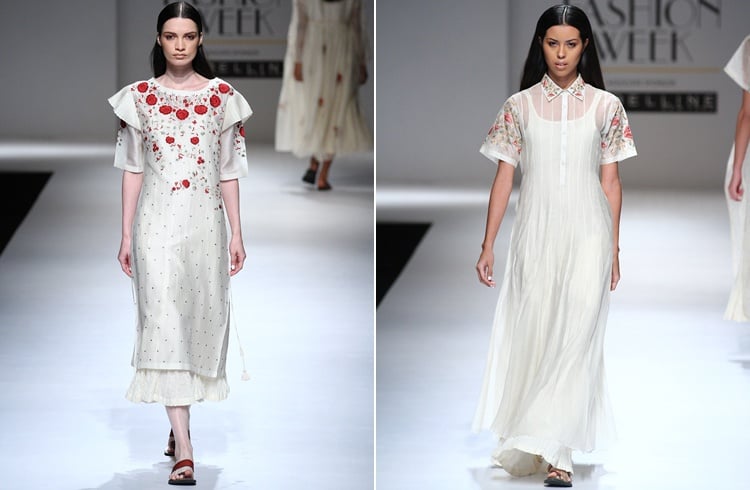 The collection was a rather romantic day wear with just the right mix of spring summer elements.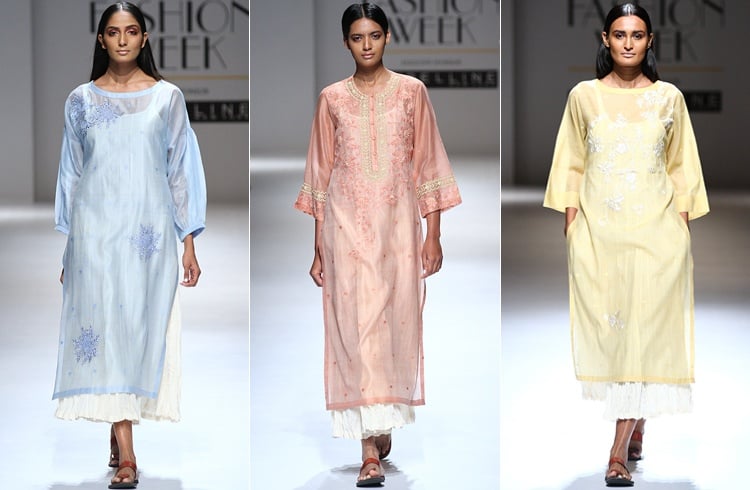 Whites and greys dominated the color palette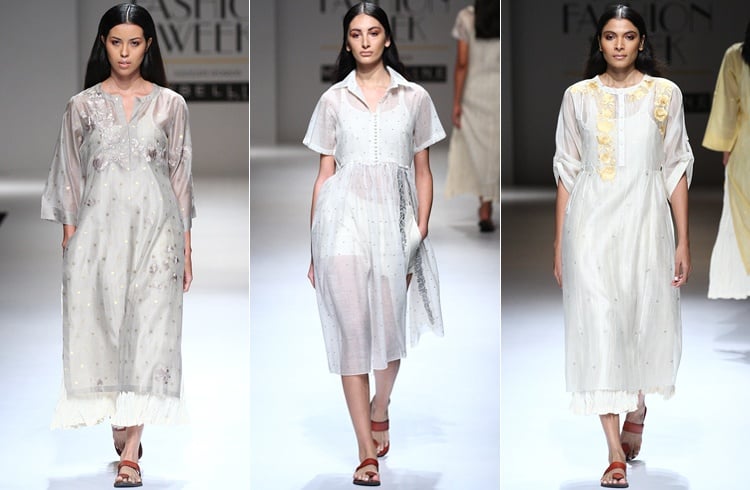 Small polka dots and round necks made a comeback with this collection. For slight variations the designer resorted to caplets and ruffled edges.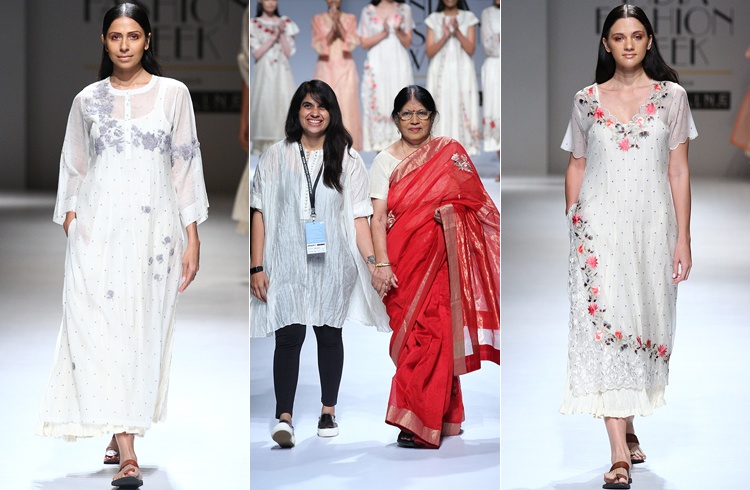 Urvashi Kaur
Urvashi Kaur is truly a glocal designer, who believes in sourcing locally and creating a collection that matches up to global standards. Urvashi endorses organic weaves, and for her SS17 collection "Kul" she resorted to indigenous cottons to weave a chic story.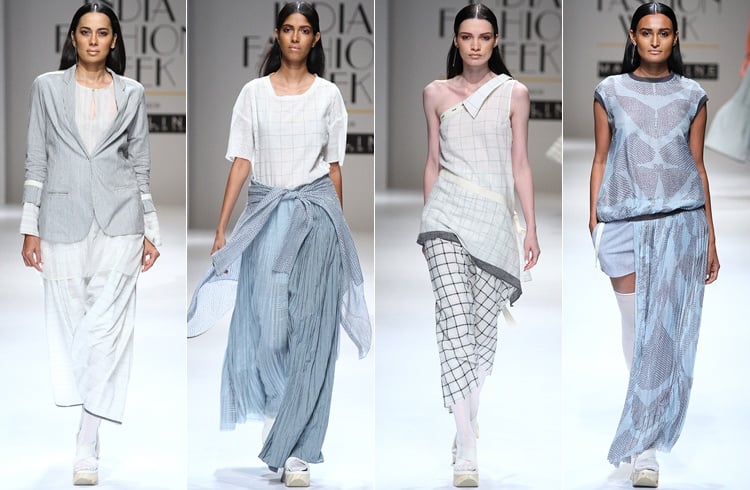 The handlooms dyed in pastel hues of brick red, blues and greys translated on to the ramp quite a stunning summer collection.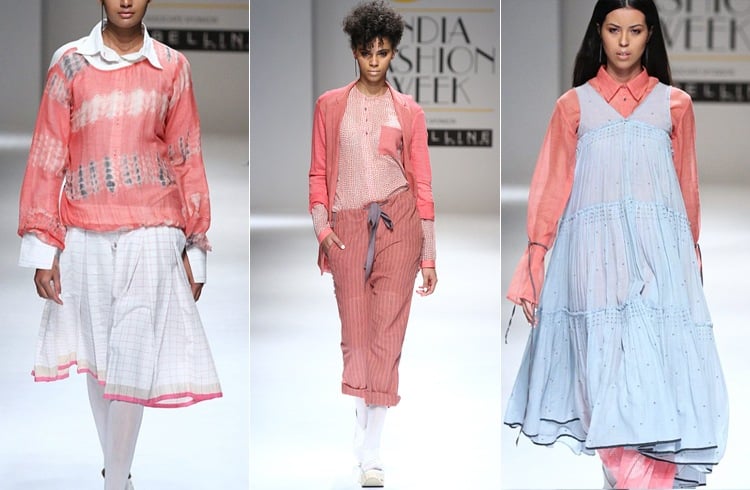 Layering occupied dominance. With her fabric dipped in plaids and prints, Urvashi created everything right from skirts, maxis, pant suits, kurtas and even sari drapes on palazzos.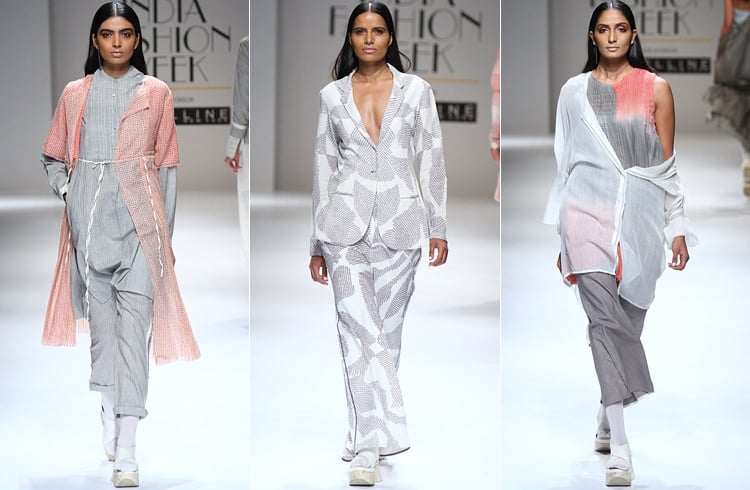 An exceptional collection yet again was presented by this Indian living foreign thinking designer.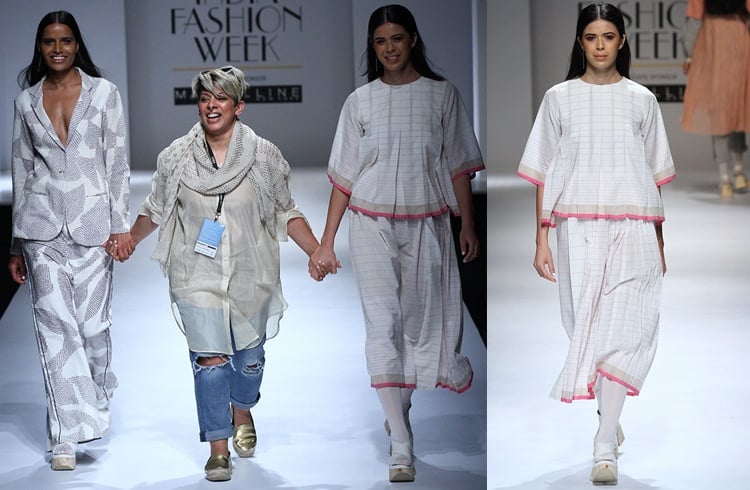 Akaaro by Gaurav Jai Gupta
It was ShowTime on the AIFW SS17 stage for Akaaro's Gaurav Jai Gupta who put up a splendid show with his rock star silhouettes.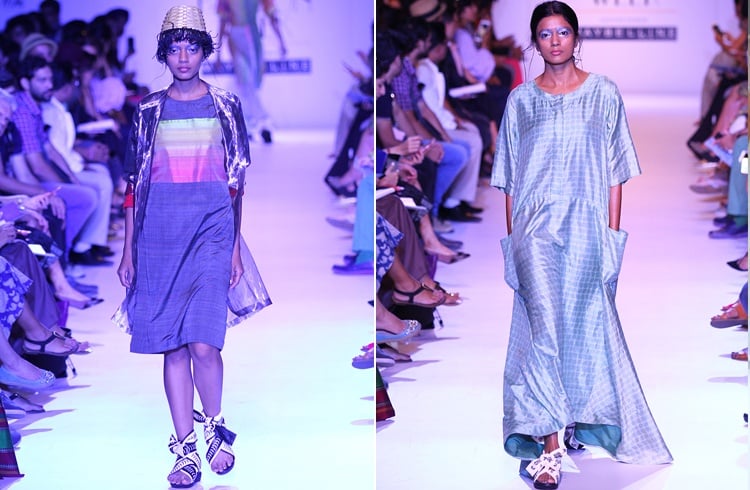 It was all metallic at Akaaro's show. The expertise of the designer to create something so splendid with handloom fabrics in fine blends of silk, cotton, zari, and stainless steel is indeed commendable.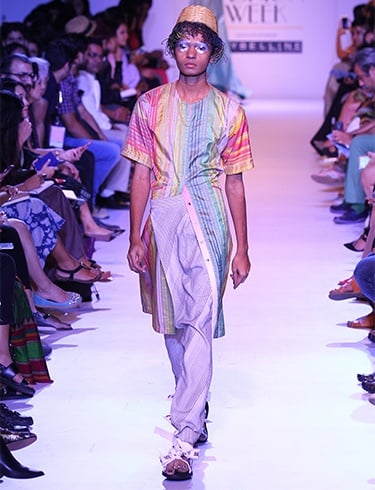 The glamorous collection boasted of bright colors, breathable organic fabrics and light weight garments.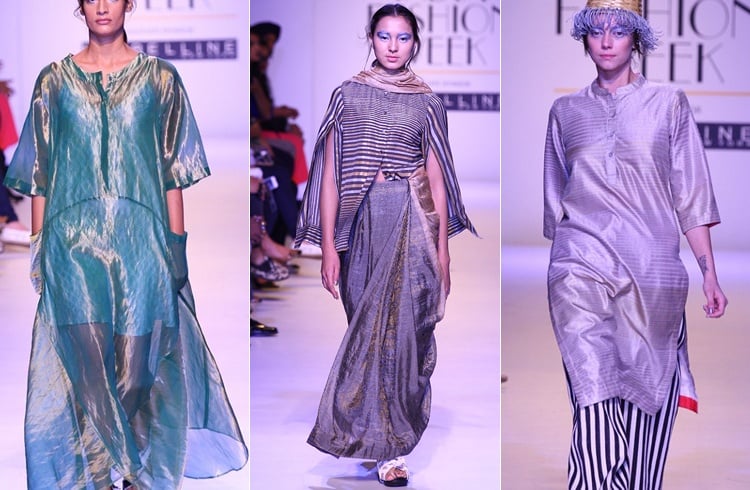 With contradictory colors put together with a heavy dose of stripes, this collection is surely not for the faint-hearted.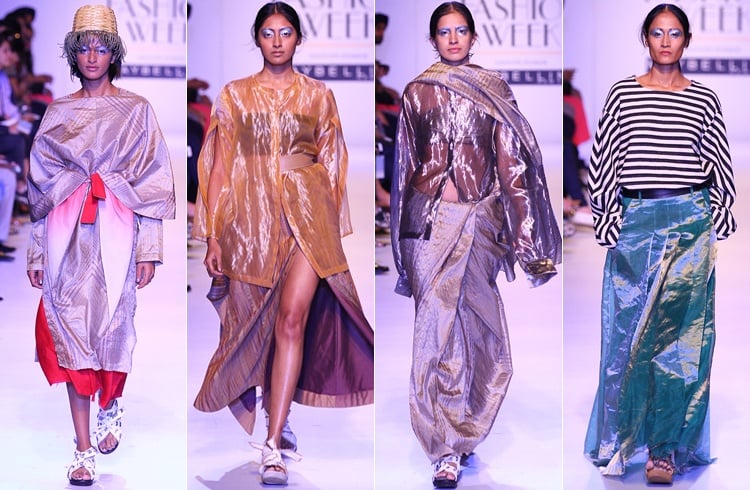 Simple structured silhouettes dipped in shine, made up for an electrifying performance. We particularly love his tryst with the sari.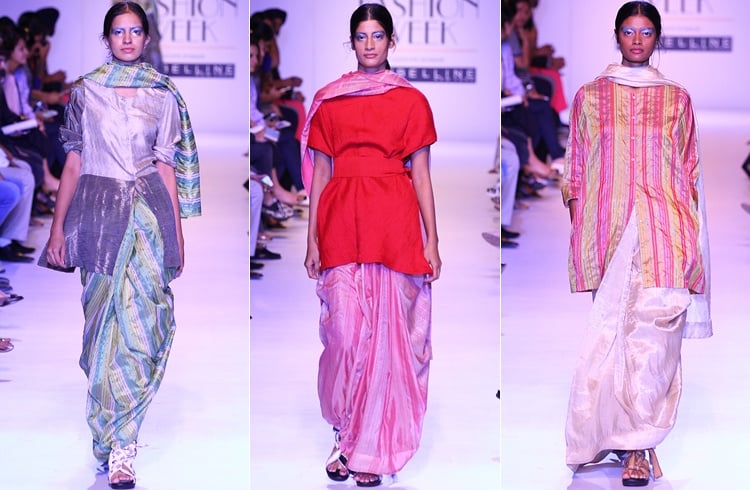 With OTT metallic eyes by Maybelline and that distinct fringed cane caps the designer presented a futuristic collection to rock the summers.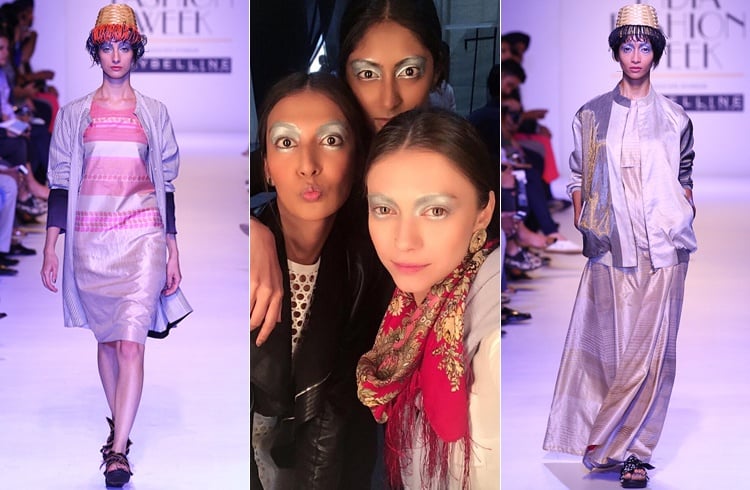 Anavila Misra
Anavila's "When We Look Back Tomorrow", showcases an evergreen collection which every woman will want to come back to, even after years.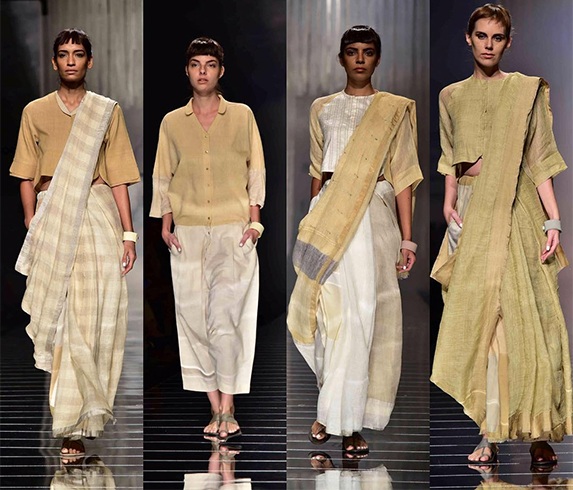 For this summer collection Anavila combined her favorite linens with metallic, in mostly natural dyes of rustic whites, beige and greys. Monochrome, plaids and a slight variation in the form of breezy jumpsuits, light jackets and cropped pants was seen too.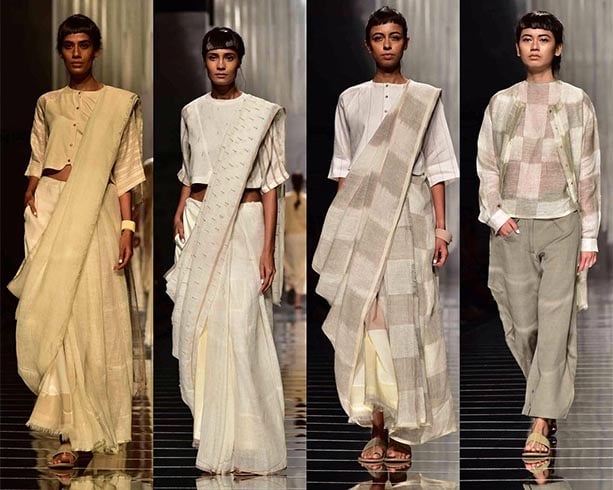 The petticoats created with pojagi technique which uses left over fabrics, observed some spotlight with their accessible pockets.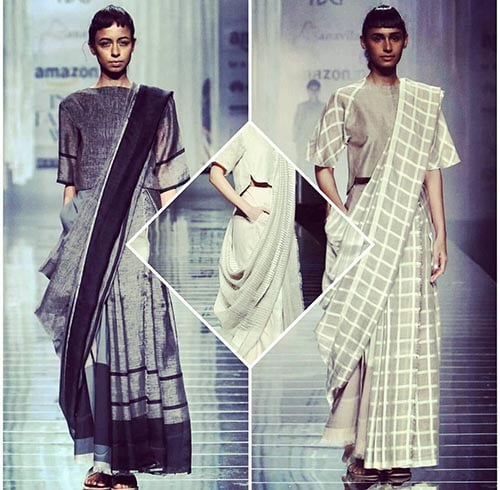 Bringing her signature saris with unconventional drapes, this time the drapes provide for more movement and ease. The boxy blouses elevated the chic quotient.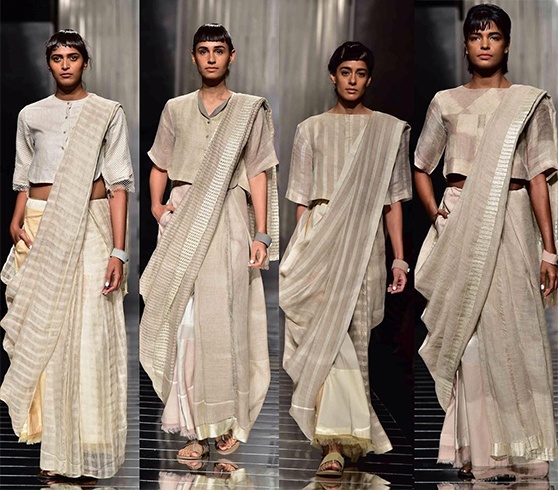 Braided hairdo and Maybelline makeup completed the look for the designer.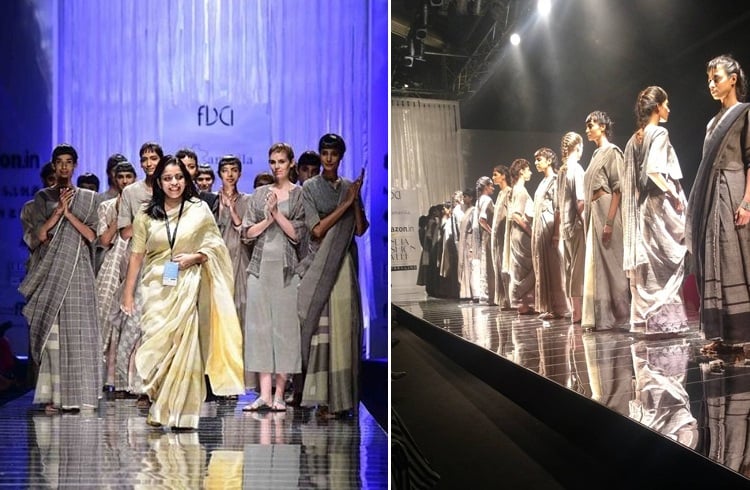 Payal Pratap
Payal Pratap's collection at the AIFW SS17 runway presented a parade of simple, fuss-free and chic silhouettes drawing it's inspiration from a global traveler.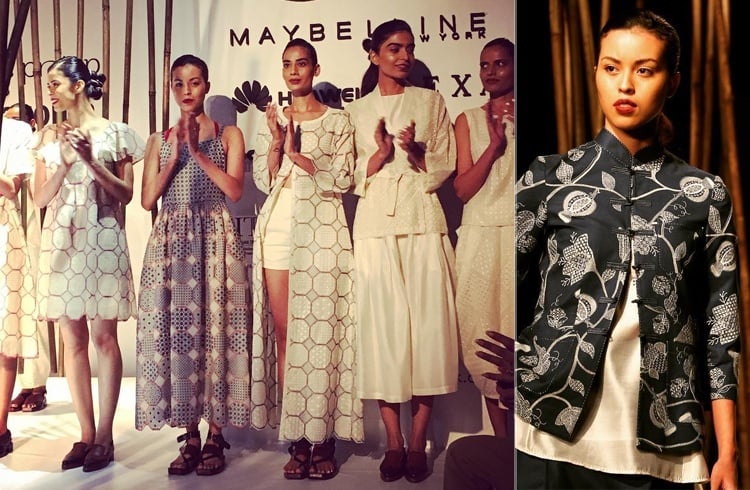 In mostly reds, whites and blues, the collection was weaved in rich cottons, silk chanderis and khadi.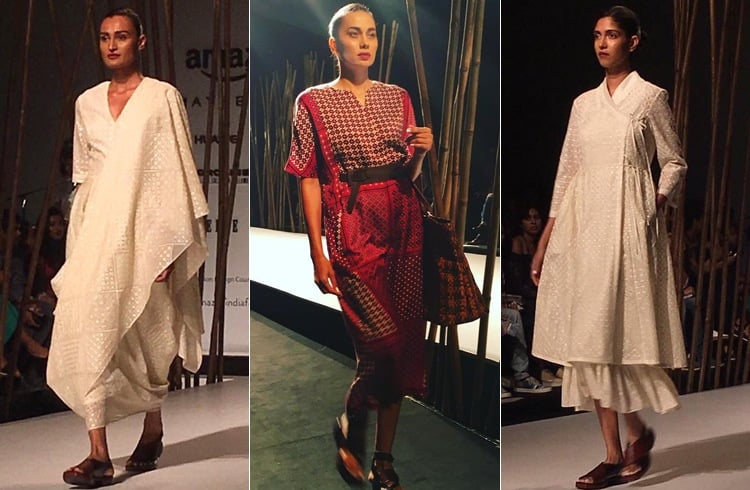 Payal showcased a comprehensive collection including saris, peplums, dresses, jackets, jumpsuits, dhotis and cropped boleros.
The embroidery was exquisite and the out stitches on patches and crochet patterns made for complete show stopping elements to be carried in the summer wardrobes.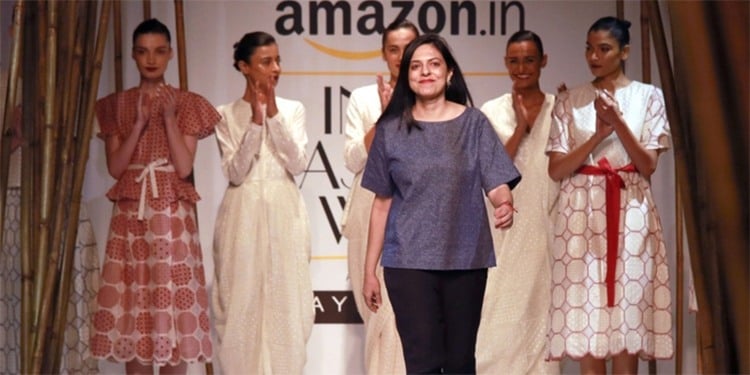 Abraham And Thakore
With their AIFW SS17 collection "Khadi", the designer duo explored the quintessential khadi fabric.
The collection presented a range of trans-seasonal ensembles. The designers with the desire to re-invent the swadeshi fabric showcased a more glamorous interpretation with their showcasing.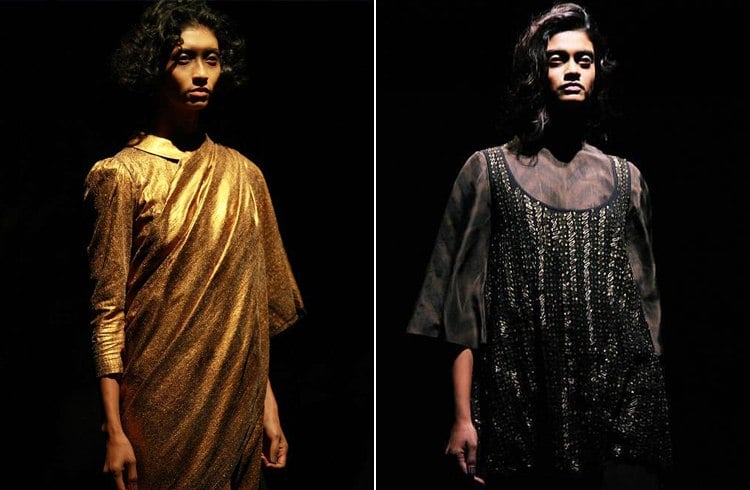 Bringing together traditions with modern aesthetics in a rich color palette of kora, black, coffee and gold color. Classic cuts and prints ruled the silhouettes.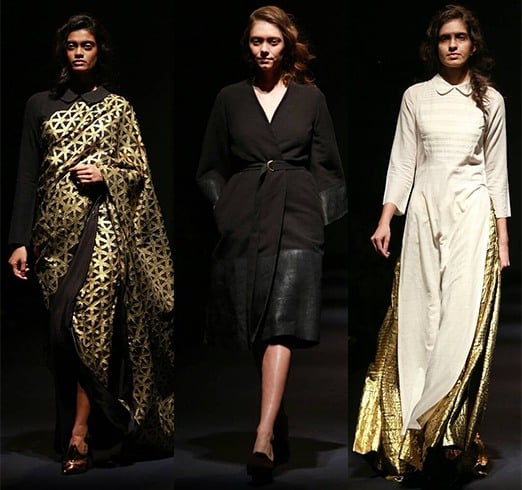 A rich and regal collection, the designers rendered their royal and classic touch to this spring summer special.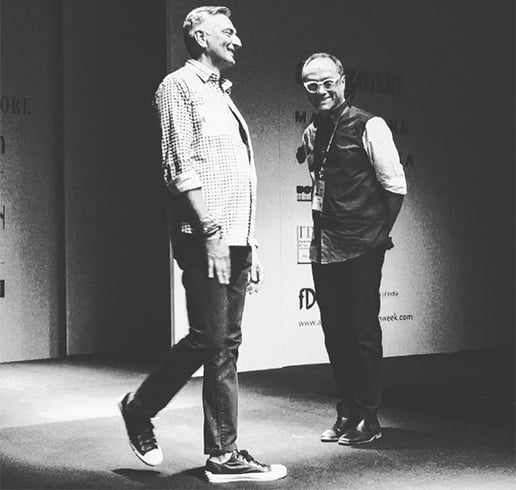 Nexa Presents Ashish Soni And Rajesh Pratap Singh
The finale show of Day 2 was by veteran couturiers Ashish Soni and Rajesh Pratap Singh in association with Nexa.
Both the designers were at their monochrome best. With edgy outfits in shades of black, white and grey the collection was high on global design aesthetics
Ashish Soni swayed the audience redefining menswear with his collection.
Singh's collection appealed to all senses. A whole lot of layering, asymmetric and angular cuts went in Singh's posh collection. Singh gave his models school shoes to amp up the androgynous look.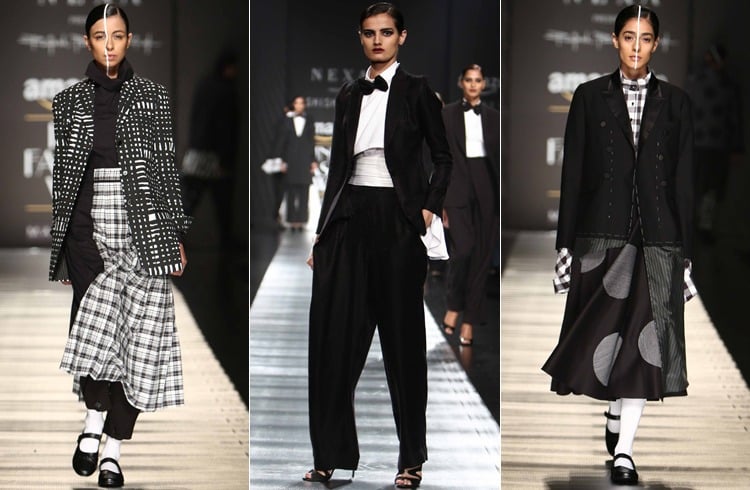 With an amalgamation of stripes, polkas, plaids and tartan checks, the garments gave a new take on the classic black and white.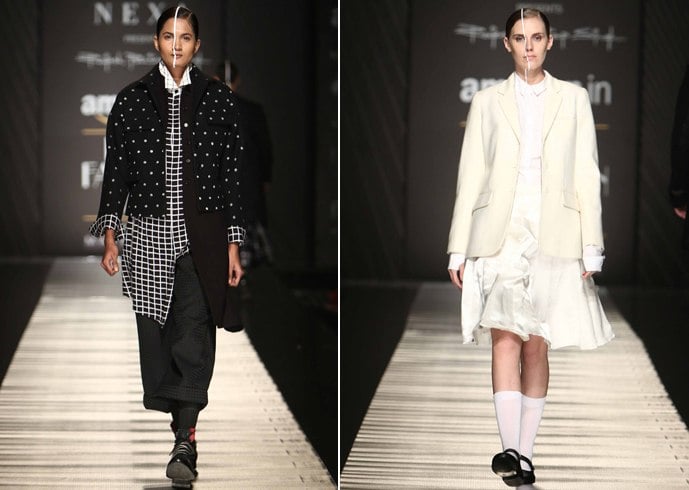 Styling by Nikhil D and make up by Ambika Pillai, added the much needed drama to Singh's show.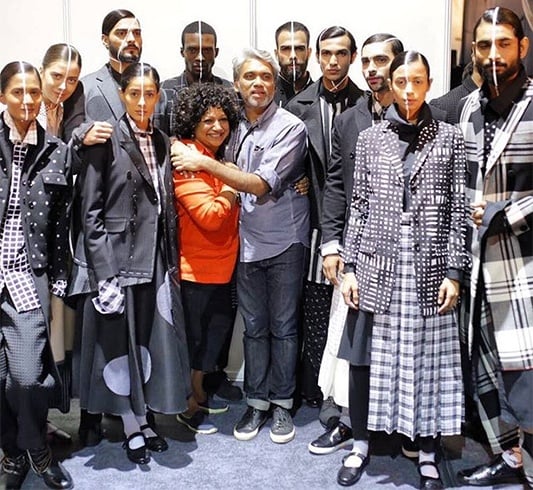 Images Source: vogue.in