So you have beautiful big and round eyes. Lucky you! Large lovely eyes are considered as the truce charm of a face. Hence, when it comes to doing eye makeup for big eyes, one must know how to enhance them the right way to make them look even brighter and more glamorous.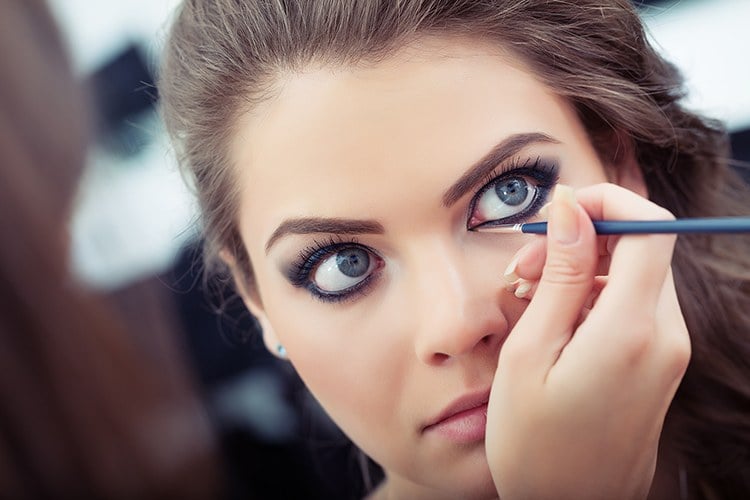 BIG EYE MAKEUP TIPS
Let us guide you through some big eye makeup rules, which you must take into account while doing your eyes every single time.
Makeup for Big Eyes – Tips You Must Know
From shaping your eyebrows to curling your eyelashes, we have some awesome makeup tips for big eyes. Explore them right below:
1. Groom Your Brows
Eyebrows play a crucial role in making our eyes look bold and beautiful. It is even truer for large round eyes. No matter how gorgeous your eye makeup is, a pair of bushy unruly brows can break your look instantly. So trim, shape and groom your eyebrows properly to highlight the focal point of your eye makeup and make the most of it.
2. Prep Your Eye Area
Dark circles, eye bags, puffiness, eye wrinkles – there are lots of issues related to our eye area. Whether it is your heredity or an unhealthy lifestyle, you just can't ignore these, especially if you are a big-eyed girl. Go for instant makeup solutions like concealer to take care of all these problems and prep your eye area for an effective eye makeup.
3. Highlight Brow Bones
Before you apply eye shadow to your eye lids, apply it to your brow bones to highlight around them. We really appreciate the use of white eye shadow for this purpose. Swiping just a bit of white shadow right under the brow bones with a brush will enhance the shine and sheen of your large eyes to a great extent.
4. Choose Dark Shadows
Well, it might be a bit tricky to choose right shadows for your huge round eyes. But the secret is to pick dark intense shades over light, pale or nude hues. Darker shadows always draw attention away from the size and shape of our facial features, which is much needed for adding drama to your big protruding eyes.
[Also Read: Best Eyelash Extensions]
5. Opt For Shimmers
Shimmery eye shadows can take your big eye makeup to an all new level. A little touch of shimmer and glitter to the upper eyelids and underneath brow bones can make your eyes stand out in a glamorous way. You can also make use of it along your lower lash lines for a stunning night party look.
6. Blend, Blend And Blend
While talking about the eye makeup for big eyes, we need to keep in mind that applying makeup products is not enough for achieving a true diva look. Unless you blend it in thoroughly, you will not be able to make your eyes look seamlessly beautiful. So, make sure that you blend your eye shadows properly.
[sc:mediad]
7. Emphasize Inner Corners
Another great way to add dimension to your big eyes is to emphasize the inner corners with a simple white eye shadow. Apply only a bit of it and blend in like a pro so that your eyes look more lifted and more gorgeous. This will bring the color of your eyes out in a flawless manner.
[Also Read: How To Use Eyebrow Gel]
8. Try Sultry Smokey Look
[Also Read: Smokey Eye Makeup Tutorial]
Smokey eye look is the hottest trend these days and it suits big round eyes the most as they have much space to create a smokey effect. If you want to wear a dramatic eye makeup, apply deep chestnut or grey shadow on the top of your lids as well as into the hollows and smudge it softly outwards.
9. Keep Adding Colors
Move over the typical black eye look. If you have big beautiful eyes, you have ample scopes to experiment with the shades of your liner and shadow. Flatter your eyes with some exciting color combos that will give you a vibrant colorful appearance. Keep the lining of your upper lid thick to medium and make it as close as possible to the lash line.
10. Curl Your Lashes Up
Curled up eyelashes is an indispensable part of a wonderful big round eyes' makeup. Invest in a good quality eyelash curler and give your lashes the much needed fold. Applying mascara to those perfectly curled lashes will help them look pretty voluminous. As a result, your eyes will get a distinct look.
[Also Read: Natural Eye Makeup Tips]
11. Highlight Bottom Lashes
Sometimes, it becomes necessary to give those large bulging eyes a little smaller appearance. For this, highlighting the bottom eye lashes might be a trendy yet effective solution. Just mascara them up carefully and you will be all set to go. However, make sure that you do not end up getting spider eyelashes during the process.
How To Apply Eye Makeup For Big Eyes
Now, here is an interesting video tutorial for all those big-eyed women. Do check it out:
After going through the round eye makeup tutorial, you can also check out some of the below images on makeup for round eyes.
Take a look at Katy Perry's eye makeup for round eyes. Your big round eyes would definitely pop out.
Use the above mentioned round eye makeup techniques and nail the below elegant big round eye makeup look.
One of the ways to do makeup for round eyes is to go for a smokey look.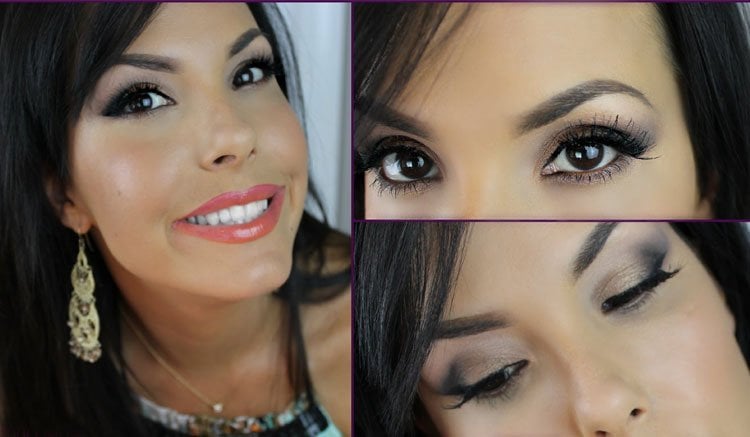 A thick winged eyeliner is a great makeup idea for round eyes.
Here is an eye makeup idea for big round eyes which you can flaunt at your next party.
We hope you follow these eye makeup tips for round eyes and try your hand at all the ideas that we have shown you.
Doing eye makeup for big eyes can be fun if you follow the latest trends and go experimental. So, just keep these tips in mind and let your big beautiful eyes pop.