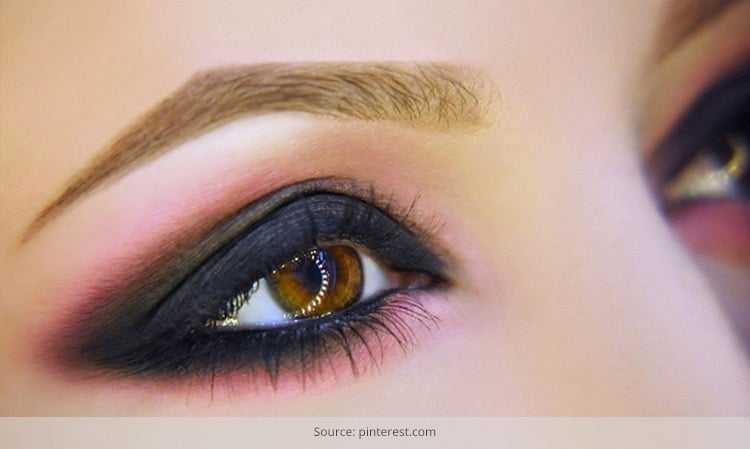 Your eyes are a very important aspect when it comes to makeup. Have you noticed that putting on eyeliner and some kohl can do wonders to your face? If such a simple step can make such a huge difference to your appearance, imaging what you can achieve if you master the art of the smokey-eye look.
[Also Read: These Celebrities Got Their Smokey Eyes Bang on!]
Here are different ways in which you can achieve the smokey-eye look.
Everyday Subtle Smokey Eyes
If you are novice to the whole smokey-eye makeup , then you should start off with this look. This look is the tamest and easiest smokey-eye look that you can create. It is subtle enough that you can even wear it during the day time.
Start off with dabbing your eye lids with a nude or peach eyeshadow.
Add a dab of brown eyeshadow to the outer corner of your eyelids and brush it in and over the crease to give your eyelids more depth and definition.
[Also Read: Best Mineral Makeup]
Brush black eyeshadow onto the outer corner of your lids and blend it in. The peach, brown and black will help create a very subtly-defined look.
Finish off with a winged eyeliner and a swipe of kohl on the outer part of your lower water line.
The Seductress Smokey Eyes
This is a very heavy smokey eye look that is not for everybody. If your eyes are too small or if you have a lot of lines and creases around your eyes, then you may want to steer clear of this look as it will make the flaws more obvious. Basically, this look involves piling on the black to create a very intense smokey eye look.
[sc:mediad]
Make sure you put on an eye primer to get your eyelids ready for the makeup. The primer will help keep the makeup in place without any smudging or creasing.
Take a minuscule amount of black powder eye shadow on your brush and apply it onto the outer corner of your lids. Work it onto your lids and over your crease.
Use an eye pencil to draw a thick line over your lids. Smudge it with your brush to start creating the smokey eye effect.
Use your eye pencil under your lower lashes and smudge it out with your fingers.
[Also Read: Go Bold with Blazing Smokey Eye Looks]
Go back over your top lids and lower lids with black eye shadow to further smudge the eye liner and create a dramatic effect. Finish off with a couple of coats of mascara.
The Glam Diva Smokey Eyes
Smokey eyes doesn't always have to mean black. You can play with colours as well to create a nice seductive smokey-eyed look.
[Also Read: Dramatic Eye Makeup]
Start by outlining the crease on your top lid where your lids fold up. Line them with a brown or dark grey eye pencil. Next draw a line from the outer corner of your lid to the end of the line you drew for the crease. (See picture below for reference)
Draw a line under your lower lid and smudge it out with your fingers. Smudge out the lines you drew on your upper lids as well.
The next step is where we add a colour. Pick a dark eyeshadow of your choice (Preferably blue or purple) and dab it onto the outer corner of your lids, keeping inside the outline that you drew earlier.
Dab on a brown or bronze eye shadow to the rest of your eye lids and blend it in well.
[Read More:Makeup Tutorial]
Apply a silver or gold eye shadow over the brown one and blend it well.
Finish off with winged eyeliner and false lashes for a dramatic look.