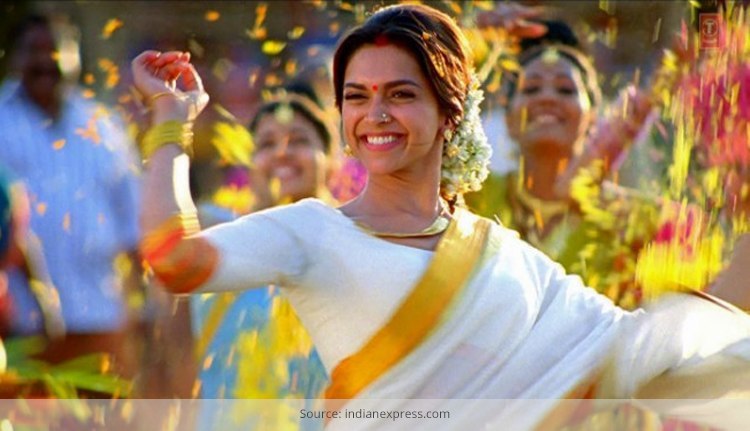 It was one of the most awaited movies of all times, and starred the electric couple-Deepika Padukone and Shahrukh Khan. It was also one of the movies which had some unforgettable style moments. We at Fashion Lady have curated some fashion moments from Chennai Express which have inspired hundreds of fans.
[Also Read: Deepika Padukone's 20 Most Perfect Fashion Moments]
1. When Deepika Carries Off a Lungi with Élan
Deepika Padukone played the Southern belle with quite some flair and she also had some of the best costumes in the movie. In the official movie trailer, she was seen wearing a lungi! Now most of you might cringe at the very idea of the lead heroine in the movie dressing up like that! Needless to say, our lady Deepika put critics to shame with her amazing sense of style, and believe us, she actually rocked a lungi!
2. Half Saris Galore
A very popular outfit in Southern India, Deepika played a southern belle and also wore a lot of half saris to play her part. Most of these half saris were in colourful shades and if you wanted to take inspiration, you will be looking at a very colourful and bright palette. From bright yellows to greens and blues, almost every colour in the spectrum was worn by Deepika in the movies.
3. Simple, Yet Suave Looking Sarees
Deepika's look in this movie is also liked by a lot of women because she wore very simple but intriguing sarees. Her sarees in the movie had a very classic feel to it and most of them were also worn in a very simple manner. Her sarees mostly had golden borders and also most of them were heavily inspired from the South Indian culture. So you will see a lot of pinks and greens and white sarees with beautiful golden borders. What makes Deepika's role and portrayal of a South Indian even more authentic is the way she spoke. Her accent, coupled with her immense collection of beautiful silk saris proved to be quite unforgettable in the movie.
[sc:mediad]
4. Pattu Pavdai
Another very prevalent item in the movie was Pattu Pavdai, the raw silk which is very famous in Chennai. Most of the items that Deepika had worn in the movie were Pattu Pavdai. This Chennai silk is popularly used in saris and even half saris. Deepika can be seen sporting mostly Pattu Pavdai stuff in the movie. After the movie, this became so popular in Chennai that people even started seeing a jump in the sale of pattu pavdai silks.
[Also Read: 15 Tricks You Can Steal From Deepika Padukone]
5. Manish Malhotra Magic
One ingredient of the instant success of Chennai Express's style is Manish Malhotra who wielded his magic to make Deepika one of the best dressed south Indian women. Most of the items that are worn by Deepika have been styled by Manish who spent quite some time understanding the South Indian culture and fashion before designing for the movie. He tried to be as traditional as possible and use a lot of silks, south Indian borders and traditional but bright colours for that Chennai essence.
[Also Read: Manish Malhotra – The Savior of Bollywood Fashion from 80s ]
So you see, this movie will always be remembered as one of those which were extremely fashionable.