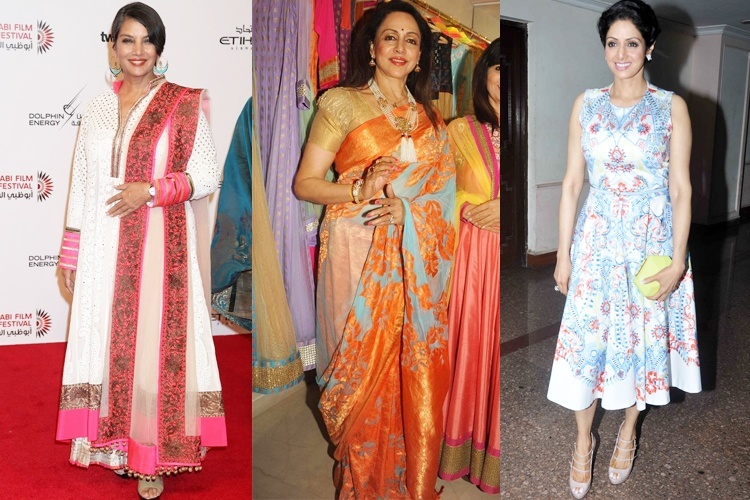 While everyone wants to look young and feel good, and they would go to any extent in doing so. From parlour trips to splurging on latest trends, designer wear to chunky accessories, shoes and statement items too, we women spend a bomb and rightfully so to keep up with the times. However, in India, the notion that has been so far with our moms and grandmothers is that fashion and styles are for the PYTs in their twenties and below, alone! Psst, what humbug this be, haven't you seen how gorgeous Lilette Dubey (Bollywood actress) is!
[Also Read: Fashion Staples for Women in 30s]
From Prache- fashion advice for the lady in her 50s and above
"Most women at and above 50 feel that being fashionable or stylish is meant only for the younger lot, and the same should fade away with age", quips Prache Khade, ace Fashion Stylist!
Of late, we have been following stylist Prache Khade. The lady behind the looks of stalwarts, namely Priyanka Chopra, and recently with Sonali Kulkarni! And who better to seek fashion for the woman over fifties from, than her. So here is a note from the stylist herself, read them out loud to the sweet mommy at home and let her get inspired too!
6 tips which can make you look stylish and graceful at 50.
At 50, most women have already discovered themselves, gone through different phases of life. From being a daughter, a wife, a mother, a grandmother or maybe none, but as a career oriented professional, they've almost been there and done that all. Hence one would already know their own likes and dislikes and personal preferences in accordance to their personalities too- shy, confident, quiet or aggressive, a no-nonsense woman or a kid-at-heart type- the idea is to polish the persona and let it show through your clothing.
[Also Read: Things You Should Invest In When You Reach Early 30's]
Simple things will set you apart- the use of jackets or use of collars, the length of your sleeves, the depth of your neckline,  the fit of your outfit, can say a lot about your personality, hence start experimenting with these things.
Colour to wear is a debated topic. The idea is to find the right balance and never stop using any particular colour. If you wish to wear a bright colour, combine it with a good shade of a neutral and the percentage is important.  Eg-wear a bright red stole with an off-white dress or a grey top instead of wearing a red dress with a grey stole.
[Also Read: Fashion For Women Over 50]
Use prints wisely, let them be optional and never in focus.  A geometric texture or a soft floral print looks better than bold ones.  Ideally solid colours work best. For example, a textured jacket or a soft floral saree,  self colour embroidered outfits,  etc
[sc:mediad]
Semi fitted comfortable outfits instead of tight fitted outfits work better.
Single pieces of statement jewellery, which can even be big and bold, instead of small pieces of jewellery work beautifully and always makes a woman look more graceful.
Makeup- you can go a bit dramatic on the eyes but the lips need to be spared. With age the lips of a person shrink and trying to highlight them may not always work
Hair- due to thinning hair, you need to add more volume by either adding extensions or not wearing your hair too tight.  Your hair and makeup can make a dramatic difference to your appearance and should never be overlooked.
In today's fashion conscious and social media driven times, things have changed around and a lady in her 50's and above can make a style statement no matter what her age. The secret is to follow the basic do's and don't of fashion.
Let's break that trend
"Stop feeling old, stop dressing so boring and let your personality shine through your clothes and sense of individual style," says Prache Khade, Bollywood Stylist!
You've heard it from the fashion guru, now read it out to mommy dearest and take her shopping for the hautest of trends that would befit her age and persona!