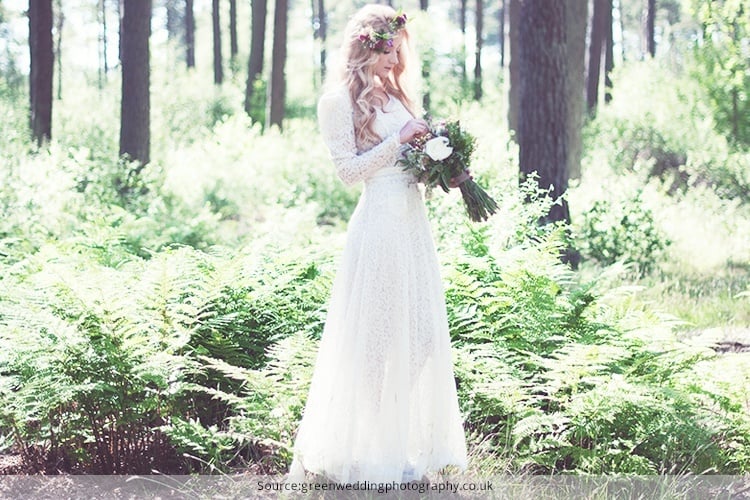 Weddings are all about decorations, venue-menu, dresses, flower arrangements, and more. However, with the growing awareness of our surroundings, people have become conscious of their expenditures and wastage. When it comes to spending on weddings, most people go overboard not-withstanding the repercussions. The idea is to go simple for your wedding with minimal costs and guests; there sure are hundred ways to avoid going overboard. Here's how-
[Also Read: Beach Wedding Ideas]
Read on to find out how you in a few simple and effective ways one can make way for a green wedding and discover the joys of saving the environment.
Eco-friendly Ring
Make sure the ring is an eco-friendly. Look out for conflict free diamonds, recycled metals, earth friendly, responsibly mined diamonds or other stones. And if that's not your thing then simply wear your vintage, heirloom ring or jewellery. Now who would say 'NO' to a statement-worthy and environmentally responsible antique piece of jewellery?
Eco-friendly Attires
Get yourself a tailor made organic, natural, hand embroidered or sustainable fabrics and make your traditional attires out of it. You can suggest your bridesmaids to go the organic way too. The fabric can be cotton or re-cycled which can be a cherish-worthy gift to self. You can also wear your mother's wedding attire; there is no greater joy than pulling out a piece from your mother's closet.
Eco-friendly Makeup
Your make-up artist should have organic, natural, chemical-free, environment friendly make up for your face and hair. Save your skin from break out besides your hair won't mess up.
Eco-friendly Invites
Paperless e-invites; email invites or recycled paper invites turn out to be eco-friendly and often cost effective. You can personally call and invite your kith n kin to your wedding by adding a personal touch to the invitation.
Eco-friendly Venue
Your place of worship- church or temples, make for ideal place for wedding, worship, knowledge and culture. Such weddings symbolize simplicity, holy, happiness, soulful, auspiciousness in its best form. By having your wedding and reception in the same place, one can reduce on fuel emissions. You can even choose a botanical garden or park as you reception venue. You need not get extra flowers or pots to decorate the venue; a well laid out garden is good enough. A wine yard, beach, river, island or mountain wedding make for good options too, provided you check with the authorities. And of course, save on the extra decoration cost.
[sc:mediad]
Eco-friendly Decoration
Ideally the wedding area should be decorated with fresh flowers and eco friendly lamps/lanterns, or organic or soy/non paraffin candles. You can try to decorate with vintage, antique decorations on hire. Opt for potted plants which can double up as return gifts to your guests. Arrange for a seating area for your guests, you can use bamboo or wooden chairs or earth-friendly products during the occasion. Rope in traditional instrumental music at the background. Also use uses bi-degradable products or energy efficient appliances at the venue.
Eco-friendly Organic Menu
Go vegetarian at the wedding, and opt for healthy, organic meals replete with local and seasonal ingredients and throw in a vegan cake and an organic wine. So, avoid dairy products, meat and eggs!
Eco-friendly & Green Gifts
You can get your guests to gift you eco-chic wedding gifts! And if want to refrain from gifts, let your guests know in advance.
So get set for a green, reasonable, eco- savvy wedding which would be memorable, and help make the world a better place to live in!
Go green this wedding season, give back to mother earth in the best way you can!