Finding right eyeshadows for your skin, especially if you have a dark skin tone, is one of the herculean tasks! A woman needs to take extra care to ensure that her eyeshadow is not looking bad on her makeup. This is the reason why FashionLady has decided to help you out with tips and tricks for the eyeshadow for Indian skin tone. These eyeshadows for dark skin will surely keep your makeup quotient high in any party or outing.
EYE MAKEUP TIPS FOR CORRECT EYESHADOW APPLICATION
Primer helps any eyeshadow last longer and hence you must apply primer on your eyelids before application of the eye shadow. Ensure that an eyeshadow base is of the same colour as your eyeshadow colour. Eyeshadow base could be an eye pencil or creamy base.
[Also Read: Glitter Eye Shadows Are In Vogue]
EYESHADOW FOR INDIAN SKIN
Dark brown, black and navy colours look gorgeous on Indian skin tone. Always carry basics like deep black eyeliner in your purse.
Indian skin tones may vary from fair or pale skin tone, wheatish complexion, olive or tan skin tone to dark skin tone. Therefore, besides discussing about eyeshadows for dark skin, we will also be drawing lights on the colours for eyeshadow for overall Indian skin.
1. Wheatish Skin Tone
Did you know that smoky eyes look best on wheatish skin tone? Both light and dark shades seem best on this Indian skin tone. Colours like pink, teal, bright green, plum, purple, navy blue, chocolate brown, coral and taupe are best eyeshadow for skin tone. You can also choose to apply brown and lilac eye liners instead of regular black on wheatish skin tone. Bollywood celebrities like Deepika Padukone, Genelia D'Souza and Sonam Kapoor flaunt wheatish skin tone in India.
[sc:mediad]
Note – Use only matte eyeshadow during the day and shimmer for the night occasions.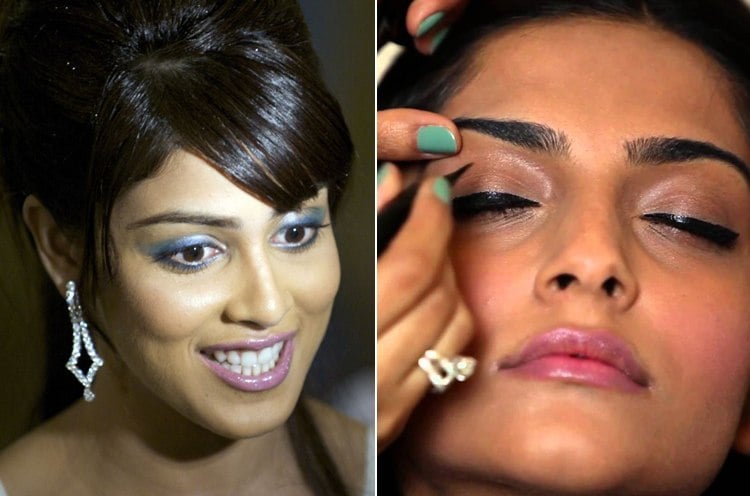 2. Olive Skin Tone
[Also Read: Eye Shadow For Grey Eyes]
Women with olive skin tone should stay clear from light eyeshadow colours as light eyeshadow makes your skin appear darker than your original tone. Eyeshadow colours like gold, copper, grey, sapphire blue, cobalt and bronze suit the olive skin tone. One could opt for black eye liners. Shimmery colours work best for eyeshadows for dark skin. Bollywood celebrities like Bipasha Basu, Priyanka Chopra and Chitrangada Singh have olive or dark skin tone.
3. Fair Skin Tone
Almost all colours suit fair skin tone yet go for silver, pale blue, turquoise, pink, mauve, lilac, pastels and sea green for the eyeshadow colours. Nude and neutral eyeshadow shades create gorgeous eye looks. On fair skin, blue, green or any light coloured eyeliners create magic! Dark eyeshadow colours make the eyes look dramatic, when you want to enhance your natural features. Take cues from eye makeup done on Bollywood divas Kareena Kapoor, Katrina Kaif and Anushka Sharma.
While keeping in mind these eyeshadow tips for your skin tone, flaunt an eye makeup suited best for you! Remember to get the best eyeshadow for your skin tone!