The fashion show is believed to be one of the most anticipated one year on year. Held in Shanghai, Victoria Secret's fashion show this year, however, was no less of a controversy in the International arena than the movie Padmavati in India. An evening full of beauty and luxury, has been reported by many reputed publications as a messy affair. Yes, things were different, there were a couple of mishaps here and there, but we won't let that take away the charm of an epic event that is the Victoria Secret fashion show.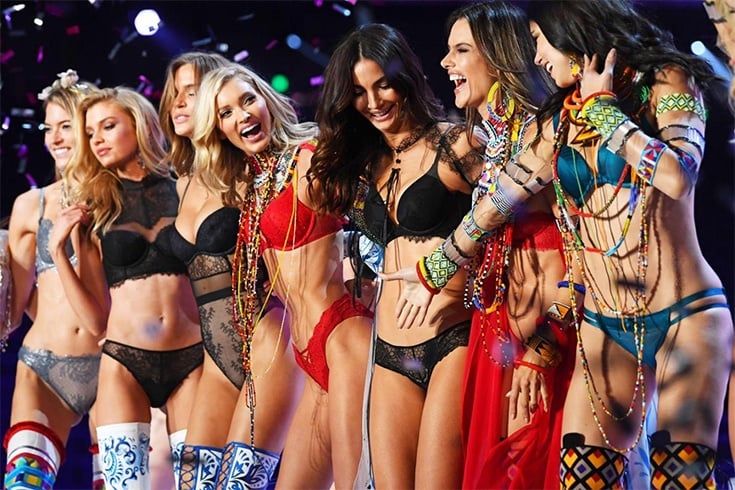 As they always say, address the sad news first, and follow it up with the better one to leave people with a happy face, we decide to get the gloom out of the way. It was decided that Katy Perry would be gracing the evening with her majestic performance. Couple of months ago it was also confirmed that Gigi Hadid would be walking the VS ramp for third time in a row. Last week it was made known that both the Hollywood celebs were denied visa by the Chinese government as they deemed certain past acts of the singer and super model disrespectful for the Chinese people and culture.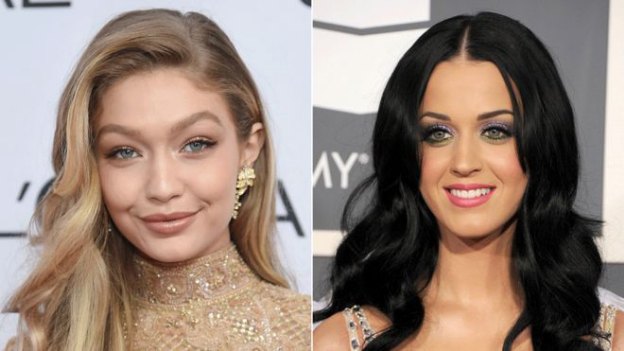 The show didn't go very delightful for the other Hadid sister either. She was almost through the show and had her hands in the air making the most out it, when she suffered an embarrassing nip slip. Stunning angel had a sad moment there when her outfit got into her way and it became a li'l tough to combat it with those high heels. The angel took a tumble, but we say, Oh! What a graceful fall? But the models were unwavering, they took the tiniest minute to get a grip of the situation and went on with their craft.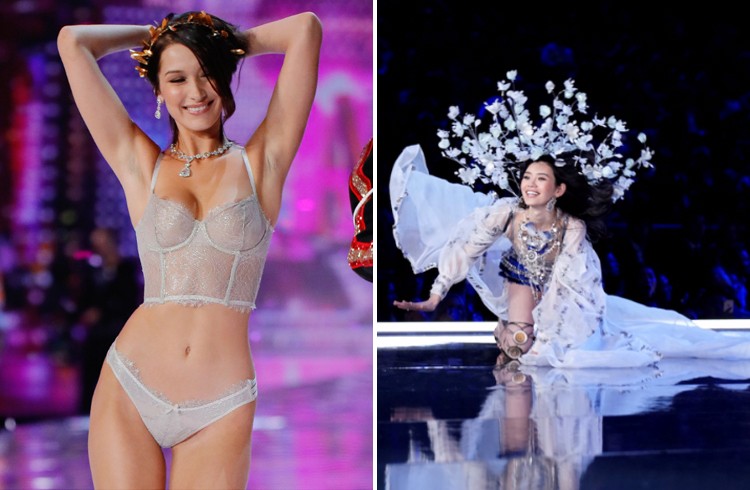 Now that we have dealt with the gloom of it all, time to dive into piles of silk, eye lashes, make up and all that is characteristic of this grand show. Let's start by peeping into their dressing rooms back stage. VS as an employer is famous for pampering its models to bits, and the pampering session begins with giving all these stunning ladies identical robes. As the floral embroidery pattern in back in vogue, the millennial pink robes were adorned with dainty roses embroidered in them. (If you wanna know how you can wear embroideries stylishly, read this).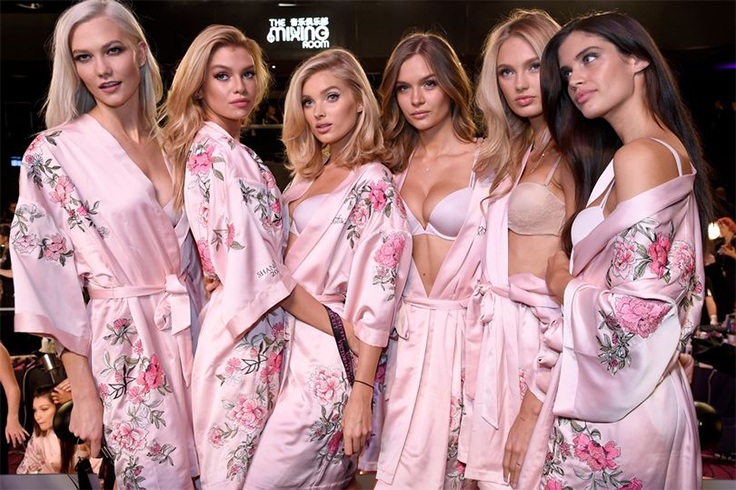 Once they have their robes on, it's time to get those hair roles, face made up, lip glossed and eye lashes put on. Here are some on the fun clicks from the getting ready session.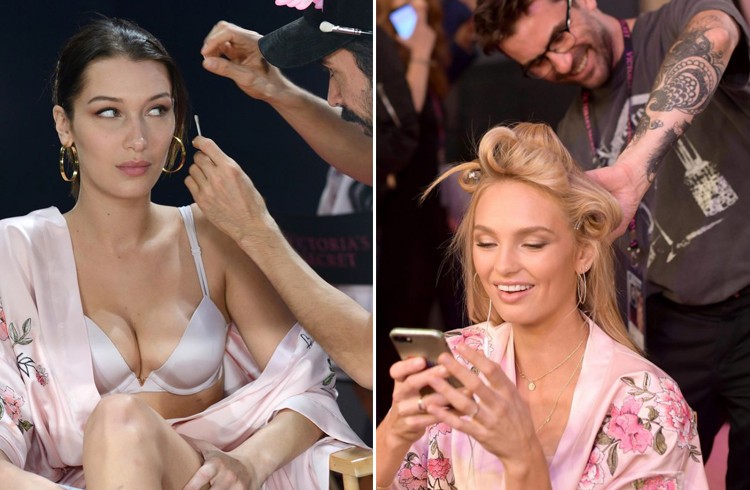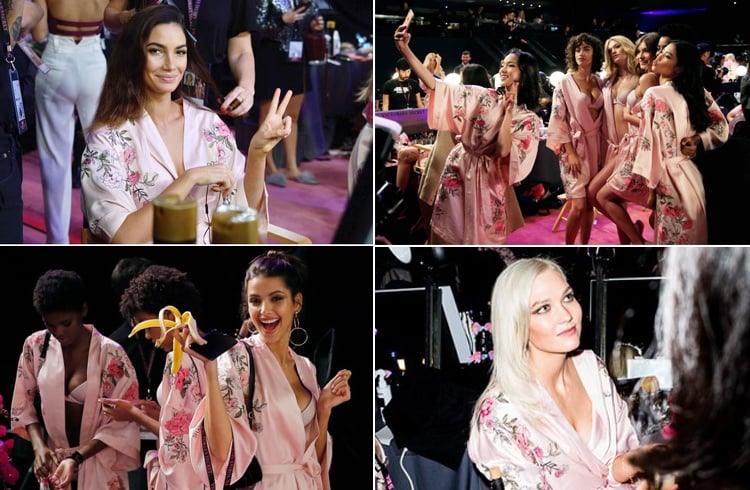 Once all decked up for the grand evening, 55 models from 20 countries took to stage and the Mercedez-Benz arena saw the biggest catwalk of the year. As many put, the 2017 show was the most outstanding one among all the 22-year show in the brand's history. The evening witnessed a total of 88 looks and 38 pairs of angelic wings. Candice Swanepoel made her return after a year's break and reclaimed her wings after giving birth to her baby last year.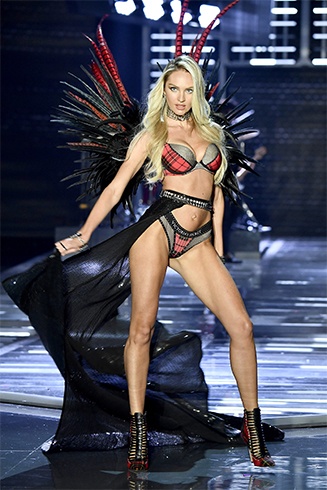 Here are some edgy and wearable looks from the show. One can easily recreate these looks to own a special evening. We will not be surprised if some of these looks make it to the red carpets next year.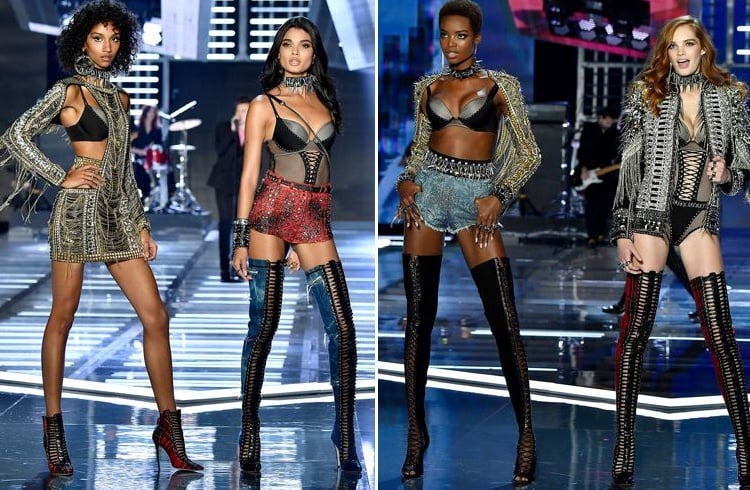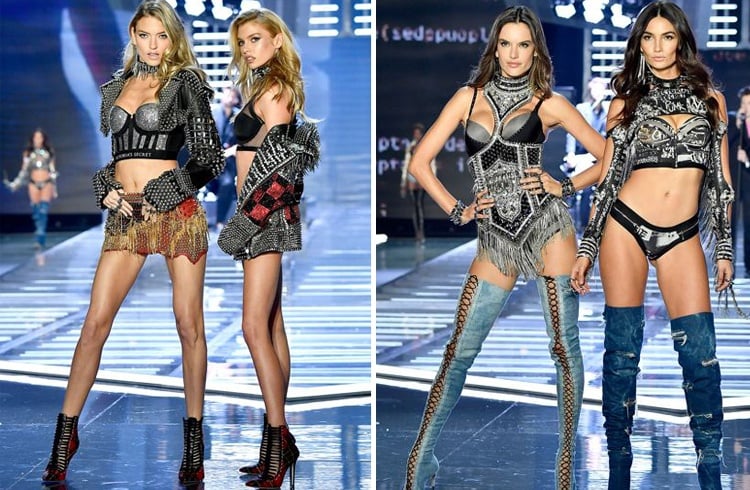 The robes and mile long trails, silky and flowy, are synonymous to the event. Models have been rocking their never-ending ecstasies on the VS ramp since years and things weren't different last evening last weekend either.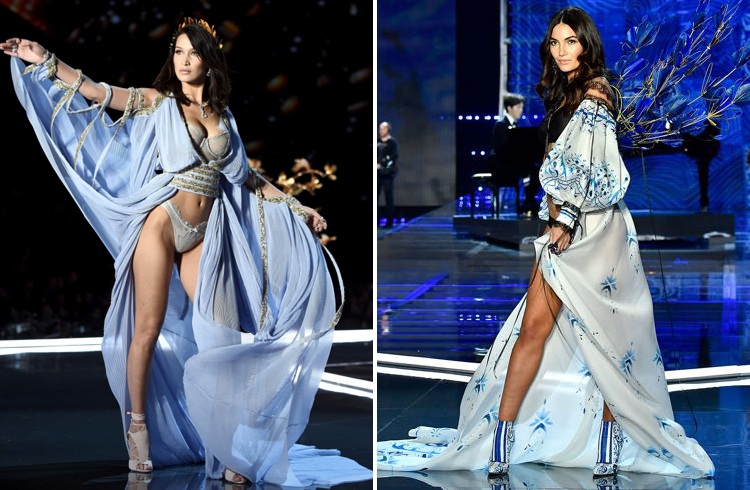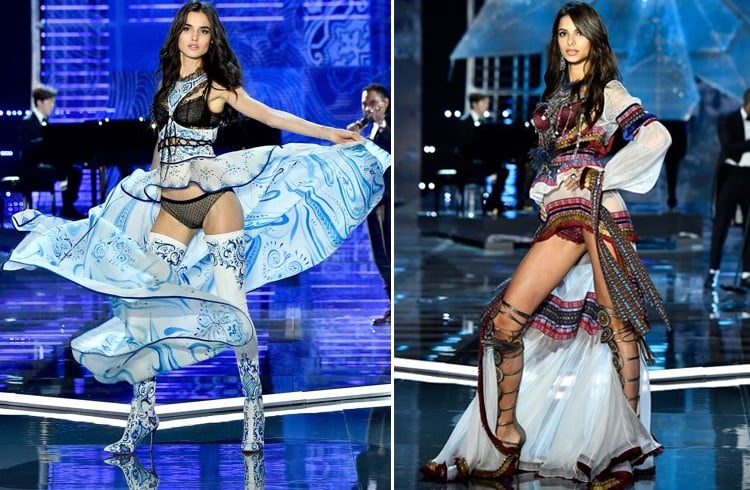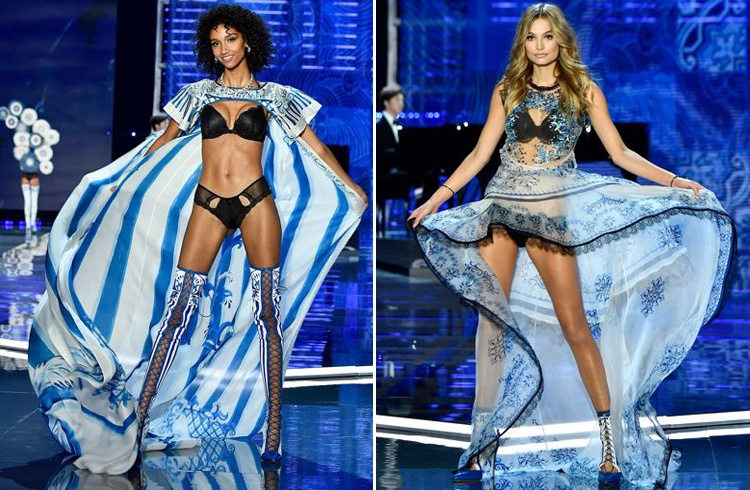 Bella Hadid won her wings after all and it was first time wearing those prestigious features. Check out Bella's wings and other famous angels in their famous wings.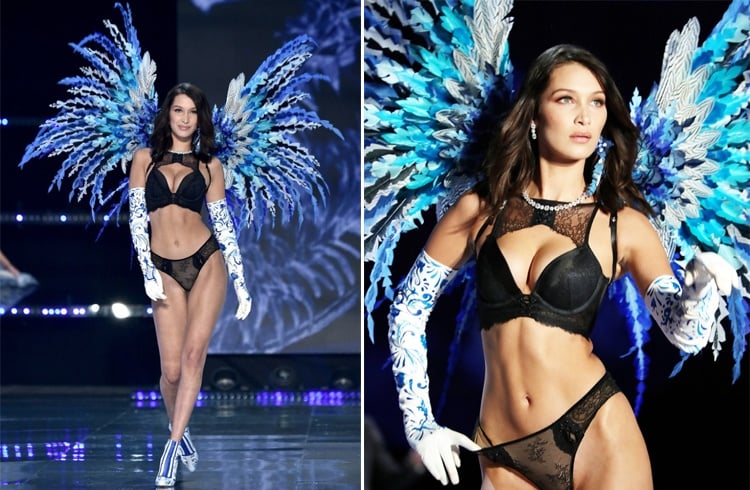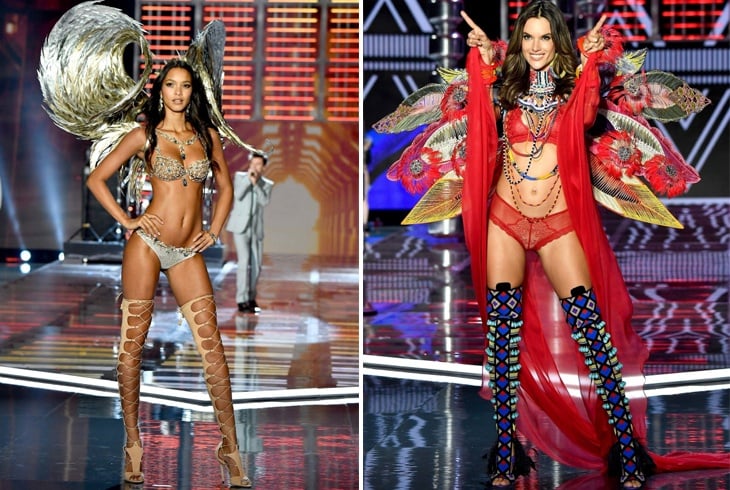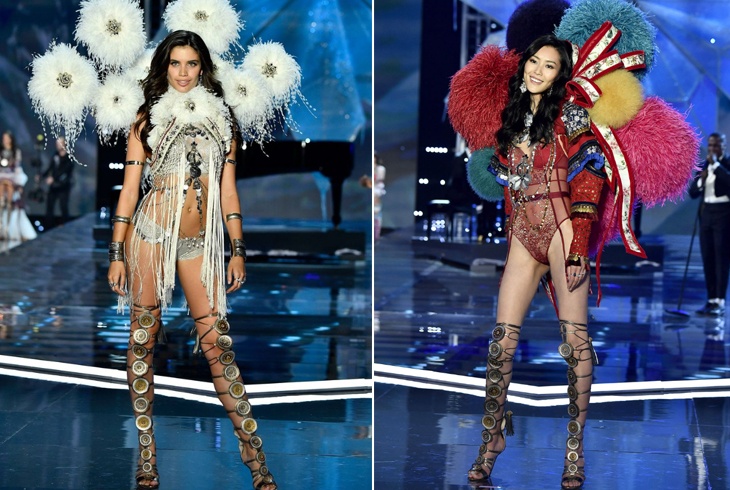 The fantasy bra and the model who gets to dawn it rank very high on the audience's dying-to-see list, and we know you too are waiting for it. The jewel encrusted lingerie was displayed on 27-year-old VS Angel Lais Ribeiro as she took a walk down the rampage looking a million dollars… my mistake, two million dollars… and some more.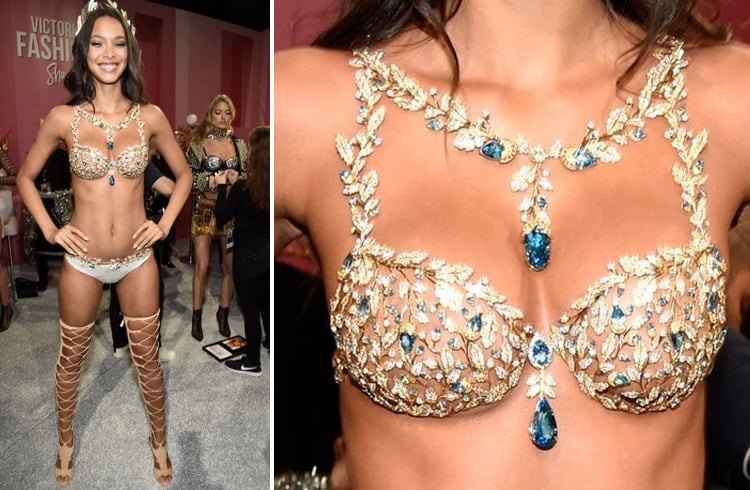 Now VS is a strong believer of the ae old proverb, all work and no play makes Jack a dull boy, and spare no efforts in giving the girls the best after party once was sow was wrapped up. Looks at these models, dressed in the sexiest dresses in their wardrobe to enjoy after days of hard work and training.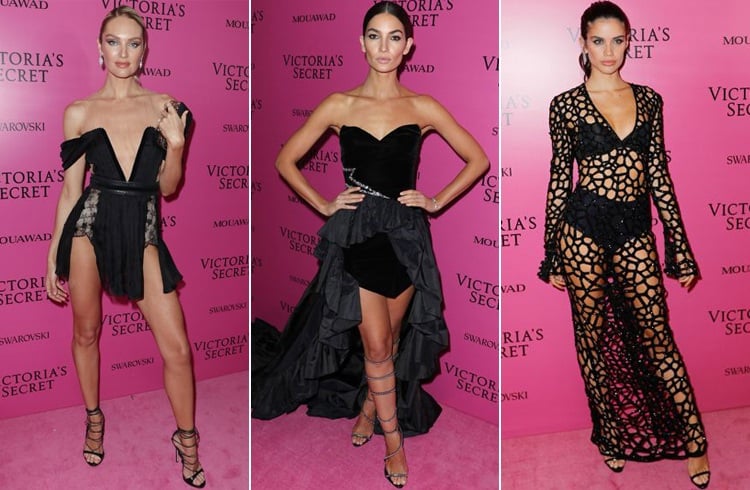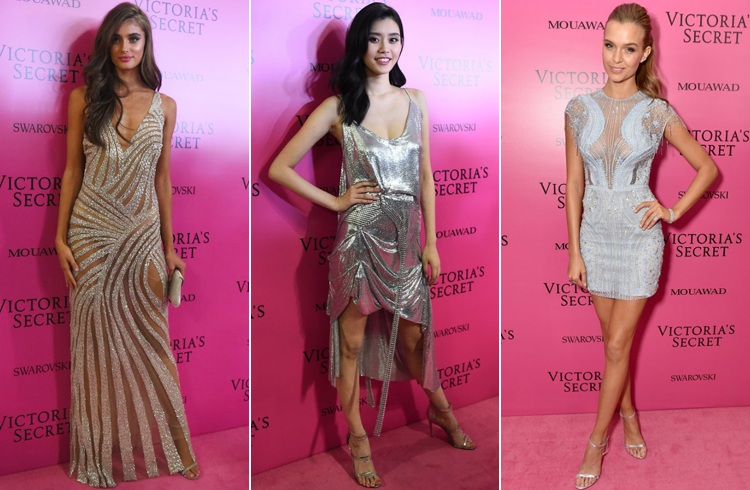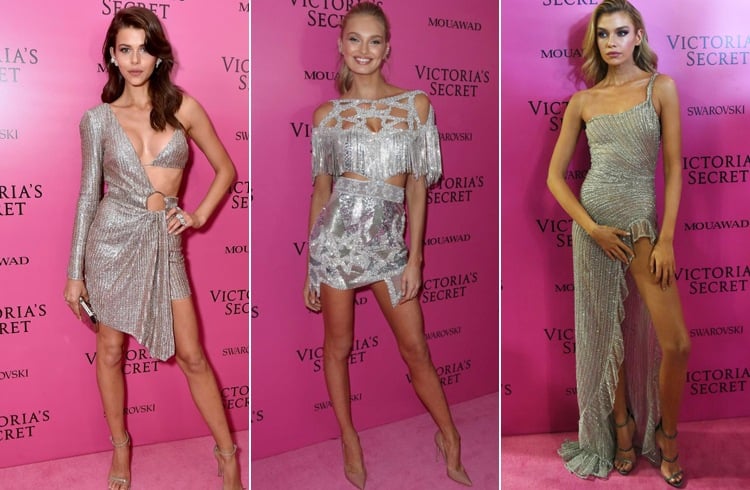 And this is how an amazing show wrapped itself. Bye bye Shanghai.
Images Source: ibtimes.co.in, mirror.co.uk, popsugar.com, justjared.com