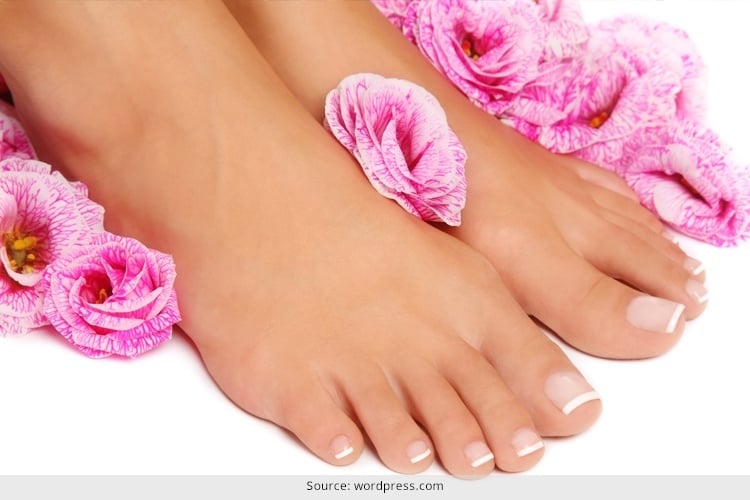 Whether you realise it or not, your feet are under constant scrutiny. When you meet someone for the first time, their eyes travel from your head to toe, quickly appraising your appearance. And as the saying goes "First impression is the best impression''. No matter how well dressed and sophisticated you might appear, if your feet are not maintained and look bad, all your effort would have been in vain. So making sure your feet look their best at all times is of utmost importance.
[Also Read: DIY Foot Scrubs That do Wonders to the Feet]
Here's an easy routine that you can follow to keep your feet looking pretty.
Take Time to Clean Your Feet in the Shower
Make it a point to take a few minutes to thoroughly clean your feet while in the shower. Start with using a loofah to scrub your feet, making sure to scrub every nook and cranny. The next step is to use a foot file to get rid of any dead skin on the soles of your feet. Be firm but not rough, and file each feet till you feel the skin on your feet is smooth. Once that is done use a nail cleaning brush or an old tooth brush to brush the toe nails. Make sure you brush under your toe nails as well to get rid of any dirt.
Indulge in a Foot Spa at Home
After a tiring day at work indulge in a foot spa session at home to revive your body. Our feet contain a lot of nerve endings that, when stimulated, will result in better blood circulation and will also benefit our overall health. This is why a foot massage is the quickest way to relax you. Simply fill a bucket with warm water, add some soothing bath salt to it and soak your feet in it. If you do not have bath salts at home you can just add a few drops of your body wash, the juice of half a lemon and a few drops of glycerine to soften your feet. Soak your feet for fifteen minutes or so.
[Also Read: Tips To Avoid Getting Blisters On Your Feet]
Follow an Overnight Treatment
If your feet are prone to cracks or if you have particularly dry or rough skin on your feet, then this overnight treatment will help you out. Apply olive oil all over your feet and put on socks before going to bed. The olive oil will work its magic and penetrate your skin, making it soft. You can do the same thing with a moisturizing lotion as well.
[Also Read: Home Remedies For Swollen Feet]
[sc:mediad]
Give Your Feet Some TLC
The next time you put on a face pack, apply some of it to your feet as well. Our feet are almost always neglected when it comes to expensive beauty treatments. So giving your feet some much needed TLC will help in having it looking pretty. Also, make it a habit to massage your feet when you're watching television. You can either have someone else massage them for you or you can massage them yourself. You'll be surprised at how much of a difference regular foot massages can do. Your feet will feel softer, more flexible and you will be less prone to mishaps such as ankle sprains and such.
[Also Read: Ways to De-Stink Your Feet Within Minutes]
You don't need to spend a lot of money to have your feet looking pretty. All you need to do is to spend some time and effort to make sure that the feet that tirelessly serve you are treated with care.