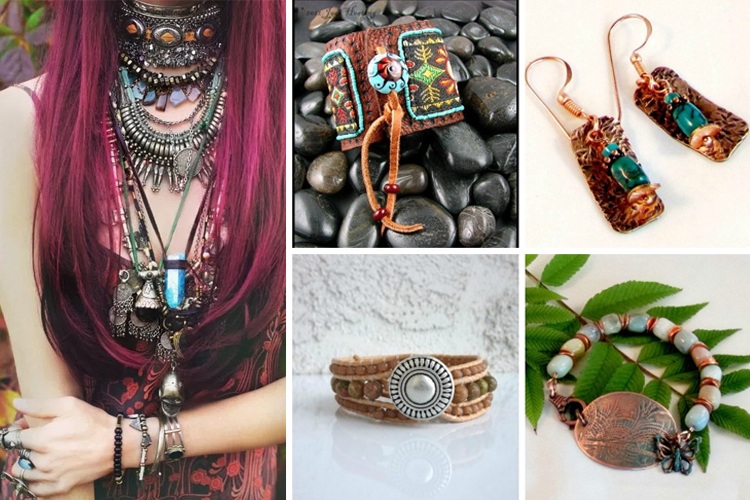 Love the hippie cult? The one that gives you a colorful, earthy and easy-going feel? Then you are in the right planet of boho chic jewelry.
Well, boho trend or bohemian trend is being spotted all over in the college campus to maverick professions such as arts and crafts. From hipster style outfits, a reflection of the swinging sixties, to boho style jewelry, the boho trend makes you look playful and bold.
There is nothing fixed and straight about boho chic jewelry, everything about it is eccentric, natural and free flowing.
[Also Read: Tassel Accessories For Boho-Chic Vibes]
The reason behind the popularity of bohemian chic jewelry is due to the tribal and adventurous look they give.
Less is not more in case of Bohemians. In fact, more is more! This means wrists are mean to be decked with boho silver bracelets having intricate, curling designs.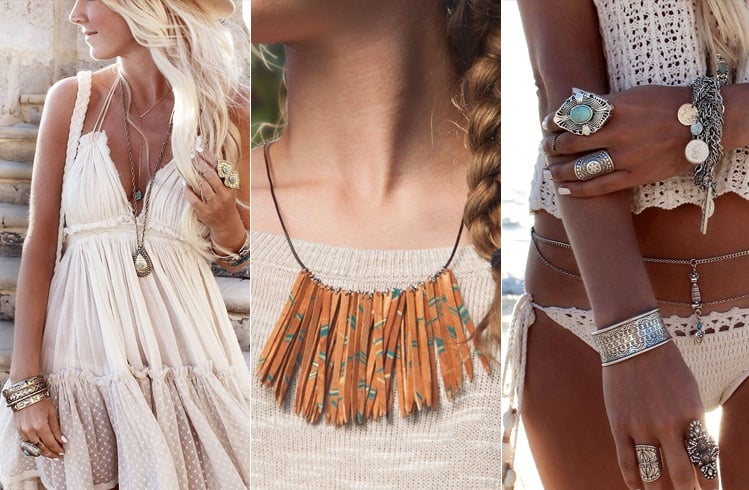 Materials Used In Boho Jewelry
The boho style jewelry is made of natural materials like wood and metal. Very rarely you will see plastic accessories being used in boho chic jewelry.
Some of the examples of boho jewelry made from natural materials include wooden bangles, wooden beads, metal necklaces, and gems.
Talk of innovation and plastic accessories made to look like wood are being used in boho style jewelry. Why so because it is more convenient. When it comes to embellishments on Boho jewelry, organic elements such as feathers and flowers are a popular choice. In fact, these motifs have not only found a place of pride in wedding decor but also in bridal jewelry.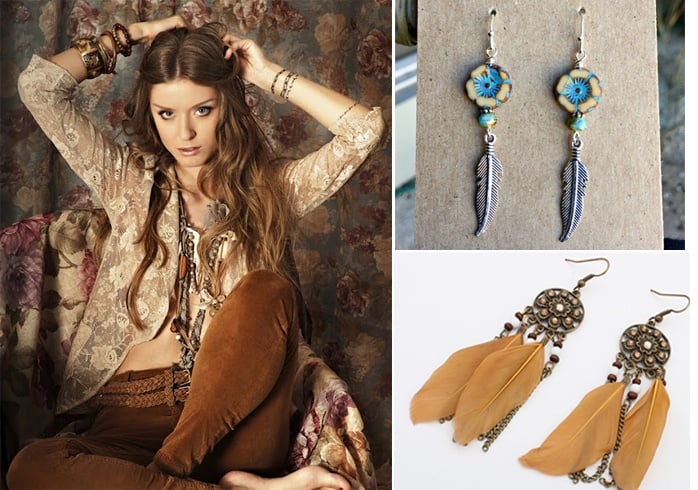 Beads also help you enjoy boho jewelry but seed beads are more popular. Like for instance the unique pair of earrings shown below that have 11 beaded stands sliding down with seed beads hanging from two large brass beads at the top.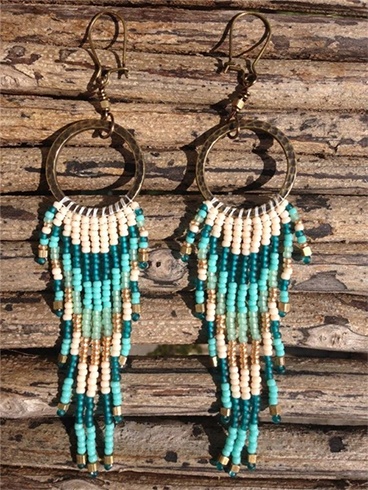 This boho bracelet consisting of colourful seed beads could bring a native flavour to your summer outfits.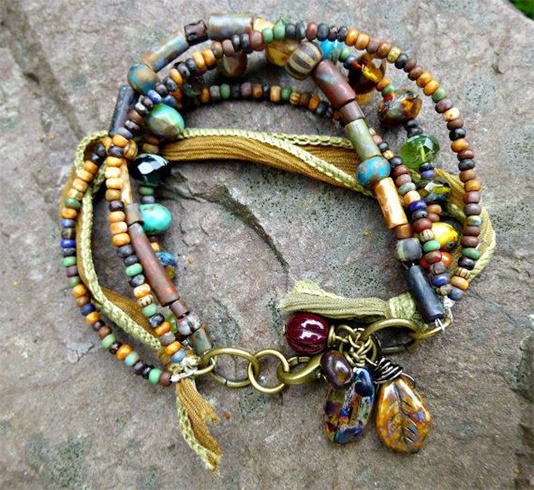 A traditional part of weddings abroad is to gift bridesmaids with necklaces that have beads in different colours. Take a look at the handmade Feather-cum-Charm Necklace that is made of African Brass Beads, Indonesian Glass Beads, Brass Chain, and Brass Feather.
[Also Read: Plastic Jewellery Trends]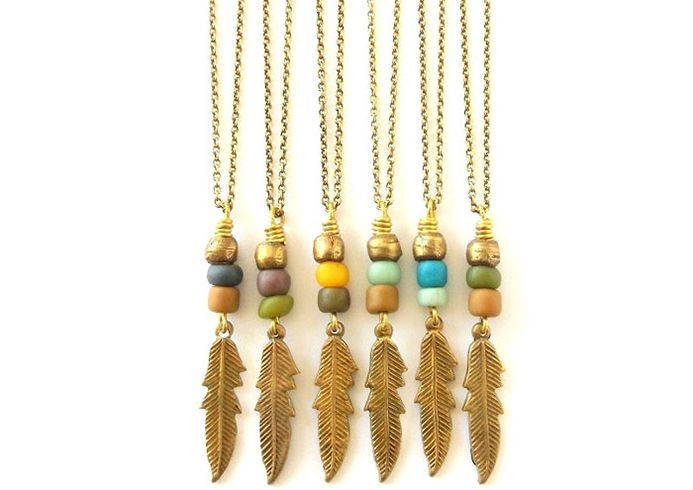 Round seed beads or two-cut ones, bugle beads bring a pop of fresh design to boho style jewelry.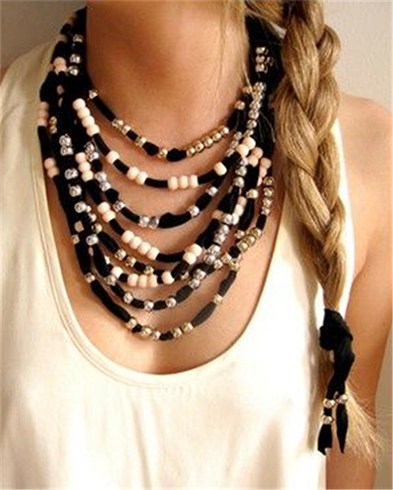 Boho beaded ring as shown below uses wickedly clever versatile bead weaving technique. This simple handmade ring has three colors of seed beads – blue, white and yellow.
[sc:mediad]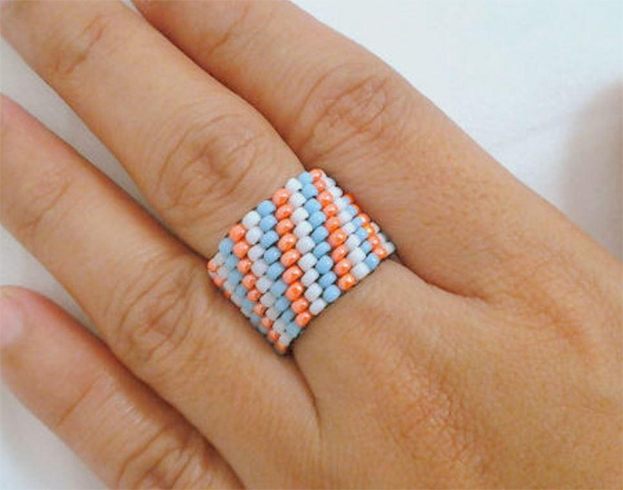 Layered Boho Jewelry
The boho chic trend is such that it has several dimensions to it. The concept of layered boho style jewelry is all about long necklaces which are layered with shorter chains. Even bracelets are layered and loaded on top of each other.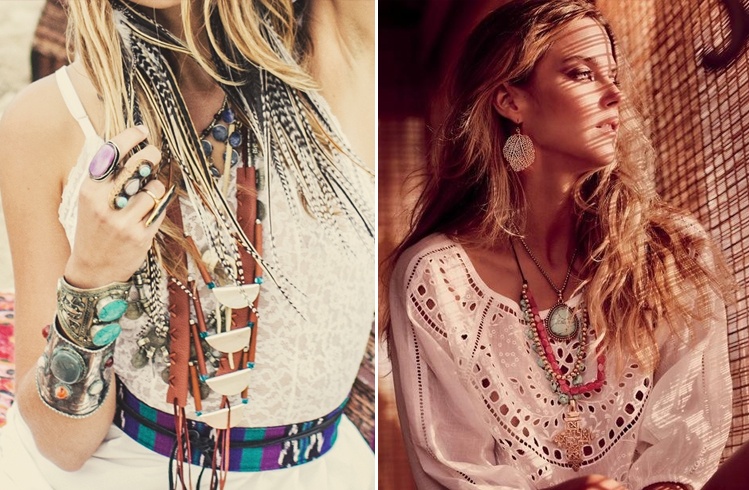 Colours Used In Boho Jewelry
Bronze, brown, gold, silver, rosegold, tan, taupe are some of the colours that give bohemian chic jewelry an earthy and warm look and feel.
Mismatched? Not Quite
The best thing about boho style jewelry is that it needs no matching and pairing. Since it doesn't come in sets, there is no such thing that one piece has to match with the other. That is why, boho chic jewelry is all about free style.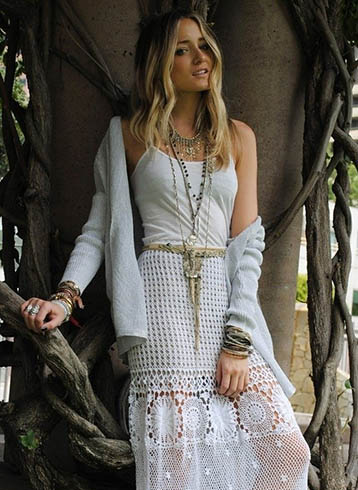 How To Make Boho Chic Necklace
Here is a step by step way of creating Boho Chic Necklace.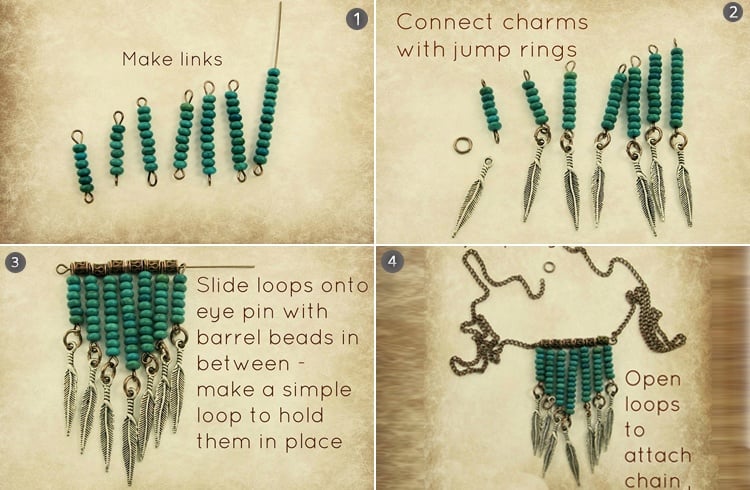 As a rule, hammered metal and intricate beadwork are important features of bohemian jewelry.
No matter how you wear boho style jewelry, remember there are no rules. In fact bohemian trend is about free-spirited nature and individuality. So go out there and embrace boho chic trend.
I hope most of you loved the bohemian trend in jewelry. Tell us what you liked and loved about it the most. Make your comments free flowing!
Images Source: pinterest, wordpress, halcraft