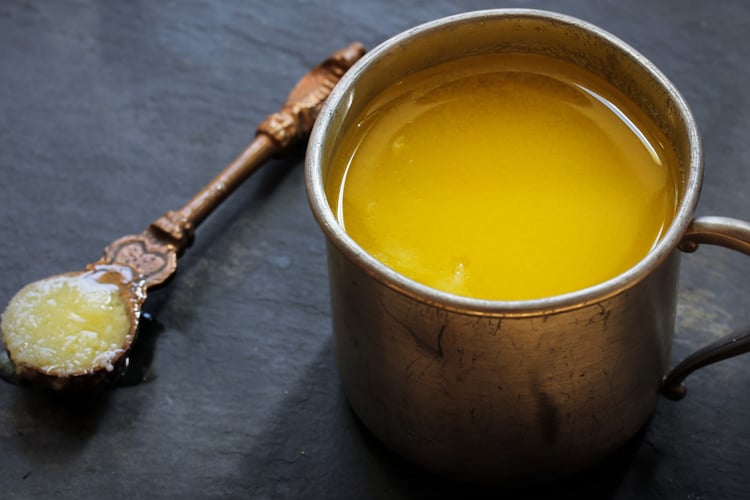 The staple ingredient in most Indian homes, ghee can be very beneficial for our skin. In the days gone by, our grandmas would take ounces of ghee and mix water in it, and churn it into a thick consistency. This would then be used as a facial mask or an antidote to blemishes, scars and wounds- such were the benefits of ghee for skin back then, which we have kind of forgotten.
Even in the holy notes of Ayurveda, ghee for skin has been spoken about extensively. Some of the notes mention how ghee for skin helps with treating burn marks, skin marks, wounds et al! With that being said, we shall now look at some of the many reasons why we should think of using ghee for our skin!
Benefits of Ghee For Skin
Acts As A Hydrant
If you have normal to dry skin, you should use a teaspoon of ghee to rub on your skin before you have a bath. This is because, the fatty acids in ghee can help with hydrating the skin cells, and brings a supple touch to the skin at large. Massage warm ghee onto the skin and wait for five minutes before you shower.
[Also Read: Hazel For Skin Care]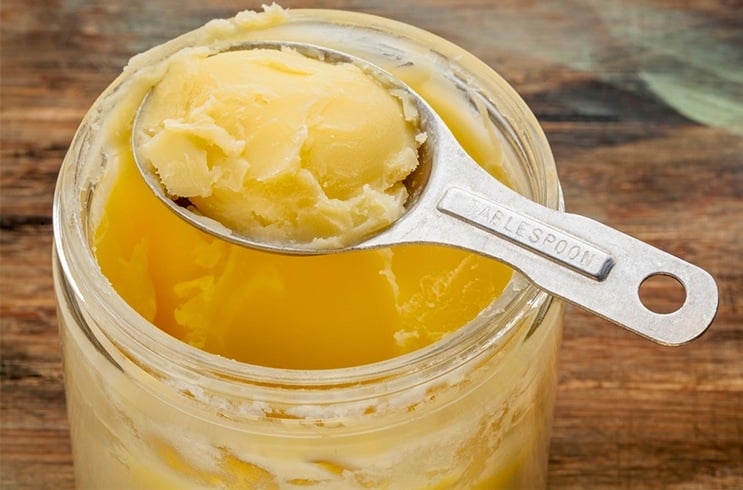 Works As An Anti-Ageing Gladiator
Forget the costly botox injections and dreadful facelifts, you can use ghee for skin to naturally do away with signs of ageing. Massage a teaspoon of ghee into your skin every day before a bath and wait for five minutes. The ghee would enter your skin and feed the tissues, and this makes the skin cells youthful and healthy.
Combat Dark Circles
Fed up those dark under eye circles that make you look tired and sick? You can get rid of them using ghee as a massage agent under your eyes and on the lids. Do this every night and leave it on until the next morning- you would wake up fresh and sans the darkness clouding the lids.
[sc:mediad]
No More Tired Eyes
Ghee lubricates the skin on the eyelids and under the eyes, and helps deal with puffy eyes and tired eyes too. Apply a teaspoon of ghee around the eyes every night, and when you wake up the next morning, wash it off under cold water. Your eyes would have enough hydration and moisture locked into the skin, and you wouldn't have puffy eyes to deal with anymore.
Natural Body Moisturizer
Ghee can work as a natural body moisturizer too, and even on the most delicate parts of the body as well. Mix a tablespoon each of water and ghee, and then apply it on the skin. Wait for twenty minutes and then wash off with cold water. Touch your skin now and feel the softness like never before. Who needs expensive moisturizers?
Smoothen Your Lips
Winters are fast approaching and your lips need help, or they need to be saved from the dry winds. Chapped lips can be bygones now, when you apply a pinch of ghee to the lips each night and massage the lips gently.
Lighten And Brighten Your Lips
There is enough proof that ghee for skin whitening does happen, even on the lips. If you want your lips to be nice and glowy, you should apply a little ghee on your lips and massage them well. Wash them off the next morning and pout your rosy red lips sans pigmentation after that.
Amazing Glowing Skin
We learnt that ghee can make the skin light and bright, and it can also make it glow too. A tablespoon of ghee can be applied onto your skin and massaged deep within, and this would lock in the moisture much needed. Wait for half an hour and then gently massage again, which enhances blood circulation in the skin. Such are the benefits of ghee for skin, that right after this massage your skin would glow and your besties would wonder what facial you did?
[Also Read: Best Nutrients For Skin Care]
As A Cleanser
Ghee can help cleanse your skin and this is one of the best uses of ghee for skin. Apply a tablespoon of ghee onto the skin and massage deep. Wait for ten minutes and then with a warm wet towel, wipe the face and gently massage as well. Then use cold water to wash the face with. Do this thrice a week and enjoy clean supple and rosy skin thereafter!
To Heal Wounds
A teaspoon of ghee can help deal with nicks, cuts, shaving rash and wounds!
Do write in if you want to share your own recipes on ghee skin moisturizer, ghee for dry skin, ghee for skin glow and more that your family has used for ages!