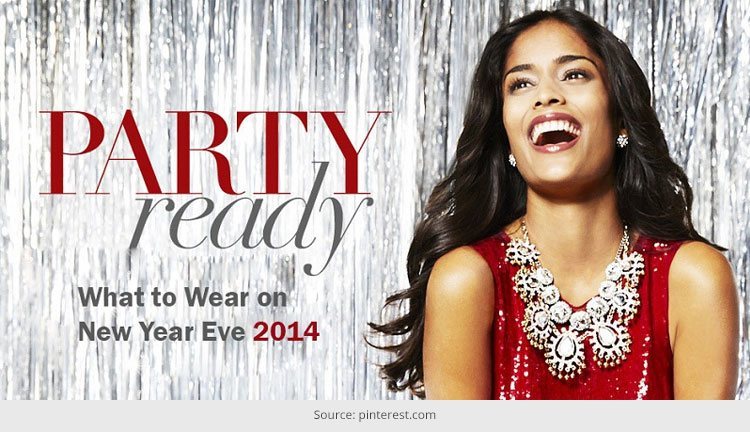 It's criminal to celebrate New Year bash without a dose of fashion. Your vogue religion should not allow you to step outside on 31st night without preaching on the testament you've just received from your fashion guru i.e. Fashionlady, whose prophecy aims at giving her disciples the top-drawer fashion tips at all levels and aspects.
Since the zero night celebration is already at the bay, your 365th night should be all about impact, making you the spotlight of the event, no matter how many contenders you have on the floor.
Expensive entry passes, over priced drinks, madness on the dance floor with seemingly random countdowns and incandescent venue are going to be in your list come year's end, so you should first of all focus on something you can control this New Year's Eve, being the trendenista in the lounge.
So, just don't let your zero night's expectations fall short this time and set your fashion tone accordingly. With some determined New Year resolutions, start the year ahead in style.
[Also Read: Lounge Wear]
FashionLady offers you 10 hot fashion tips on what to wear on New Year eve 2014. Do have a look!
1.  Boyfriend pants + slouchy tee
If androgynous fashion interests you then leather boyfriend-style pants paired with a slouchy white tee and towering heels can be the best choice. However, be warned if you intend to hit the dance floor with a bang then the 6″ heels may not be a great idea, instead pair your look with suede boots to stay comfortable now matter how many booties you shake!
2.  Vibrant  prints
If you are betting on your sports motifs this year end then better settle them with some vibrant prints. Should have to mention about heels and voluminous hairdo?
3.  Do not overlook proportions
No matter whichever style you pick, you should not overlook proportions. You can either balance your fashion quotient by adding some sheer elements or just adopt any of these styles listed here.
4.  Metallic elements
Do not forget to add some metallic elements to your New Year bash look. Whether it's an entire dress or just an accessory, it will do the talking.
5.  Statement skirt
Pick a statement skirt that dances when you do. Well, that doesn't mean you have to look like a Lolita fashion doll. A ruffled skirt with embellishments against beige or pink would flaunt your fashion sense.
6.  Dazzle in fluoro
There is no fashion crime to dazzle in fluoro. Don't overdo it, instead pick the timeless black to tone it down with elan.
7.  Channel the sheer factor
Channel the sheer factor with some extra dose of embellishment, or feathers to bid a glamorous farewell to 2013. Burberry's sheer outfit, which is fun, ravishing and chirpy. Its long hemline creates a perfect balance with the sheer slit and plunging neckline, thereby keeping your look appropriate for whatever company you're at the event.
8.  Do not overdo embellishment
While going for embellishment, do not overboard it. You can either wear a top with gold and sequin detailing or the bottoms/skirt.
9.  Matching heels and pants
How about wearing footwears that match your pants? This sis the latest trend in the block which is also a great fashion tip for petite ladies. The trick of wearing matching pants and heels will make your legs appear longer. If you get such fabulous pairing then go for a turtleneck (for family events) or a sparkling tank top (for night out with friends)
10. Red pants + flat sneakers
How about showing up in red pants and flat sneakers, which are not only strong fashion staples but will give you optimum comfort throughout the night
Hope you found this post useful! Pick up any style and you're sure going to rock the New Year party!!
Have a blast!!