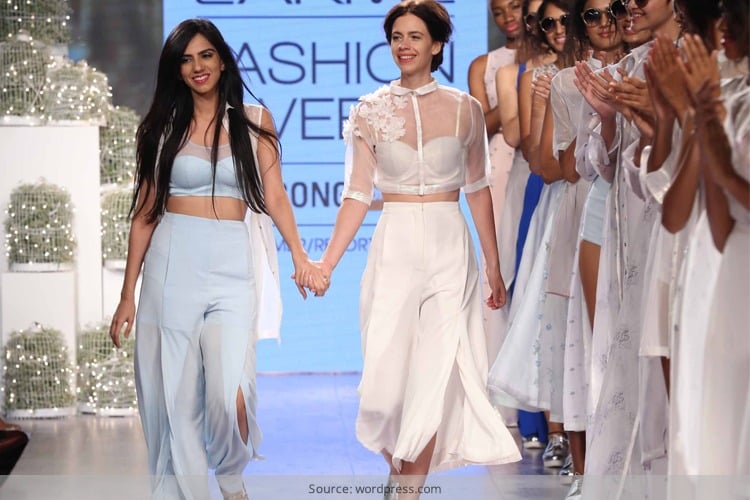 There comes a time when brides-to-be want something more than the usual but not OTT. Why only brides, but even PYTs that want fashion statements so chic and nice. Now here is one young lady making waves across the fashion scene. Her name is Nishka Lulla. And we are going to show you some of her major work, her collections and the famous Nishka Lulla collection as well.
Let's Take a Look At Nishka Lulla Fashion Designer Creations
The Nishka Lulla collection by the designer herself is an enchanting one to remember. However, let's know a little more about her before we check her work out, shall we?
[Also Read: An Elite Rendezvous With The Ace Designer – Neeta Lulla]
Nishka is a Mumbai girl and a fashionista, a designer too. Our designer here has dappled with celebrities and designed for bollywood stars, along with her famous designer mother Neeta Lulla. Neeta has over two decades of designing for the stars experience under her belt, which comes as no surprise the curate traits have come into Nishka as well. Remember the wedding gown worn by Bollywood starlet Genelia D'souza- it was designed by Nishka and Neeta.
Quoting from Wikipedia, "Nishika said about her design that "I have learned a lot from my mother and one of them is hard work. She said that you have to work hard to make your own mark. My designs need to have a definition of myself without imitating someone else. For instance, I can't imitate my mother's creation and make my own line". Her passion of design costume comes from her mother. Apart of her worked for bollywood she has also design costumes for e-commerce site Stylista.com at fashion gala."
[sc:mediad]
Why Nishka Is So Famous?
She has the grit and determination to make it big, on her own. Nishka follows fashion trends from around the world and brings unprecedented styles to the forefront. She understands how fashion is ever so changing and always in vogue, which is why she keeps the youthful touch around.
[Also Read: 7 Times Neeta Lulla Made Us Fall In Love With Her Creations!]
The Nishka Lulla bridal collection, or any collection for that matter is all about vibrancy, youthfulness, chic and quality, and the USP is all about being straight forward too. She has the ability to sell coordinated looks with international touches, for the modern day Indian woman, without foregoing the Indian or the desi touch in each piece.
Nishka believes her creations are all about enthusiasm, creativity, self-motivation and ambition. The tech savvy designer leaves nothing to chance when it comes to making her style globally aware. This is why the collection by Nishka is all about globalisation and utmost presentation in high tastes.
It is an experience that one gets to enjoy with her collection. From the chicest of bridal wear to the prêt a porter lines, there is always something that the new-age PYT or bride would be very happy with. Nishka compromises on nothing, but ropes in the best for the clientele she works with.
Not just celebrities, but for everyone alike, Nishka Lulla ensures that there is a piece that suits everyone and every Indian woman with personalities to match. Take a look at some of her creations below!
We hope you find the best inspiration here with Nishka Lulla wedding dresses and prêt a porter lines. Do write in and let us know how you liked this post!