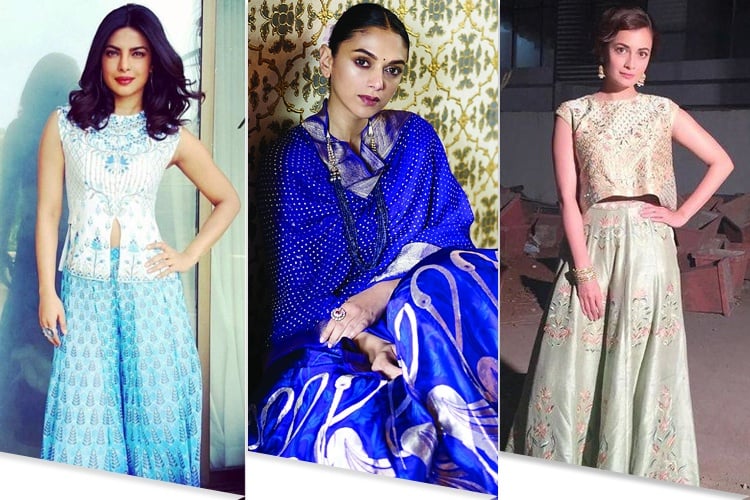 As the land of diversity, India is home to an explosion of indigenous crafts wherever you go. With the passage of time, designers like Anita Dongre carry forward the legacy of Indian handlooms, by building the age-old techniques with a contemporary freshness. From the royal influence of Gota Patti work designs to the unmistakable ethnicity of the Banarasi weave, let's explore the very fabric of Indian history, right from its origins, styling tips, and when to wear it!
Gota Patti
Where it comes from: Of all that Rajasthan has to offer in the way of vibrant and glamorous weaves, the applique technique of gota is gloriously unique. Gota is created by weaving gold, silver or copper threads into a ribbon form, which is then meticulously cut by hand into pieces as required. It is then sewn onto the fabric, thus creating intricate patterns that come together to form a masterpiece.
What sets gota patti work apart is its singularly impressive duality–a heavily embellished look with a surprisingly lightweight feel. The embroidery immediately speaks to the sensibilities of the modern Indian bride who wants to have fun at her wedding—dancing, playing host and cherishing every moment with a comfortable yet glamorous sense of style.
Today, the timeless tradition has made its way from mahals and maharanis to find a new home in designer Anita Dongre's signature style—inspired by her Rajasthani roots.
How to style it: Quite a statement in its own, gota patti adds oomph to plain-Jane attires. We suggest keeping things simple if you plan to wear an outfit enhanced with gota patti, and wearing a rather simple outfit with gota patti dupattas/juttis/jackets. Be the rebel that you are and blend golden gota patti suits and lehengas with silver statement jewellery; it's a match made in heaven if done correctly! Wear pastels or mint greens during the day, or liven things up with sunny yellow and bright fuchsia—gota patti dazzles in sunlight; your very own spotlight! During the night, we suggest deep silken royal hues—black, deep red, royal blue works beautifully with gota patti.
Gota patti shows a tendency to oxidise over time, lending the weave its vintage charm—the oxidised look goes beautifully with gold plated silver jewellery by Anita Dongre. Take inspiration from Sonam Kapoor's epic look in 'Dolly Ki Doli':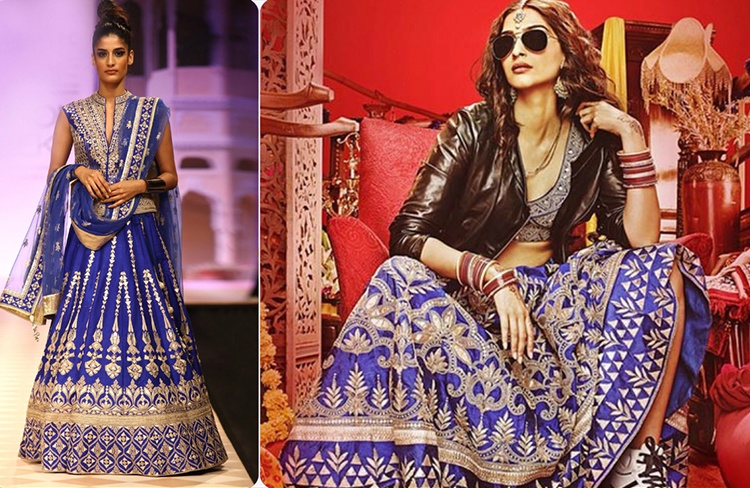 When to wear it: Back in the day, gota patti work was ever-present in royal garments, but today, we choose to reserve the exquisite work for nothing short of the big day. Gota patti lehengas are the quintessential choice for today's bride, and it's infinitely functional quality combined with its unparalleled regal appeal only goes to prove just why. As for the grooms, menswear too can have accents of gota embroidery which complements a bridal lehenga.
Banarasi Weave
Where it comes from: People typically tend to visit the city of Banaras (or Varanasi) out of a sense of devotion and religion—but if you find your devotion lies with the ornate magic of the Banarasi weave, the city has more in store for you. Historically a centre for weaving, the city is famous for its zari and brocade textiles. In the Banarasi weave, weaving gold or silver zari threads through fabric creates intricate patterns, designs, and motifs. The passage of time brought in several influences to the weave from across the country, but the rich Mughal tradition was most dominant.
Today, the technique of the Banarasi weave has been revived with a renewed palette of modern colours, fabrics, and aesthetics. Yet Mughal floral patterns have stood the test of time to become a major influence in Anita Dongre's designs that employ the Banarasi weave. You'd be surprised to know the amount of effort that goes into devising beautiful Banarasi work; the design is conceptualised from scratch at the Anita Dongre design workshop, intricately crafted by kaarigars commissioned from Banaras. Purchase Banarasi sarees online from shop.anitadongre.com, where you'll find carefully thought out designs and meticulously implanted weaves.
How to style it: Flaming red, indigo, gold, and vermillion are Anita Dongre's favourites, which when styled with pulled-back hair, a bold lip and otherwise subtle make-up truly bring out the richness of the weave, as wonderfully captured by the radiant Aditi Rao Hydari here. Add a large statement flower to your bun and you're the spitting image of a Mughal garden in full bloom. Own your look with big jhumkas. Day or night, Banarasi steals the show all by itself!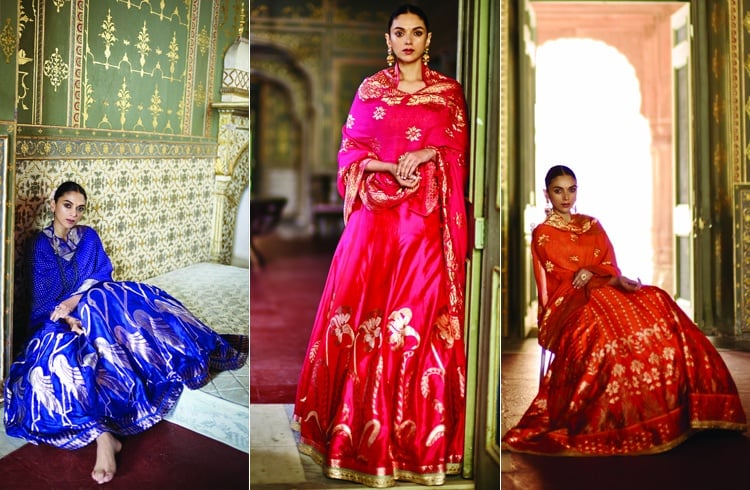 When to wear it: As the dance of floral patterns come to life on your vibrant Banarasi lehenga, it's obvious you've got to save it for the singing and dancing at the sangeet!
[sc:mediad]
Resham
Where it comes from: In Urdu, raw silk is known as 'resham'. As the most natural form of the silk fibre, resham has a uniquely rustic appeal. Considered as one of the oldest fabrics in the world, resham dates back as long as the Indus Valley Civilisation. Traded abundantly and vastly for its glorious sheen, the fabric is universally worn and loved even today.
How to style it: As a more versatile textile than many intricate Indian weaves and prints, resham can easily be adapted to any garment. The offbeat monochrome embroidery of blue on white is gaining popularity today through Anita Dongre's inventive collection of lehengas, suits, sherwanis and more. Resham embroidery is equated with unparalleled grace; so we suggest keeping things effortless and elegant with minimal jewellery, a ring here, a bracelet there! The best part about Resham embroidery is its sheen which makes things automatically festive. This means you aren't restricted to a seasonal or occasion-specific colour palette. You can pick a pastel green and pink combo for the night just like you can rock dark shades during the day.
When to wear it: The lightness and simplicity of resham make it the perfect material of choice for an easy-going mehendi or haldi function. Priyanka Chopra's Unsiyat Bandi and Sharara by Anita Dongre keeps it simple yet trendy: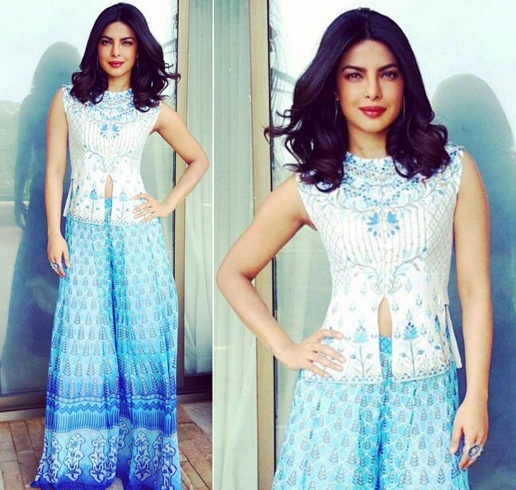 Zardozi
Where it comes from: In Persian, the word 'zardozi' quite literally means 'sewing with gold string'—beautifully capturing the very technique of the magnificent embroidery which sewed embellishments from pearls to jewels using gold or silver threads. From garments to wall hangings and other paraphernalia, zardozi embroidery was ubiquitous with all things royal. The craft reached its pinnacle under the reign of Mughal emperor Akbar; today, the technique has regained popularity, predominantly in the city of Lucknow. Mentions of zardozi have even been found in the Vedic literature.
How to style it: Today, the 3D characteristic of zardozi embellishments and embroidery has gained much commercial popularity. Go in for bright red, orange and pink during the night, pairing up with regal chaand balis or a rani haar. During the day let the subtlety of pastels lend your look an understated glamour; add finesse with pearl jewellery.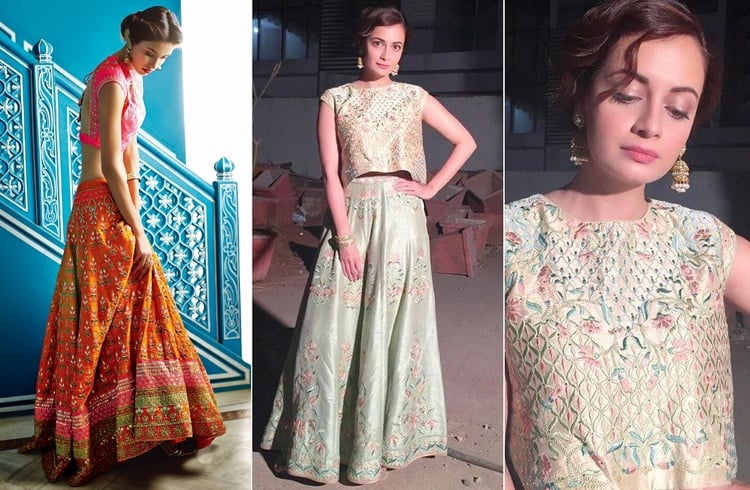 When to wear it: The pink and burnt orange lehenga is a bold choice for a reception. Or, go in for something more subtle like the delicately embroidered pastel green crop top and sharara as worn by Dia Mirza.