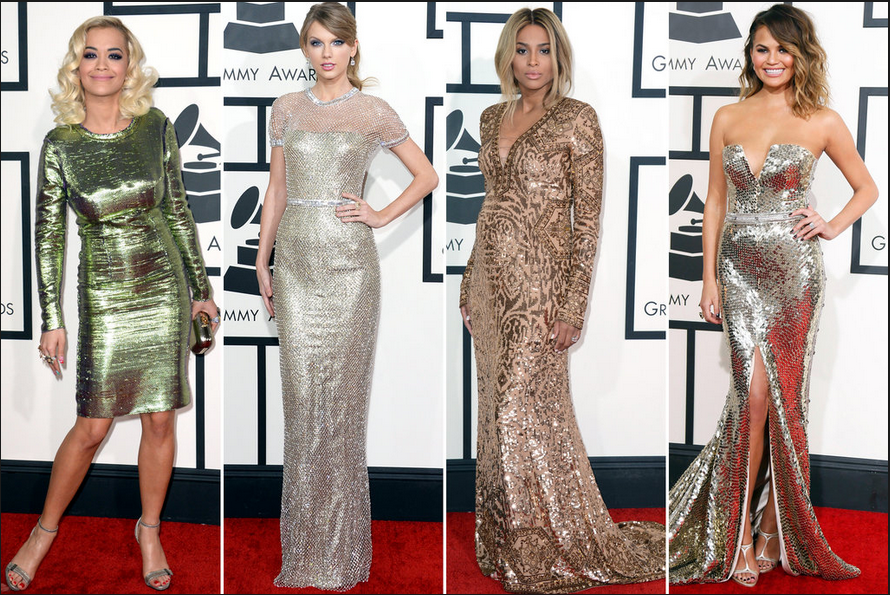 There is no other music awards show like the Grammys. The 56th Annual Grammy Awards were held on January 26, 2014, at the Staples Center in Los Angeles and was hosted for the third time by LL Cool J. While every year, the music giants graced the Grammy Awards 2014 red carpet to celebrate the success of music, this year it somewhat maintained low profile, except for Beyonce with Jay z, Taylor Swift, Madonna and few other names.
Soon after it got aired on CBS at 8 p.m, my eyes were set on the red carpet rather than the on-going performance to catch a glimpse of the rock stars in their red carpet outfits flaunting their best fashion statement. While I was keenly waiting for Miley Cyrus, Rihanna, Lady Gaga, JLo, Shakira, Adele and Nicki Minaj to show up, sadly they never came.
[Also Read: Grammy Awards]
No matter who showed up and who didn't up, the show must go on! The Grammys hold a special in the world of music awards, as the entire world looks forward to. From outrageous performances and controversial quotes to red carpet fashion parades and full on entertainment, the Grammy award events are among the most talked about for years after. While some Grammy events have taken the fashion wheel in absolute oddity; there are years, where the event was compared to the red carpets of Golden Globes and Academy Awards.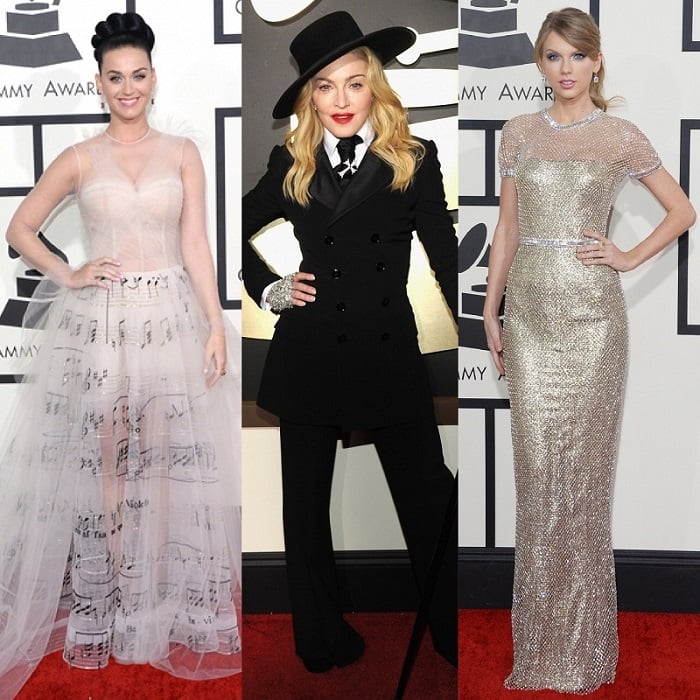 While my heart completely fell for Taylor Swift, I would give Beyonce and Katy Perry a passé. As usual I am confused to rate Paris Hilton on he red carpet appearance. While Twitter didn't like Katy Perry's musical outfit and her overrated knot, even there is a big question mark on Madonna's tuxedo in the social media circuit. Perhaps she was just competing Diane Keaton's outfit at the Golden Globes!
Dear Madge, the grill is old now! Even the older was your cane, huh!!
I would surely tag Kaya Jones, Nadeea and Ashanti in the worst dressed category, as they looked like going to a strip club rather any coveted awards show and in men's category it is definitely Pharrell William. What was he thinking when he decided to show up in that weird hat and even his sports jacket was so out of place.
Taylor Swift's shimmering metallic Gucci gown was indeed a treat for the eyes. For Fashionlady, the rec carpet's best dressed of the night was undisputedly Taylor Swift. The runners up are followed by Ciara, Colbie Caillat and Kacey Musgraves.
Let's have a look at the Grammy Awards 2014 red carpet best dressed!
Taylor Swift's Gucci Gown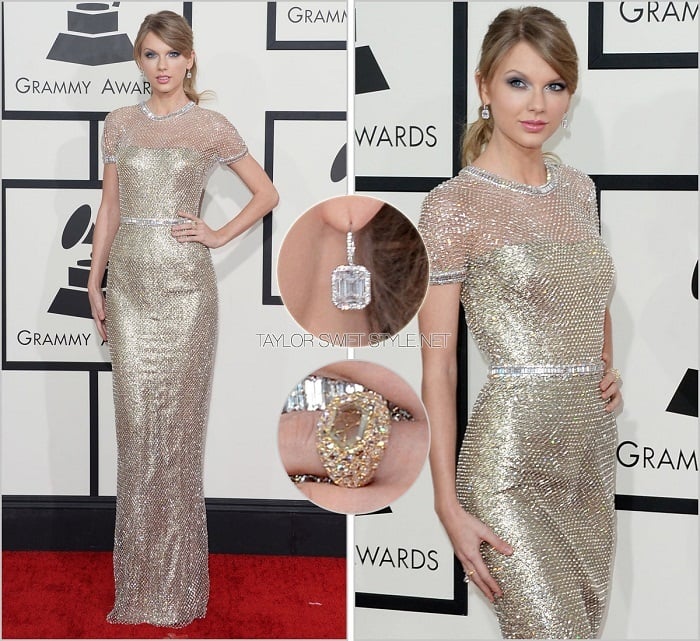 Taylor Swift hit all the right notes in her breathtaking Gucci tower of chain mail. Her sequin structured dress indeed reflected the songstress' penchant for sequined gowns. While her Golden Globes outfit couldn't earn her much points, she was definitely a winner in this Gucci number at the music event.
Ciara in Emilio Pucci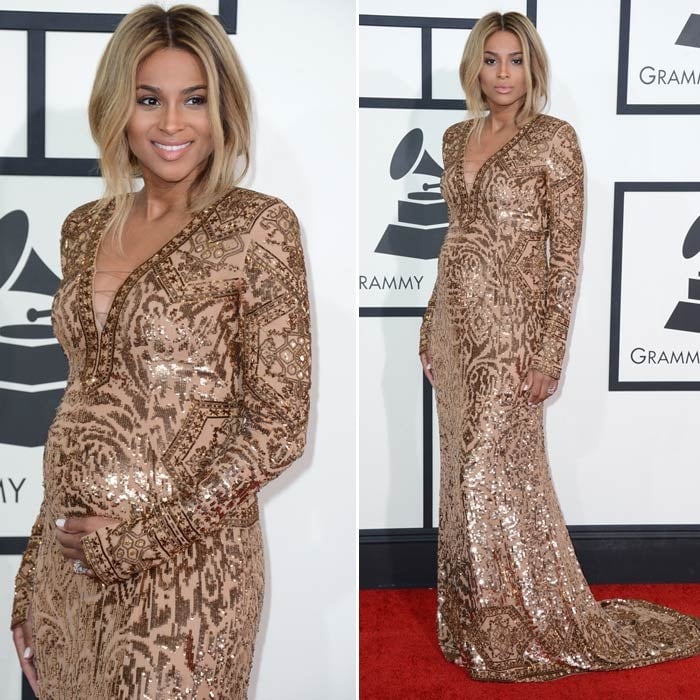 Ciara looked ravishing fantastic beaded rose gold, long-sleeved Pucci gown, as she showed off her cute baby bump. In an interview, she even mentioned that it took around 2-3 fittings to get the dress right. Her outfit was quite reminiscent of Olivia Wilde's gown at the Golden Globes.
Kacey Musgraves in Armani Privé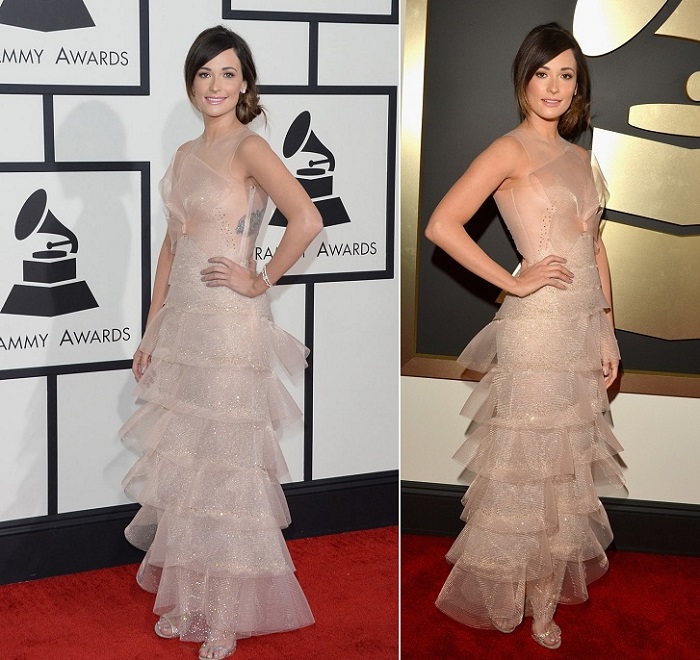 Kacey Musgraves looked stunning in this ruffled number by Armani Privé. Not only she dazzled at the red carpet, but she had certainly some proud moments  as she pick the award for Best Country Song for her track "Merry Go Round". Taylor Swift may have given a historical performance, but Kacey just stole the show by beating her for the country award.
Kacey also gave a rocking performance as she sizzled in a short, bedazzled hot-pink dress with a plunging neckline and bedazzled cowboy boots. She received her award in this same attire.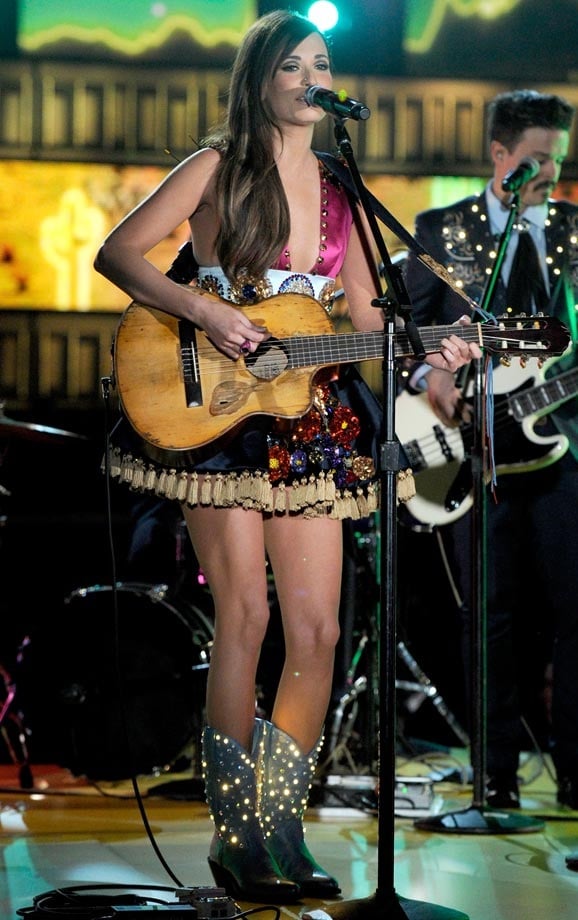 Kacey had this to say after receiving her award,
"Oh my god, I can't even, I can't even. I got to make a record that I poured myself into and I'm so proud of. I seriously cannot thank you enough!"
Katy Perry in Valentino couture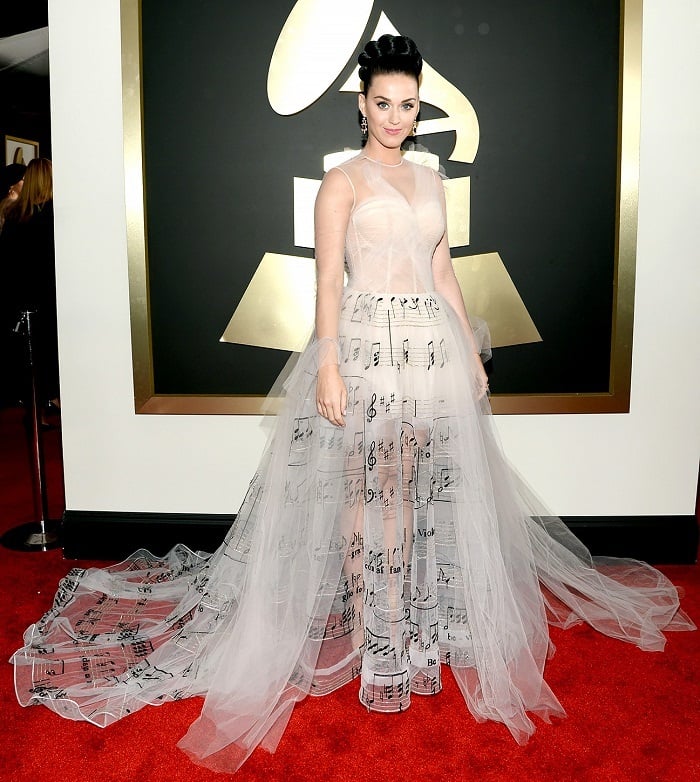 Katy Perry goes musical even on red carpet. As usual Katy once again brought out a sense of whimsy to the red carpet. The Prism diva, who was accompanied by brother David Hudson, was seen wearing a Valentino sheer couture printed with sheet music.
The ex-wife of Russell Brand, Katy who is currently dating John Mayer wore four dresses to the event. While none of the rest of her outfits could leave any lasting impression, let's just forgive for her serious bout of wardrobe selection decision for the event.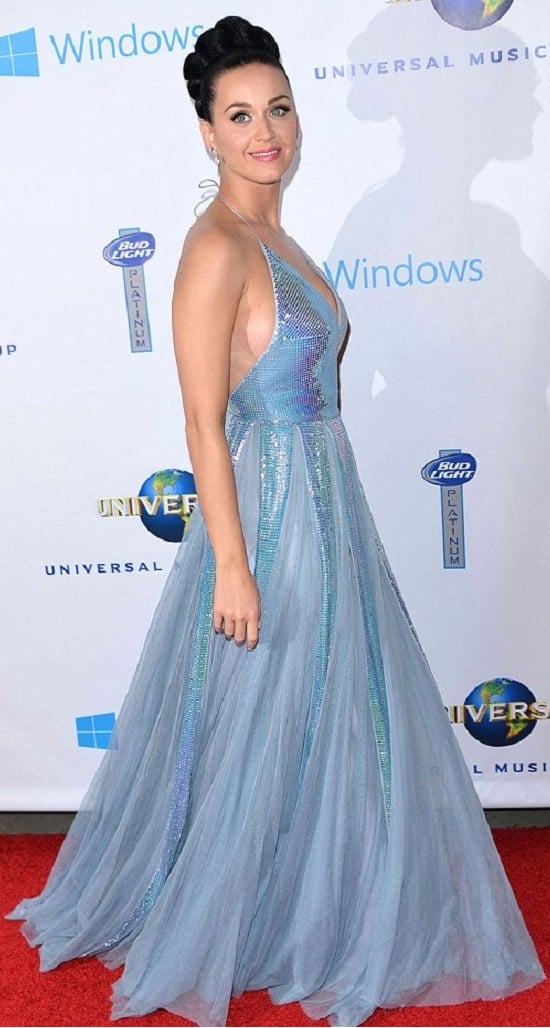 While her Valentino couture was so-so, she definitely wore a bizzare crucifix dress for her performance and later on she showed up in a maroon dress with a random snake design. Later for the party, she wore a blue halter neck long gown in teal. Atleast this one is better than the previous two.
Colbie Caillat in Ezra Santos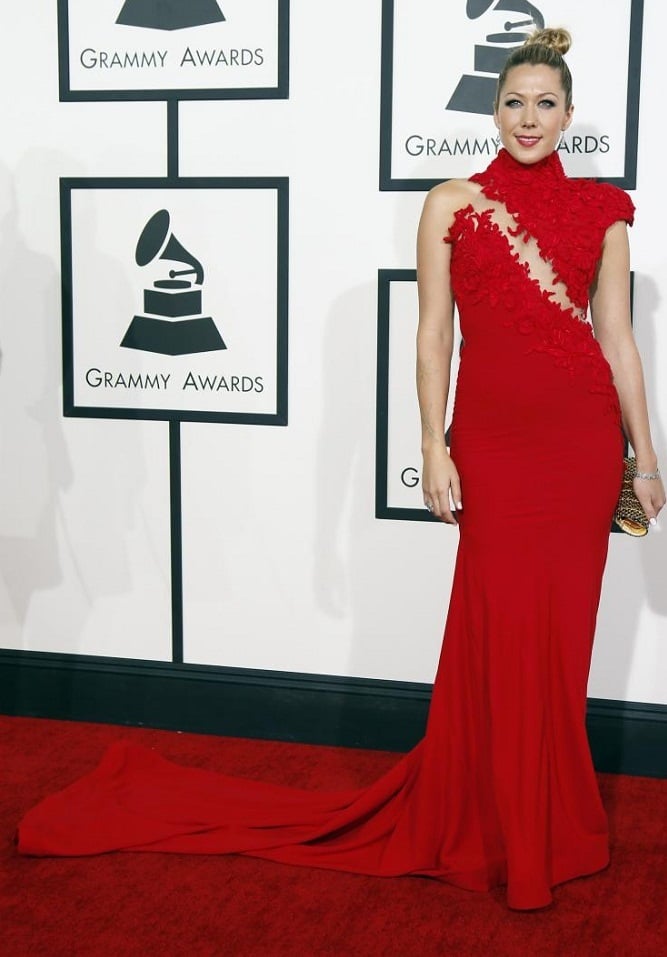 Colbie wooed the audience as she appeared in a stunning red gown by Ezra Santos. Colbie's crimson gown was extremely eye-catching. The turtle neck silhouette was accentuated with a faux-one-shoulder design along-with textural, feather-like detailing. The sexy cross-body sheer panel looked more elegant with the train. She paired her dress with Claude Morady 1930s vintage diamonds, Jimmy Choo shoes and an ITA Collection clutch.
Even I came across a website, which claimed this – "Everybody wants the dress that Colbie Caillat is wearing at the #Grammys!"
Here is the list of the winners –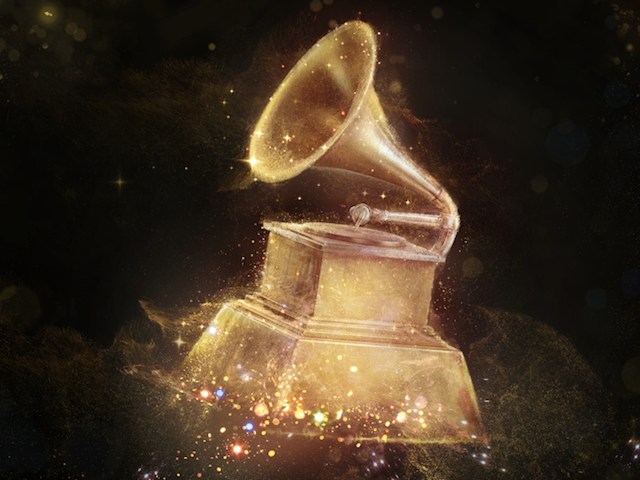 Album of the Year:
Daft Punk, Random Access Memories
Record of the Year:
Daft Punk, "Get Lucky"
Song of the Year:
Lorde, "Royals"
Best Country Album:
Kacey Musgraves, Same Trailer Different Park
Best Pop Vocal Album:
Bruno Mars, Unorthodox Jukebox
Best Rap/Sung Collaboration:
Jay Z Featuring Justin Timberlake, "Holy Grail"
Best Pop Solo Performance:
Lorde, "Royals"
Best Rock Song:
Dave Grohl, Paul McCartney, Krist Novoselic, and Pat Smear, "Cut Me Some Slack"
Best Pop Duo/Group Performance:
Daft Punk Featuring Pharrell Williams and Nile Rodgers, "Get Lucky"
Best New Artist:
Macklemore and Ryan Lewis
Best Rock Album:
Led Zeppelin, Celebration Day
Best Metal Performance:
Black Sabbath, "God Is Dead?"
Producer of the Year, Non-Classical:
Pharrell Williams
Best Alternative Music Album:
Vampire Weekend, Modern Vampires of the City
Best Rock Performance:
Imagine Dragons, "Radioactive"
Best Country Song:
Kacey Musgraves, "Merry Go 'Round"
Best Country Solo Performance:
Darius Rucker, "Wagon Wheel"
Best Country Duo/Group Performance:
The Civil Wars, "From This Valley"
Best Music Film:
Paul McCartney, Live Kisses
Best Music Video:
Justin Timberlake Featuring Jay Z, "Suit and Tie" (David Fincher, video director; Timory King, video producer)
Best Blues Album:
Ben Harper With Charlie Musselwhite, Get Up!
Best R&B Album:
Alicia Keys, Girl on Fire
Best Urban Contemporary Album:
Rihanna, Unapologetic
Best R&B Song:
Justin Timberlake, "Pusher Love Girl" (James Fauntleroy, Jerome Harmon, Timothy Mosley and Justin Timberlake, songwriters)
Best Traditional R&B Performance:
Gary Clark, Jr., "Please Come Home"
Best R&B Performance:
Snarky Puppy With Lalah Hathaway, "Something"
Best Pop Instrumental Album:
Herb Alpert, Steppin' Out
Best Dance Recording:
Zedd Featuring Foxes, "Clarity"
Best Dance/Electronica Album:
Daft Punk, Random Access Memories
Best Rap Performance:
Macklemore and Ryan Lewis Featuring Wanz, "Thrift Shop"
Best Rap Song:
Macklemore and Ryan Lewis Featuring Wanz, "Thrift Shop" (Ben Haggerty and Ryan Lewis, songwriters)
Best Rap Album:
Macklemore and Ryan Lewis, the Heist
Best Traditional Pop Vocal Album:
Michael Bublé, to Be Loved
Best New Age Album:
Laura Sullivan, Love's River
Best Improvised Jazz Solo:
Wayne Shorter, "Orbits"
Best Jazz Vocal Album:
Gregory Porter, Liquid Spirit
Best Jazz Instrumental Album:
Terri Lyne Carrington, Money Jungle: Provocative in Blue
Best Large Jazz Ensemble Album:
Randy Brecker, Wlodek Pawlik Trio and Kalisz Philharmonic, Night in Calisia
Best Latin Jazz Album:
Paquito D'Rivera and Trio Corrente, Song for Maura
Best Gospel/Contemporary Christian Music Performance:
Tasha Cobbs, Break Every Chain
Best Gospel Song:
Tye Tribbett, "If He Did It Before . . . Same God"
Best Contemporary Christian Music Song:
Mandisa, "Overcomer" (David Garcia, Ben Glover and Christopher Stevens, songwriters)
Best Gospel Album:
Tye Tribbett, Greater Than
Best Contemporary Christian Music Album:
Mandisa, Overcomer
Best Latin Pop Album:
Draco Rosa, Vida
Best Latin Rock, Urban or Alternative Album:
La Santa Cecilia, Treinta Días
Best Regional Mexican Music Album (Including Tejano):
Mariachi Divas De Cindy Shea, A Mi Manera
Best Tropical Latin Album:
Pacific Mambo Orchestra, Pacific Mambo Orchestra
Best American Roots Song:
Steve Martin and Edie Brickell, "Love Has Come for You" (Edie Brickell and Steve Martin, songwriters)
Best Americana Album:
Emmylou Harris and Rodney Crowell, Old Yellow Moon
Best Bluegrass Album:
Del McCoury Band, The Streets of Baltimore
Best Reggae Album:
Ziggy Marley, Ziggy Marley in Concert
Best World Music Album:
Gipsy Kings, Savor Flamenco (tie)
Ladysmith Black Mambazo, Live: Singing for Peace Around the World (tie)
Best Folk Album:
Guy Clark, My Favorite Picture of You
Best Regional Roots Music Album:
Terrance Simien and the Zydeco Experience, Dockside Sessions
Best Children's Album:
Jennifer Gasoi, Throw A Penny In the Wishing Well
Best Spoken Word Album (Includes Poetry, Audio Books and Storytelling):
Stephen Colbert, America Again: Re-becoming the Greatness We Never Weren't
Best Comedy Album:
Kathy Griffin, Calm Down Gurrl
Best Musical theater Album:
Kinky Boots
Best Compilation Soundtrack for Visual Media:
Sound City: Real to Reel
Best Score Soundtrack for Visual Media:
Skyfall, Thomas Newman, composer
Best Song Written for Visual Media:
Adele, "Skyfall" (Adele Adkins and Paul Epworth, songwriters)
Best Instrumental Composition:
The Clare Fischer Orchestra, "Pensamientos for Solo Alto Saxophone and Chamber Orchestra"
Hope you enjoyed this post! Do let us know your favorite best dressed at the Grammy's 2014 red carpet!