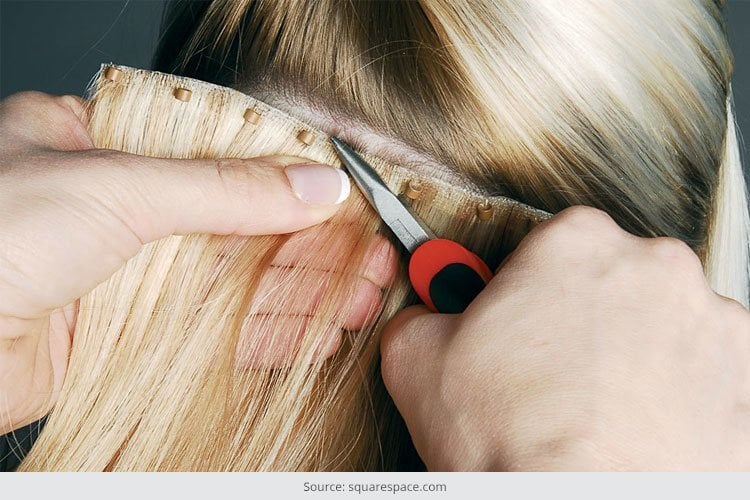 The girlie in us loves to extend joy when it comes to dressing up. We after all want our pound of flesh when it comes to looking the hottest chic looking babe. How far can we stretch ourselves in order to get the same? No stretching required yaar, just extend.
[Also Read: Hot & Happening Eyebrow Extensions ]
We are hinting at Hair Extensions 101, sweetie. It is a method where in you can lengthen your hair by adding tufts of synthetic or natural hair to the scalp. Sounds wow, what say? But why add hair extensions when you have natural hair, some of you may ask. That is in order to add extra length and volume to your hair when you want to wear long hair to a cocktail. This is achievable by taking help from a hair stylist so that you get the perfect hair extension which you had never seen or heard of.
How are Hair Extensions Installed?
There are various types of hair extensions. They can be bonded to the scalp, woven in, clipped in, or glued-in. It all depends on the nature of your scalp and your immediate need. Each method of hair extension has its share of ups and downs so never try to do it yourself. Instead take help from a professional hair stylist.
Categories of Hair Extensions
Hair extensions fall into two categories – synthetic hair and natural human hair. Though human hair can be styled like your own hair, synthetic hair has the chances of getting damaged when heated appliances like curling iron are used on them.
Human hair is no doubt an expensive and longer lasting option. Synthetic hair can pass away as a useful and affordable option to getting new hairstyles. Though you can colour natural human hair with chemicals and dyes, you can't do the same with synthetic hair. But yes, synthetic hair offers you unlimited colour options.
Types of Hair Extensions
Sew-In Extensions
This type of hair extension is commonly called 'weave' extension. On an average they last up to 3 months. When it comes to weaving them on the entire scalp, it might take even several hours. Wefts of hair extensions are sewn onto your naturally braided cornrows with a needle.
Bonded Extensions
These are also known as fusion hair extensions that come in i-tip, v-tip and u-tip. Essentially, they are hair strands pre-bonded at the hair root using several adhesives which range from glue to keratin. In some cases, even petroleum based adhesives are used. Bonded extensions have a little longer life than sew-in extensions and can go upto 5 months.
Adhesive Tape-in Extensions
In this case, you will see wefts of hair stuck pasted to the hair scalp using an adhesive strip. The adhesive hair extensions are quick to apply and remove and give a seamless and perfect look. The pre-taped hair extensions are sandwiched with precision between the natural hair locks so there isn't any way you will feel any sense of artificiality. This is one of the reasons why they are easy to manage and goes well with blonde hair ladies.
[sc:mediad]
Micro Link Installation
Sounds microscopic, eh? Well the micro link hair extensions involve cylinders that are put on one's natural hair and then clamped with pliers. The cylinders have threads into them so that no slippage happens. Micro links are a cost effective way of doing hair extensions as they can slip down the hair and be moved up. Usually they last between six to twelve weeks which means they are there to stay.
Clip-In Installation
Aha…this is a popular way to go about extending your look. Clip-in is in fact a short-term solution which you can apply or remove without needing the help of a hair stylist. That's because these extensions come with tiny combs that attach themselves to the hair roots.
Kinds of Hair Extensions
Hand Tied Wefts
In this case, each hair strand of yours is hand-tied onto the weft so that a strong thinner weft shows up. The hair extension is attached closer to the head in a natural way. Since the hand-tied wefts are thin, they shouldn't be cut while installing them.
Machine Tied Wefts
These wefts look quite the same as a long strip of hair but they are thicker than the hand tied weft. It is where loose hair are put through a sewing machine and sewn together. At the base of the hair root, hair are usually folded and sewn and another stitch is put into them to ensure a stronger hold to the weft. Machine tied wefts come in various styles and textures.
Now that you have seen the world of hair extensions, start applying it on yourself and see how far your hair extension takes you.