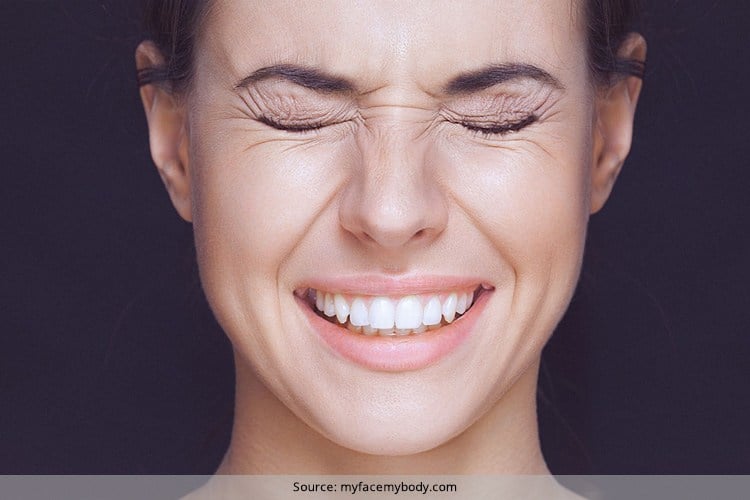 Words like anti-ageing might give you a feeling of vanishing wrinkles. But sometimes delicate areas around your eyes start to reveal wrinkles, especially, when you don't take adequate care of them. In fact, crow's feet around your eyes, around the outer corner of your eyes start in the mid to late 30's due to several factors such as pollution, too much of sun exposure, frowning and smoking.
How To Prevent Crow's Feet
Shouldn't a fashion-conscious you take adequate precaution on how to prevent crows feet around eyes? Here are some easy DIY's on how to prevent crow's feet as well as crow feet home remedies. Try them out, as that will increase your youth quotient.
[Also Read: Crows Feet Treatment]
Wear Sunscreen
Just like you drink water and milk ever day to quench thirst and nourish your body, make it a point to wear SPF 30+ every day. Exposure to sun rays leads to ageing and development of wrinkles and that includes crow's feet around your eyes.
By putting sunscreen on your face, you are not only nipping the early signs of ageing, but also minimising the chances of skin cancer.
Wear UV-Protection Sunglasses
You can double your protection against crow's feet by wearing a pair of UV-protected sunshades, whenever you step out in the sun. By wearing sunglasses, you would not only prevent sun damage, but also reduce the chances of encountering crow's feet.
Moisturising And Plumping Eye Cream
A simple way to fill in the lines under the eyes, as also prevent new ones from coming up is to use adequate amount of eye cream day and night. This plumps up the skin cells with hydration, thereby lessening the appearance of wrinkles. Look for a cream that has hydrating ingredients such as hyaluronic acid, honey and cucumber extract.
Get A Facial
A facial might sound a pampering beauty session, but when it comes to how to prevent crow's feet then a facial is the best bet in keeping your skin looking healthy and young. Go for a facial once a month at least as that is an effective way of crow feet home remedies. This helps stimulate blood circulation in your face.
One such facial is 'Microcurrent facial' which is on the expensive side. It involves mild electrical current that helps in toning up your facial muscles to a youthful state.
[Also Read: How To Get Rid Of Wrinkles Around Mouth]
Take Computer Breaks
Love to sit in front of the computer and play games in free time or work like a madman? Chances are you are doing more harm than good by spending most of your time in front of a bright computer screen. This is most likely to strain your eyes and lead to crows feet.
[Also Read: Makeup for Round Eyes]
Combat this by taking frequent breaks from the computer whenever you can. Make sure to optimize your computer monitor's brightness settings, because too bright or too dim screens can aggravate the strain around your eyes.
Sleep On Your Back
In order to say goodbye to wrinkles not only on your eyes, but also your face and neck, try and sleep on your back. When you sleep on your side or stomach, it can lead to sleep lines that become permanently etched in your skin.
[sc:mediad]
Wear Your Contact Lenses Carefully
This method on how to prevent crows feet around eyes is meant for all contact lens wearers. Pay good attention to how you are putting your contacts every morning and taking them out at night time before going to sleep. When you put extra pressure on the upper and lower eyelids, which is a delicate zone, it can lead to stretching and loss of elasticity in the eye area and therefore lead to crow's feet.
[Also Read: Protect Your Eyes from the Sun]
The best option is to use your ring fingers to hold your eyelids open since they are the weakest fingers and will cause less stress on your eye skin.
Hope you found tips on how to prevent crows feet around eyes helpful and worth trying out. Do tell us how you found them.