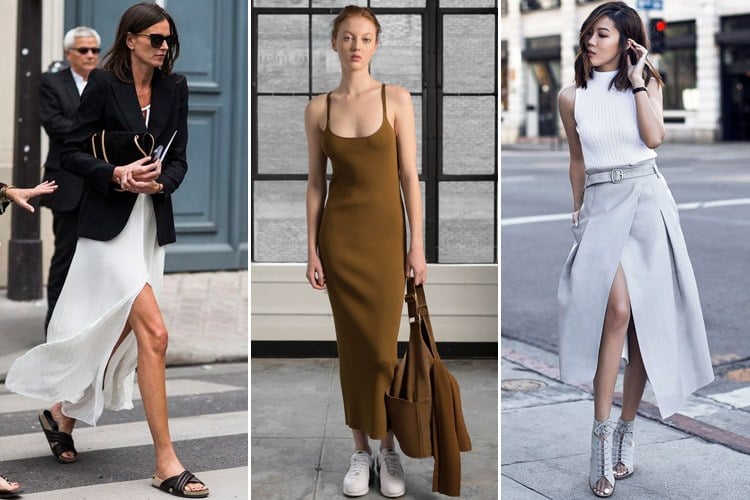 Talking about minimal fashion statements, the world is going gaga over it and fashionistas are downgrading their wardrobes to jump onto the bandwagon. But did you know, minimal fashion statements began with French designers André Courrèges and Pierre Cardin? The famous duo came up with mod shift dresses and the monochrome jerseys of the 60s and the 70s, and later on taking in the fashion scene of the 90s, along with Miuccia Prada came about with minimal fashion statements. Less accessorizing, sparse shapes and a cleaner palette formed the trend and just one powerful piece on the body was enough to create a stir, such as a stole!
[Also Read: Bohemian Gypsy Fashion Statements]
Minimal Clothing and Latest Fashion Trends For Women
There are many ways to go minimal. With that being said, here are a couple of latest fashion trends for women, that one could emulate keeping in mind the need to go minimal and chic.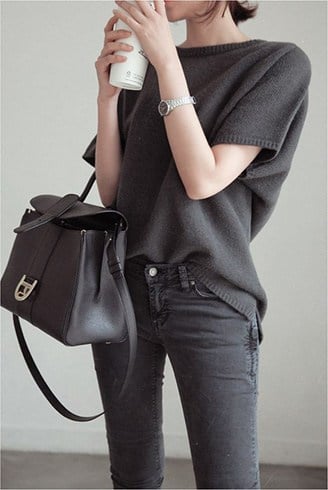 1. Off The Shoulder
Wear an off shoulder top with a midi skirt or a pair of trousers and carry a leather clutch bag or a handbag. The powerful piece here on the minimal touch would be the bag that steals the show. One doesn't need to accessorize or carry chunky statements around to look chic anymore.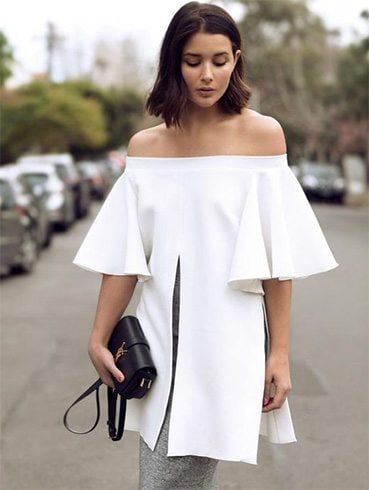 2. Go Monochromatic
A high slit dress with a halter top makes a good fashion statement the minimal way as well. Combine the look with natural makeup, loose hairdo and boots for the feet or heels, and the style is done for the day. A clutch in monochromatic shades can be a best tag along, but optional if you don't want baggage.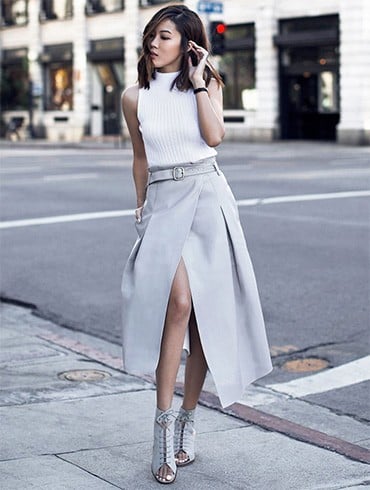 3. Pop Of Color
Striped tees or tops with neutral toned shorts are perfect for the summer evenings out. However, to make a powerful yet scintillating fashion statement the minimal way, red converse shoes does its magic. Loose hair bun and red lips complete the look!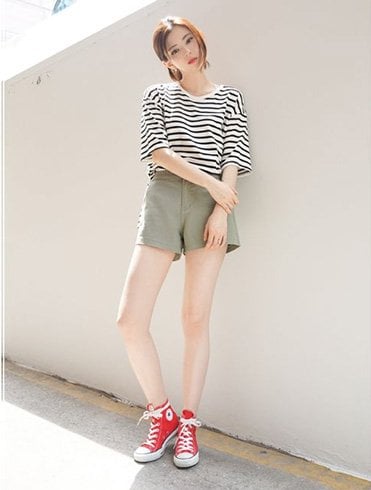 4. Long Flowing Asymmetrical Slit Tops
Bring out these denims and wear them with asymmetrical slit tops for Friday at work. Combine the look with flats for the feet or heels, whichever is comfortable. Makeup wise keep it natural and wear dark sunshades for the eyes. Carry a sling bag or a small cross body bag to complete the look!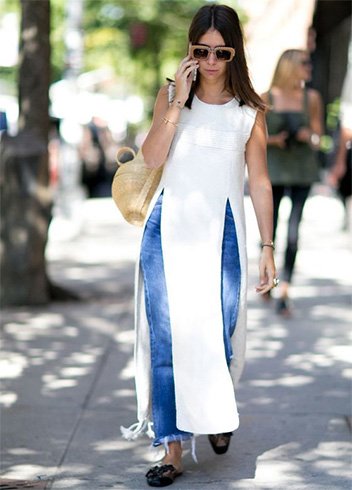 5. An All White Long Dress
Mondays at work need a bright touch, which is why an all white look is preferred with a leather belt and a neutral toned summer coat. Wear the look with red lips or pink, a chunky wristlet and white heels or pumps for the feet.
[Also Read: Beach-Wear Fashion Statements]
6. Suede Maxi Strappy's
Strappy suede maxi gowns in neutral tones can be worn at parties or maybe social do's with friends. To add more zing to the minimalistic approach, keep the makeup natural and the hairdo simple. Instead of heels this time, wear white sneakers for the feet and carry a similar toned duffel bag for company.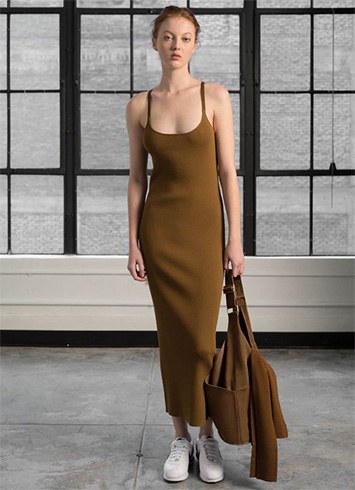 7. A Vibrant High Necked Top
Vibrant solid hues high necked tops with skinnies are haute minimal fashion trends to flaunt. You can wear the look for a date night, for a party or maybe to work on a Friday as well. Complete the look with a solid hued warm toned bag, minimal makeup, wavy tussled hair and booties for the feet.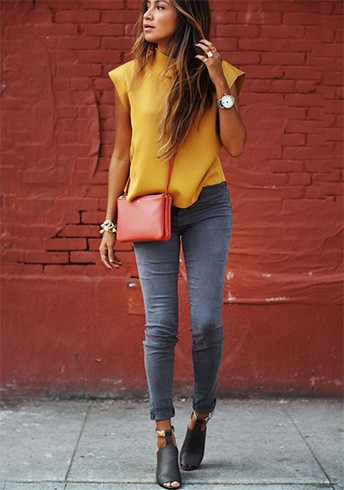 8. Long Black Frocks
For the client meet this evening and because you have to make a mark at the event, a long black frock with nude pumps for the feet, seems to be an apt fashion statement to make. Tie your hair into a topknot or leave it loose with a simple bow ponytail, and the look comes as chic and clean.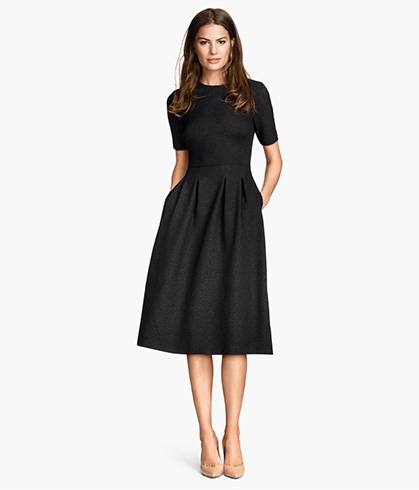 [sc:mediad]
9. A White Slip Dress With A Black Blazer
If you are heading to meet a friend or maybe for a movie with him, wear a white slip dress with a black blazer, or a black cropped summer coat for the evening out. Keep the look simple yet chic with flats for the feet and a messy bun for the hair.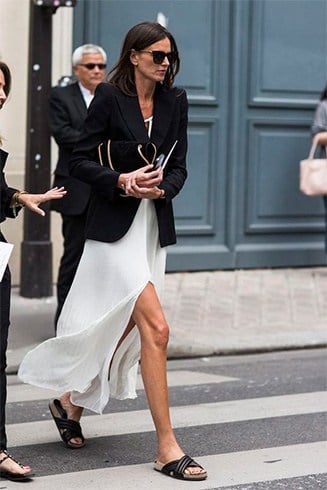 10. Bell Pants And An Off Shoulder
Think about rocking the style scene on the street this time with latest fashion styles, wearing the modern minimalist trends as seen on FWPE16- a pair of nude toned bell pants with a sexy off shoulder black top.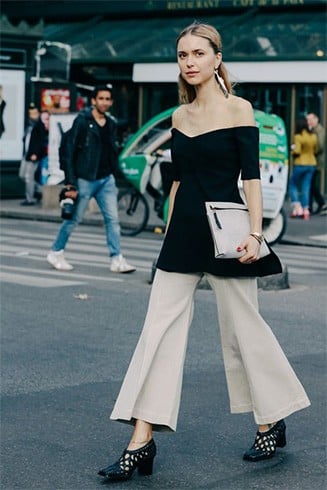 There are many more ways to indulge in minimal style clothing and minimal fashion, which brings about a chic statement now and then. You just have to be imaginative and experimenting with minimalim in fashion for the same!
Images Source: pinterest.com