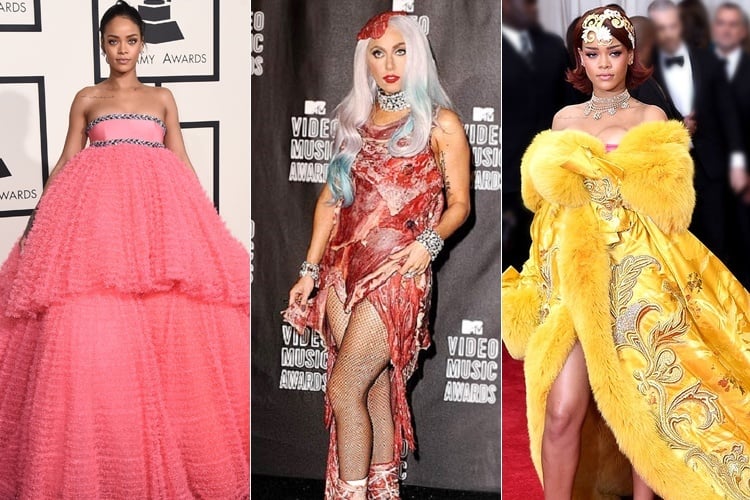 Walking the red carpet can be a dream for a lot of us. But our celebrities can often turn a red carpet moment into a nightmare with their imaginative red carpet dresses. You don't trust me, just read on…
Best Red Carpet Dresses In The Department Of Craziness
Have a look at these worst and best red carpet dresses of our favorite celebrities and decide for yourself.
1. Lady Gaga
Some weird people might consider the show biz girls a piece of meat. And Lady Gaga had given them enough and more reasons to substantiate their opinion. In the VMAs 2010, the pop star wore a dress, shoes, head piece, and carried a purse made made of raw beef. For good or worst, this dress has gone down in the history of red carpet dresses, and will stay there for time immemorial.
2. Nicky Minaj
Nicky and outrageous go hand in hand. But this outfit she wore in the year 2012 while promoting her perfume, 'Pink Friday' in Australia, took overboard to a whole new level. We are clueless as to what she was trying to do with this multiple layers of paneled satin fabric. It made her look too voluptuous and large and too be too honest, weird.
3. Ke$ha
Gone are the days when celebs competed each other in glamor. The trend in the divas are outdoing each other in trashiness, and K e$ha took this trend a little too literally in the VMA, 2010. She wore this ensemble which she claimed was made out of garbage bags from Home Depot. But we have to admit, the stylist has done some absolute wonder with these garbage bags here, else who knew even the trash could make red carpet style dresses.
4. Amber Rose
What did year 2014 see? What else? It saw Amber Rose's skin, and pretty much all of it through the metallic shackles she wrapped around her body in the year's VMAs. What is with the VMAs and the weirdest ideas? Who needs red carpet gowns when you can have chains around? Though her body looks fine, that silver panty makes me uncomfortable. Okay, now stop staring there, you dirty dirty people.
[Also Read: Taylor Swift Red Carpet Moments]
5. Rihanna
No that's not a cake… that is bad girl Riri, in her extra flared, extra layered dress for Grammy's 2015. But I won't accuse you for this mistake, because hey, she is indeed looking like a Barbie-esque cake on some primary school kid's birthday party. She got lucky that no one ran a knife on her though, Rihanna in this dress acted as the muse to numerous jobless couch potatoes across the world who created creative memes by drawing inspiration from this look.
[sc:mediad]
6. Miley Cyrus
How could we not include Miley in this list of weird dresses. You should rather be happy that we included her in a dress list because these days our girl makes appearances mostly in no-dress lists. By now you all know this was Miley's ensemble in VMAs, 2015. We are safe to deduce that the VMAs are basically the place for the stylists to get as uncanny as one can with the celebrity red carpet dresses.
[Also Read: Best Red Carpet Dresses]
7. Nicki Minaj
If I could, I would populate this entire list with Nicki Minaj and her outlining ensembles, but I just want to curb my Nicki obsession so much. But once done with this one, I will give you another one, I promise. For the time being let us get onto this one. So what happened during the Grammy's 2012. Well, Nicki just tried to wake up her inner little Red riding hood. It's okay, we all loved that story when we were kids, but Nicki certainly is in no mood to get intimidated by the wolf. Nicki is that Red Riding-hood who will scare the sh$t of the wolf. You agree or do you anyway agree?
8. Rihanna
So Nicki and Rihanna basically strive to outdo each other in red carpet fashion ideas in a bizarre way. This yellow drab that Riri chose to wrap around herself during the Met Gala 2015, evoked the creative genius of some idle techies again. And this time it gave us some more interesting memes, right from Game of Thrones to Pizzas, you could image everything on that long train, if you had that creativity. Google out if you don't trust me.
9. Nicki Minaj
As I promised, I am giving you another bite of Nicki Minaj. Let me be honest with you guys here, I don't have the slightest of idea as to what is going on with this dress. But I will try my best to break it down for you. Those are pink-yellow-blond poop look-alike wigs, with a painted surgical mask. She is wearing an ice cream cone for a neckpiece, and metallic diamond shaped boobs, because let's face it, what are VMAs without some highlighted boobs? And then you have a flared skirts teemed with decorated plastered legs. Yes, VMA 2011 was all about Nicki Minaj.
[Also Read: Selena Gomez Red Carpet Looks]
With all these best red carpet dresses in the department of craziness, this is all the entertainment I had for you folks today. Hope you enjoyed the madness. I wonder if I will ever list Selena Gomez and Taylor Swift in such articles.