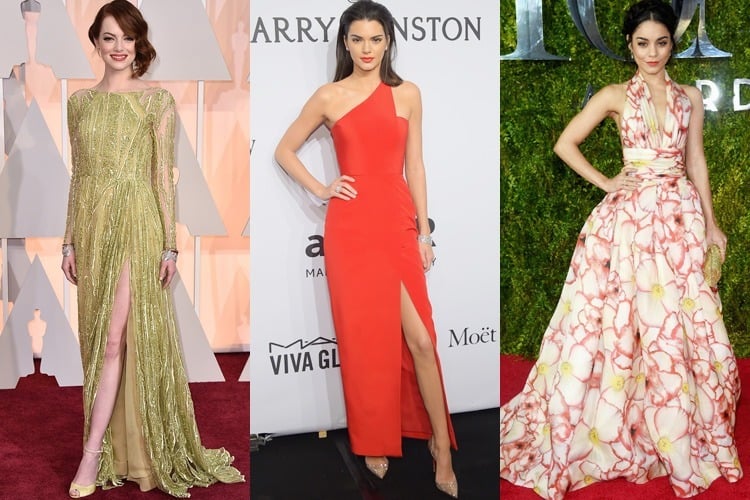 Having taken a dose of the best dressed Bollywood divas, it's now time to lay our eyes beyond geographical boundaries. While Jennifer Lopez and Beyoncé are used to being hailed at the red carpet, the relatively new entrant at the occasions like Gigi Hadid and Jennifer Lawrence didn't fail to entrap us into their spell. Here is what we got for you…
Selena Gomez
This was Selena Gomez's revival year, and I am not talking about the album she dropped. She signed up for a 360 degree revival and that is exactly what she achieved. Ditching her cute teenager image she blossomed into a sexy siren keeping every bit of class she is renowned for. Every time she walked the red carpet, she had 'epic' written all over her. What we have picked up for you guys from her many appearances in this amazing midi length red sparkly gown that she rocked at the AMAs 2015. The Givenchy covered her at all the right places but didn't shy away from showing off her assets.
Taylor Swift
[Also Read: Taylor Swift Red Carpet Moments]
We don't need to talk much when we are talking about Taylor Swift. The dropping of 1989 and her famous squad kept her in the lime light through the year. And yes, she did make all the right choices when it came to her wardrobe. But what we have chosen for you here is this teal high-low gown she wore at the Grammys 2015. In the Elie Saab dress, she finally gave a break to her all bling avatar that she is seen in most of the red carpets.
Gigi Hadid
Just like the above two divas, Gigi Hadid too celebrated this year with some one of a kind achievements. The super model grew her angel wings and walked the most prestigious lingerie show in the world of modeling; we are talking about the Victoria's Secret show. But just after the VS show she gave herself a new makeover and appeared in the AMAs just to prove her ace in the world of fashion.
Kendall Jenner
If Gigi proved her dominance in fashion and style, best friend Kendall was not to sit back either. Long before growing her own VS angel wings, she painted the town red in this gorgeous gown with an evil thigh high slit. This single shoulder dress with a bright lipstick made the red dancing girl emoji look like a total loser. It was basically Kendall's way of telling the world, if you want to wear red, you wear it like this.
Jennifer Lawrence
Jay Law has come up a long way in this couple of years, because the years are all about the Hunger Games. Not only she has established her name in Hollywood's richest celebs under 25, she has enlisted herself in the wine and dine mates of stars like Adele. And her red carpet avtars show that she has upped her game in the fashion arena as well. Check out this lovely Christian Dior black couture she walked in at the Met Gala.
[Also Read: Red Carpet Dresses]
Emma Stone
The red head turned every head at the Oscars this year. In this golden Elie Saab she gave an impression of raw gold melting over Emma's heat. The strategically placed slit looked sexy beyond heaven. Her best accessory was her bare back and the bright pop of red on the lips spoke a thousand words without saying a single. If the Oscar award was a female figure, it would have certainly replicated the image of this 'Birdman' star without a doubt.
Venessa Hudgens
The Tony awards saw Venessa Hudgens dressed in a floor length halter neck floral gown. While most of the stars stuck to solids at the red carpets, Hudgens picked up this piece from Naeem Khan's 2015 Siring collection off the runway. The backless number was a sheer work of art, the pouch in gold shimmer didn't do justice to the look though. We still love Venessa in this floral mood.
[sc:mediad]
Dakota Johnson
For all the time she spent sans clothing in Fifty Shade of Grey, she provided the much lucrative compensation in the form of this sinfully gorgeous red gown. This side slit, single sleeved Saint Laurent dress was epic on the Oscars this year. Skillfully the stylist combined it with Diamond Jewelry from Forever Mark, and Bally pouch. Look at the pic below, even the stars are falling at her feet.
Go, have a glass of water now. You have been holding that breath for a long time, we know, we hope you haven't stressed those lungs too much.