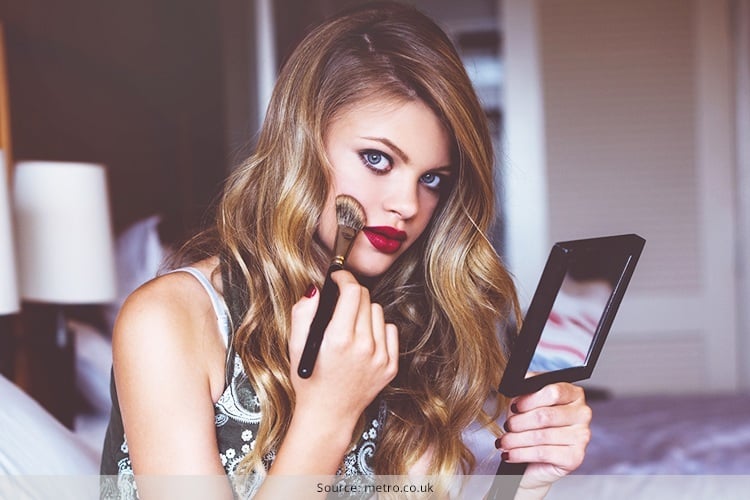 How often do you walk down the street or into a party to watch a bevy of 'so-called-beauties' all dolled up on the lines of the Harajuku Japanese women! Quite familiar a sight it is, isn't it? Honestly, we women in all shapes and sizes, skin tones too, are born beautiful and we really wouldn't need makeup as such to enhance our beauty. But then we still fall prey to the marketing gimmicks and acts by various cosmetic brands, and not realising the photo touch ups they do to sell their stuff, and fall victim to buying everything in a bid to look like a diva!
Stop right there
While we aren't against the use of makeup, because we all love dressing up and playing with looks now and then, the question here is, how much is too much? Some women go over-the-top with the eyeliner, the lipstick or the eye shadow, and end up looking like a tropical forest inhabitant.
The idea is to accentuate the look and the skin tone you have been born or blessed with, and not to make a mockery of the features bestowed. Some of us may rock and paint the town red in the full look, however, the rest of us prefer the occasional eyeliner and highlighters for a touch and glow.
Whatever be your stance on makeup usage, please ensure not to go overboard with it. Your face is indeed the most natural canvas around, but experimenting a little too much or applying plenty of makeup isn't advised. Respect your skin and it would respect you back. Too much of anything is bad.
What about the five minute look?
A quick updo and a quick dolling up for the day time office saga is what every woman desires. But let's cut some slack here with the tips below for various issues that most women in the real world out there have.
[Also Read: Makeup Tips Everyone Must Follow This Season]
Your natural beauty should be flaunted, unless of course you have spots, blemishes etc and you aren't too comfortable flaunting them around, which means a good fifteen minutes to start with a foundation, a face powder, lip gloss and an eyeliner would be enough. Remember, you would be wearing this look to work, so we wouldn't suggest the use of eye-shadow!
Non-clumpy mascara and a non-volumnizing one that too would be good to use, should you want a little exotica feel for Friday dressing. Should you choose not to wear eyeliner or mascara, use a cake liner which has silica gels in them. A cake liner is transparent and wouldn't stand out for daytime office wear. It keeps the lashes twiggy and dolled up too.
[Also Read: How to Make Eyes Look Big]
Night time makeup
You really do not wish to be called the WALKY-TALKY-CHRISTMAS tree, now would you, which is why keeping it minimal and yet with a shine should be your aim. While daytime makeup has to be soft and subtle, the reverse isn't always true for the night. Judge the event and the occasion, and dress up accordingly.
[sc:mediad]
Understand the importance of contouring the face, which helps define and accentuate certain parts of the facial structure and makes them defined.
Keep in mind the use of blush or rouge, and it not only throws in a pop of colour on the cheekbones, but also highlights areas and zones best on you too.
Highlight the brow bone with white, yellow or peach hues, and then begin colouring the eyelids with one stroke or max two, in a colour matching your outfit.
If the eyes have the shimmer and shine, the lips should be opposite. Unless of course, you have dark skin, where the eyes are less shiny than the lips!
Blending the makeup is very important, which is why a sponge and a blender brush should be your allies to use.
Whatever be your swag and style, we would ask you to use your best judgment to know the right from the wrong, without overdoing a look!