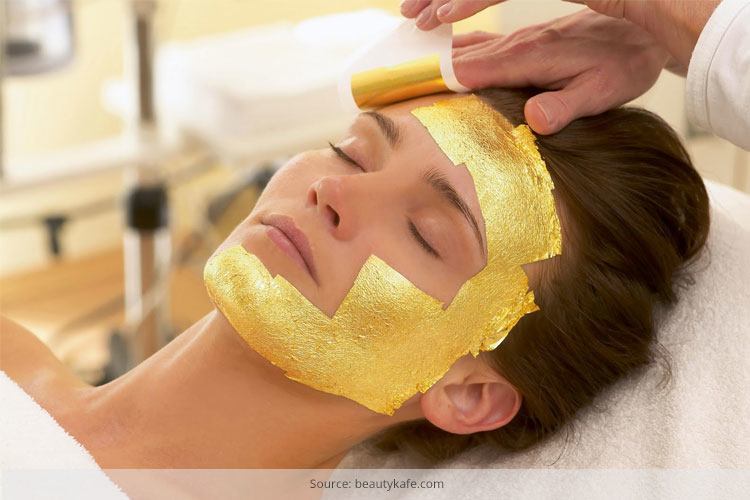 Is gold reserved for jewellery alone? Well, there is gold vark which is put on Indian sweetmeats. Then there are gold-toned artefacts and cutlery, gold nibs in pens, the entire universe it seems has specks of this yellow metal. Gold is very much a part of the beauty possessions too. That is why it makes feminine faces such as you shine as gold.
[Also Read: Best Foundation for Oily Skin]
Since gold can't be melted, there are ways to use it as a part of our beauty regimen – through gold facials.
Like all things, gold facials for oily skin can not only be done in beauty parlours, they can be made and done right there in our homes.
The Value of Gold Facials
Though gold is known for its ornamental value since times immemorial, it can do wonders to your skin through its time healing properties. You must have heard of the traditional 24k gold facial mask? Contrary to popular belief, it is not out of budget but considerably affordable. Gold facials actually diminish fine lines and wrinkles on your face and enhance beauty.
Yes oily skin is a nightmare for most women – office goers and housewives. And it is this oily factor that can cause acne formation and lead to dirt accumulation on the skin. That's why gold facial is the best bet that helps you get a glowing look on your chip chip oily face.
How to do Gold Facial
First thing that you require in order to do the same is a gold facial kit. To start the process out, you have to cleanse your skin suitably using a good quality cleanser. Try out nature-friendly marigold extract cleanser.
[Also Read: Best Blushes for Oily Skin Available in India]
Now massage your face extensively for 10 minutes with a cream which is a blend of gold dust and honey. This very cream, which is a mixture of the following ingredients such as sandalwood, saffron and gold foil can also be applied to the face thereafter. The cream will help in removing dead cells from the skin which is its primary role.
[sc:mediad]
After you are through with the face massage, it's time to do the face pack with turmeric, gold foil and aloe vera. Keep it on your face for about 10 minutes till the time it dries up. You will see that the gold foil will melt on its own, ushering a golden gleam on your face.
Now wash away the gold pack and apply some lavender oil on your facial skin. Pat your face dry and you are done with the gold facial.
While doing Gold Facial at home…
If you choose to do the gold facial at home, make sure you have bought a quality product from the market. The kit should be complete and adequate in such a way that there shouldn't be any need to combine any homemade mixture into it.
Three months is the ideal time frame when you can repeat the gold facial treatment for oily skin. That's because any good quality gold facial kit has a shelf life of three months.
[Also Read: 17 Clay Masks for Oily Skin]
Branded players in Gold facial treatment
There are a variety of cosmetic brands in the market that offer gold facial kits. The essential components of a gold facial kit are gold scrub, gold gel, gold cream and gold peel off masks (to be applied on the face in this order). The gold face masks often come with rose petal extracts that help in giving the skin a shiny lustre. Check out the gold facial brands which will be suitable for oily skin:
[new_royalslider id="111″]
Try on these effective gold facials and see how you look a beauty queen soon.