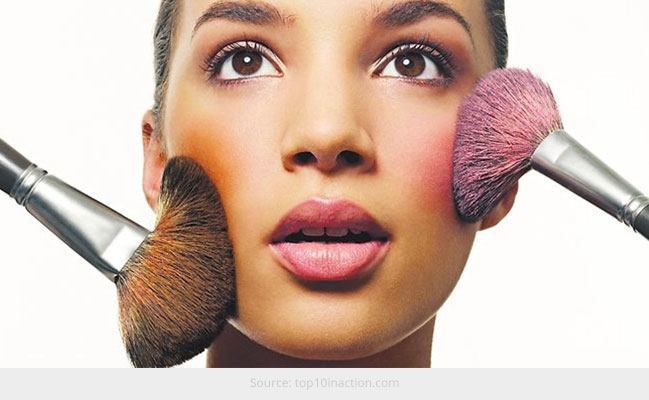 Nothing can dramatically brighten up your face like a blush. Your makeup routine is surely incomplete without this instant face brightener. Since it can brighten up any dull face, blush is a hit among women who love wearing makeup. A simple dash of color on the cheeks and you look younger and prettier instantly. With different skin types, blush should also be picked accordingly. While we'll discuss about other skin types in our latter posts, let's focus on best blushes for oily skin available in India, for the time being.
If you are also among those with oily skin and just because you have hyperactive sebaceous glands, it doesn't mean you can't flaunt rosy cheeks. Since oily and acne prone skin is commonly seen in one in every five women, cosmetic companies offer specially formulated makeup items like blush for oily skin to aptly suit this skin type.
[Also Read: Home Remedies For Oily Hair]
While beginners should avoid wearing cream blush; others with oily skin should go for non-comedogenic items, i.e. they do not clog pores. And while powder base, gel and cheek stains are ideal for oily skin, you should be very careful in picking blush that's gentle on your skin and comes with desired results.
Here are some of the best blushes for oily skin available in India –
Clinique Blushing Blush Powder Blush
Price – Rs. 6470
This is one of the best blushes you can find in the market today, as it suits all skin types. And its unique formulation works best with oily and acne prone skin to be specific without making it worse. Besides, this high end blush is highly pigmented and finely pressed, thereby making it stay on face without fading away for longer time period. Even the oily skin beauties can rely upon this blush.
NYX Cosmetics Powder Blush
Price – Rs. 1080
Sold at INR 1080 at Amazon India, this is another ideal blush for oily skin. If you're looking for something that is pigmented and highly raved at the same time and doesn't cost you a fortune, then NYX Cosmetics Powder Blush can be your best bait. You can ask any makeup junkie and they will list out an array of points favoring this blush mostly because of its amazing long-lasting wear capacity.
[sc:mediad]
Since oily skin is notorious for washing away makeup within minutes after applying it; this highly formulated blush claims to stay for hours because of its super blendable nature.
NARS Blush
Price – Rs. 2,874
Here is another best blush for oily skin available in India. This award-winning cosmetic was recently ranked the number 1 best selling blush in Amazon. Its unique sheer formula goes soft on oily skin and customers have referred it as 'universally flattering' and 'perennially pleasing'. And if you think this blush has been nothing but overrated then you should buy it and use it to believe it. Right from acne prone women to normal skin girls, everyone has given this blush a big thumbs up.
Those were my top picks on best blushes for oily skin available in India. Hope this post gave you some inspiration in picking your blush type!