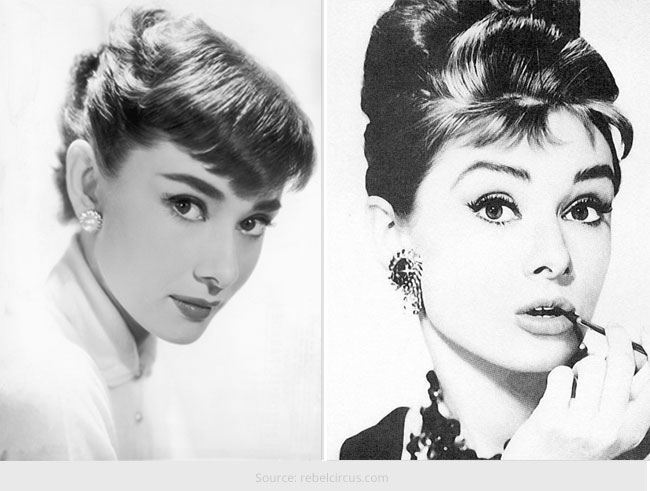 The actress and UNICEF ambassador Audrey Hepburn was highly popular for her beauty, elegance, smartness and style. Audrey's style known to be the peak of eternal poise and sophistication and many women still wish to capture her look. If you are looking to achieve an Audrey look, advice given below will surely come handy.
1. Audrey knew clearly what suited her looks and body; she was also clear what didn't suit her personality so find out what looks graceful on you. At the same time you should also know your weak points, also look for things in your personality you would like to highlight.
Audrey had really beautiful and thin waist and she always chose dresses cinched at her waist to flaunt it, similarly you should find your strong points and wear cloths accordingly. Go for nicely tailored dresses, experiment with traditional, ageless dresses made especially for your body;
2. Go and see some Audrey Hepburn movies to get an idea about her classiness and fashion Sabrina, Paris When it Sizzles, Funny Face, Charade, and Roman holidays are few to mention. All these movies will give you a good idea about her dresses, her accessories and shoes.
3. Audrey always kept her selections very simple, especially when it came to fashion and style. She believed that things become unnecessarily complicated when we try to do many things at a time. So keep it all very simple yet elegant.
4. Don't follow trends blindly if you are confident about your own style and fashion. Audrey Hepburn always gave preference to elegance more than trends. So, find look and style which is suitable to you and makes you feel confident instead of flowing with the trends every now and then.
5. Experiment with the classic outfits that suit you well however you can give a stylish touch to your overall look using colourful ornament or a scarf. Remember that seasonal changes in your style should be used as the accessory, not because of the latest fashion. In case a trend matchs with your own style, you can surely adopt it.
Audrey never fell for the latest trends; she constantly followed her unique style. The actress was skinny, brown, and absolutely flat lady but she always believed in highlighting what she already had.
6. Audrey always remained clearly well-groomed and tidy. She had great love for simplicity, so she ensured that she looked simple yet pretty. For achieving this simple yet gorgeous look, make sure you take great care of your hair and trim it on a regular basis. Carefully choose a hairstyle that looks good on you and modify it as you grow old. Don't hesitate to sport a hairstyle that isn't in fashion anymore; if it suits you well.
Don't forget that good skin, manicured nails, and well-groomed hair are some of the few things that people notice in you.
7. Audrey wanted to be a ballerina initially, but due to few situations Audrey couldn't fulfil her dream however she still wore ballerina style outfit in her daily life, this is the reason why ballet flats became her natural choice. Flats suit with several dresses like pants and skirts.
8. Audrey always liked those smart and well-fitted suits. The plus point is that you can mix and match it with your other outfits.
9. Audrey was the lady who first introduced little black dress. A little black dress has great significance as a fashion symbol till now. So a pretty black dress must be an essential part of your clothing, keep the dress as simple as possible but use stylish accessories to make it look elegant.
10. Audrey loved wearing jeans, Capri, slacks and skirts. Pick skinny fit or boot-cut fit jeans mostly if you want to follow the Audrey style. Dark, classic denim looked great on her so choose a shade of denim that suits you well. Slim-fit khakis always remained Audrey's personal favourites.
[sc:mediad]
11. For tops, she mostly chose polo, turtle-necks, black shirts, or t-shirts in solid shades (mainly white). She liked them without any symbols or patterns. You can choose a colour that looks best on you according to your skin and hair colour.
12. A scarf can be worn in several different ways, you can mix and match it with various dresses, and you can buy a silk scarf for hot weather and woollen scarves for cold weather.
13. To add an extra pinch of glamour at night, try a pair of long evening gloves with your beautiful and classic outfit, they will also help you achieve the Audrey look.
14. Don't forget to keep an excellent quality pearl set in your ornament collection however you should stay away from those big necklaces and fake ornaments; Audrey mostly liked a plain set of studs personally.
15. Make sure that you choose what looks best on you, because if you try to entirely replicate someone else's fashion and style, you might submerge your own individuality.
Hope you enjoyed this post on how to look like Audrey Hepburn.