If you do a survey across the world, you'll find out next to diamonds women are extremely in love with high heels. Sensing our readers' excitement, long back I had published a post on Why are Women so much Obsessed with Shoes. Being a feminist, even I fall in this group of crazy shoe lovers. If you're not living under the rocks and have a knack for shoe fashion then Jimmy Choo won't be a new name for you.

The King of shoes, Jimmy Choo, is the world's most coveted brand in footwear world. No matter what your class is, a pair of Jimmy Choo in your closet is certainly a prized possession. Being intrigued by their heirloom, I always wanted to do a Jimmy Choo story. I finally decided to publish one after coming across this astounding pair of Jimmy Choo Kani Crisscross Platform Sandals.
If you're the one, who is a shopper, if not regular but occasional, at this store then you're at the right post. That's because I am going to offer you some hot fashion tips on how to wear this luxury item.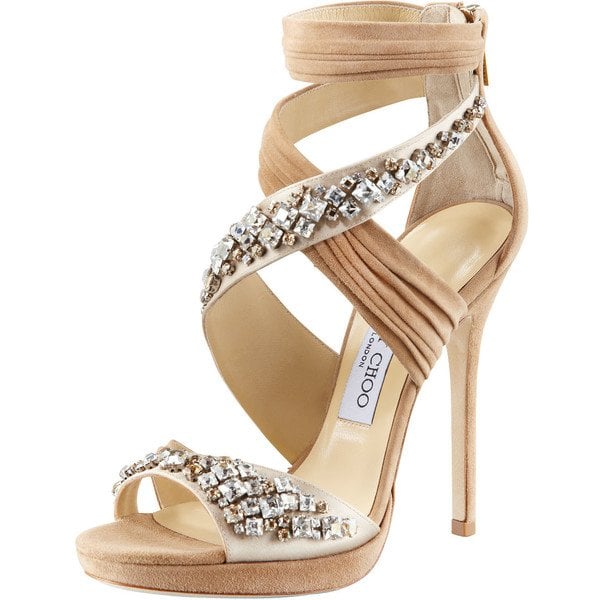 Warning: This nude sandal encrusted with Swarovski crystals is among the cruel fashion staples, which provoke you to spend a fortune in the name of luxury. The following post may just provoke you to loose your wallet. Be careful!
And if you already own this pair or planning to invest on them then you should be quite serious in wearing them, as pulling off Jimmy Choo is of no joke. And if you thought such glamorous pieces are only confined to the celebs donning on the Red Carpet complementing their exquisite gowns then you should better take some inspiration from "Breakfast At Tiffany's."
[Also Read: Lace up Sandals]
These breathtaking champagne colored crystal-studded heels can instantly add some strong dose of glamour to any skin tone.The embellished suede and satin crisscross straps is an added glamor quotient, whilst the 5-inch heel accentuated with a back zip keep up the femininity.
I have rounded up some top Polyvoe styling tips for these awesome Jimmy Choo heels. Continue reading!
The Pastel Factor
Now this is the perfect work wear combination I have been looking for to pair with. When white is paired with pastel mint green, it becomes a killer fashion sequence. Well, you do not have to store your white for summer closet, bring it out and feel the magic. While weather is unforgiving these days, you should stay warm as well.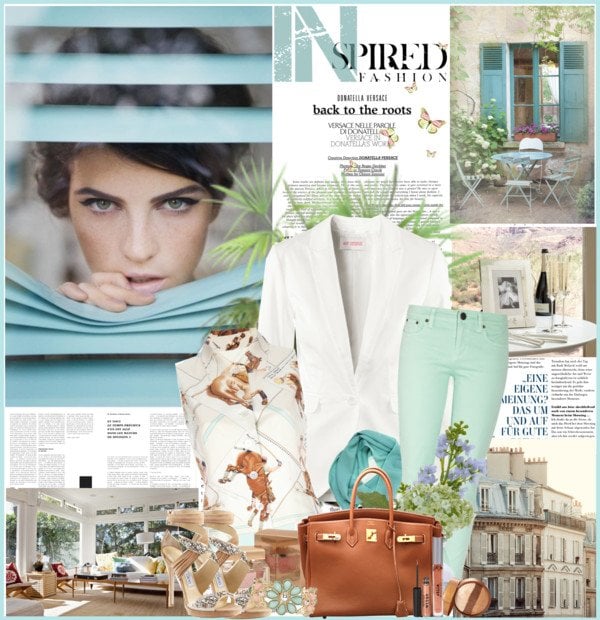 Here is an amazing set from Polyvore – an H&M white blazer in organic fit along-with Hermes Vintage sleeveless silk waistcoat in horse and polo print is paired with J.Crew Toothpick mint-green cropped mid-rise skinny jeans.
To accessorize your look, Polyvore suggests Ahem! Hermes Birkin in Togo leather along-with a beautiful Skinny Secretary Scarf in soft teal and a matching golden cuff from Sonsino in mint green and beige and not to mention Jimmy Choo sandals.
Tip: Wrap around the light weight scarf in a bow shape around your neck for your professional look. If you're wearing this look to workplace then you can wear this scarf around your waist like a belt to give an edge to your look.
Smoky Dust Look for your New year Soiree
Since party mood is already in air, you would be thinking of your New year Bash look. Now bid a stylish and glamorous farewell to 2013 by opting for this Polyvore style.
This glamorous set goes as this – Now raise the bar by opting for contemporary classic by picking the Smoky Dust Strap Collar Silk Top Mountauk from Steffen Schraut. Since it's gonna be a freezing night, you can pair your silk beige top with Mango leather biker jacket to give a twist to your look – ultra chic + tomboy! The butterfly cap sleeves and the ruffled fringe neckline perfectly complements the Jimmy Choo Kani Crisscross heels. For an added effect, the top comes with an over sized bow at the back.
Pair this silk top and jacket with Calypso St. Barth Delcine High Low Skirt. The shimmery high low hem skirt when paired with your ruffled silk top, will bring out the perfect silhouette which is just perfect for your coveted stilettos. How about giving a complete earthy look to your heels? You can accessorize your get-up with Stella McCartney Braided tote bag and Cathy Waterman Fallen Redwood Arabesque Frame Locket.
Sheer fashion tweeted with sparkling charcoal
If you're serious about being in the spotlight in your New Year party then this makes a great choice. Polyvore suggests this gorgeous party wear look by combining some great fashion staples.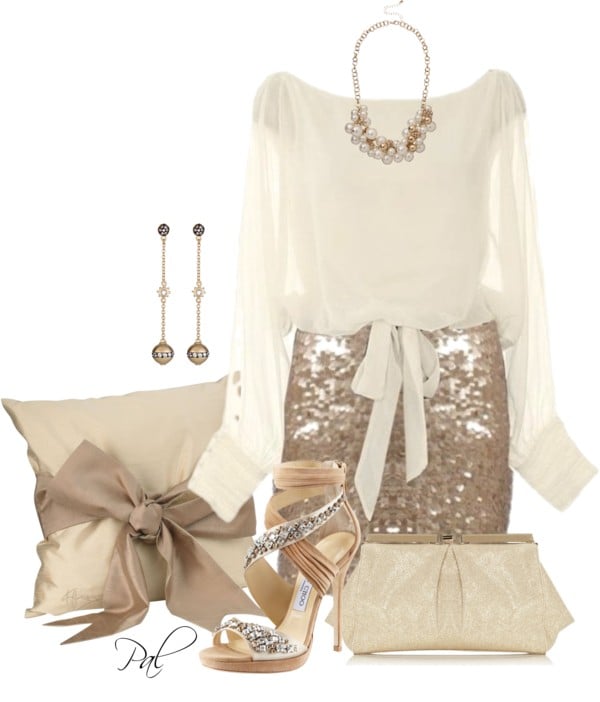 The set goes as this – Seasonal Sparkle Dress from Ricketyrack.com, which features a broad neckline and accentuated with chiffon slitted sheer sleeves, is teamed-up with a charcoal-washed sparkling skirt along-with a billowy bodice with bowed sash at the waistline to keep up the feminine element. this dress is extremely sensual and can instantly jazz up your party fashion.
Since the dress demands equally sensual accessories apart from our glamorous pair of Jimmy Choo heels, you can pair the outfit with a matching Cork Glitter Clutch from oasis, a statement pearl necklace from Faux and Crystal Ball Dangle Earrings from Belargo, letting your neck and ears glam tingle with glamor, allowing the gorgeous dress and heels do the talking throughout the night.
The rock n roll look
Why not do a retro fashion this party season? This is another perfect ensemble which will just give you 10/10 for your fabulous fashion sense.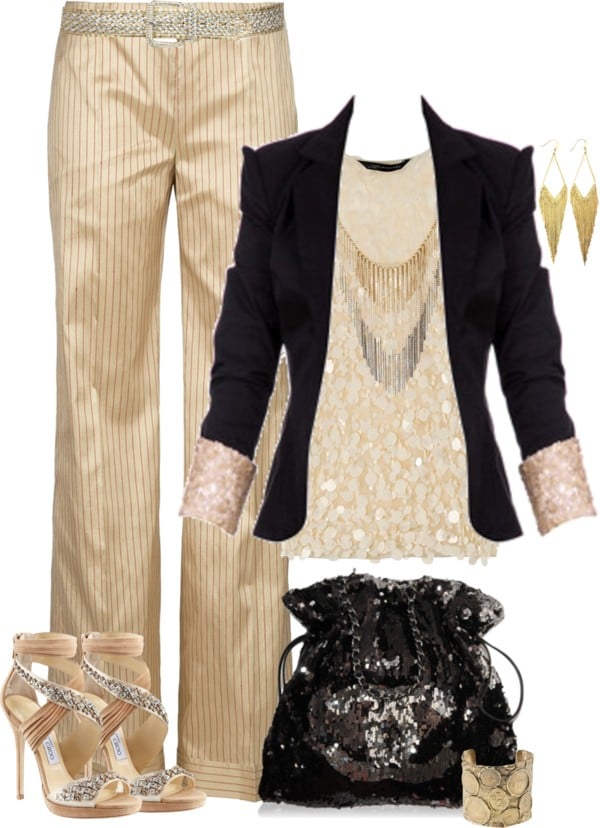 Polyvore's set goes as this – Pick a Zara SS12 Cream Embellished Top, which is a must fashion staple to get this look. You can pair this gorgeous sequined top with a black jacket with matching embellished sleeves and beige silk trousers from Romeo Gigli Vintage to complete your look with Jimmy Choo heels. To add some more tints of glamor, you can accessorize your look heavily this time.
Go for a 2″ wide metallic golden belt with square buckle, Alkemie Coin Cuff, Asos Minyunyura Necklace and Golden Long Fringe Hoop Earrings from Panacea.
You can enhance this high profile retro look by opting for a Chanel Sequin Summer Nights Shoulder Bag. And you're all set to rock the party.
Below are two more high end celeb fashion looks from Polyvore – a treat for your eyes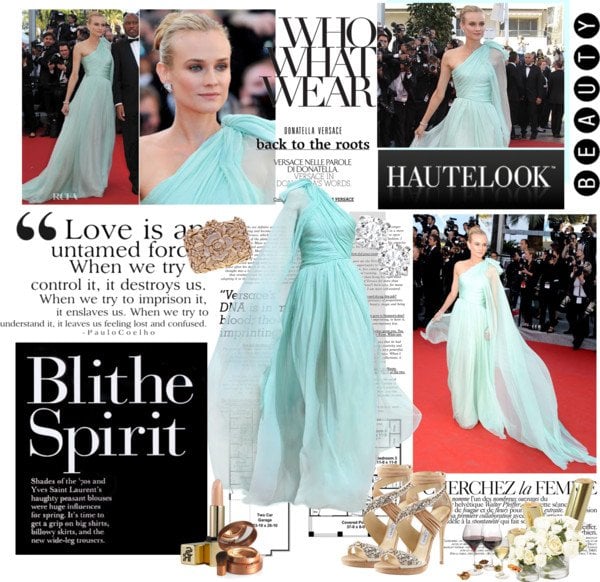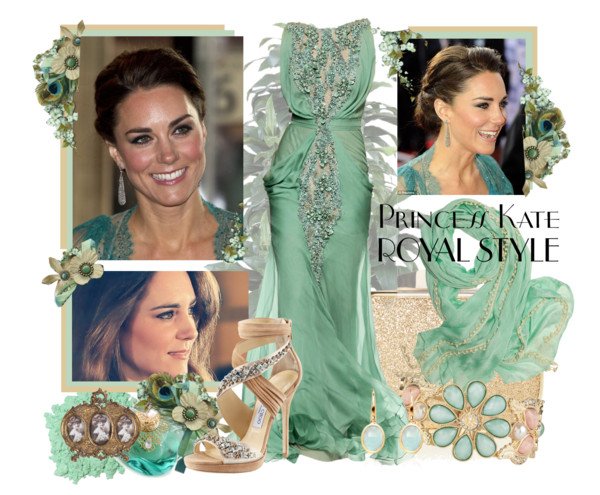 FYI: All the items from different for specified looks suggested by Polyvore are just for your inspiration. You may not pick the same item from the same brand but can surely adopt any of these styles to be a perfect fashionista!
Hope you enjoyed this post!