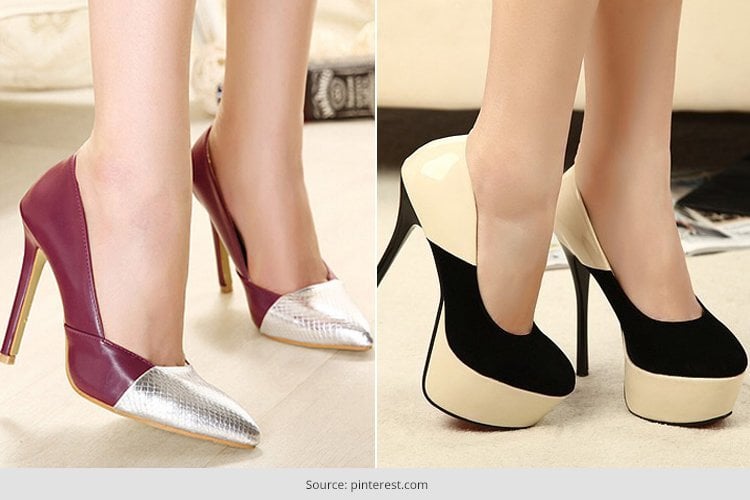 What the British call court shoes, are pumps in America and elsewhere too, popular by the same name. These are staple shoes in a woman's wardrobe, whatever the fashion be pumps never seem to fade away. The key to their eternal fashion quotient is pumps not only make women look tall but sexy too. Be it a formal event or a date, high heels can be teamed for a suave appeal. Yet again, the high fashion statement pumps come at the cost of pain in the feet and back which makes them a trouble to be worn for a long time. This article will tell you how to wear pumps comfortably so as to remain in style –
[Also Read: Types Of Shoes For Women]
How to Wear Pumps Comfortably
Pumps are beautiful party wears and never age. People wonder how to wear pumps but it is not all that difficult since they go with all kinds of attires ranging from sarees to kurtis to skirts and dresses. If you want to accentuate your figure wear high heels and wear low ones when going for more casual occasions.
Pick The Right Size
Shoes come in various materials, sizes and shapes and same applies to its heels. Wearing heels cause you a bit of discomfort initially but choosing the right kind of heel for you is how you can reduce the discomfort. Cut down on the distance of your heels from the balls of your feet which will reduce the pressure on the hips. Box toe heels are comfortable pumps because they let your toes rest flat hence better for balance. You will also need to ensure you walk properly. When you are wearing flats, walking is easier but wearing heels is difficult since it is not the natural alignment of your body. Thereby you need to strike the correct balance and remember to not look down or hunch your back. Walk with a straight spine and remember that wearing pumps does not burden you with the responsibility of ramp walking.
Stretch Out
Pumps which sit too tight on your feet and cause them to swell up and redden are just not worth it. You should go to your nearest cobbler and get them stretched or you can even search for shoe stretchers online. But remember to not stretch them too much since if they become too large, the edge will start hurting your ankles. Make sure the shoe is stretched enough to fit to your ankle and your big toe has enough space to move around inside the shoe.
[sc:mediad]
Material
Leather is meant for colder weather while you have different materials for summer. Using plastic materials could prove troublesome for the skin and could fast get weathered. Choose the material of your shoe carefully and always invest properly in shoes and buy it from a reliable shop even if it is from a flea market. One can never live in uncomfortable shoes.
Colour Show
Play with colours. When it comes to the question of how to wear pumps, you need not stick to the old school black ones. Name the colour and you will be able to find it in the market or online. Go for neons, nudes, pastels and colour blocks. Experiment with ones with velvet finish. If you have an occasion for it, you can also wear embroidered or embellished pumps. Sequinned pumps or the ones with glitter look perfect at parties and steal the show and they can also glam up any dull regular look. Do not shy away from sequins, instead embrace sequins and walk like the diva.
Pumps & Jeans
Not sure, to wear pumps with jeans or not? Pumps are not just wearable with skirts and seemingly more feminine costumes. They can easily be treated as regular shoes if one is comfortable wearing them. Jeans which are till the ankle go well with box toe and peep toe pumps or even the regular ones. Wear it with a linen shirt or a sequinned crop top and you will look a million dollars.
To conclude, one can wear pumps with everything, be it skirts or dresses, trousers, jeans or palazzos. You need to be sure of which height, shape, material you want your shoe to be of. Choosing the right size matters too, since these shoes stretch a bit in course of usage, therefore buying a size might seem comfortable and spacious, but in the long run could end up stretching and causing blisters and cuts from the edges at the ankle. These look best with pencil skirts and bodycon dresses and all kind of formal wear.