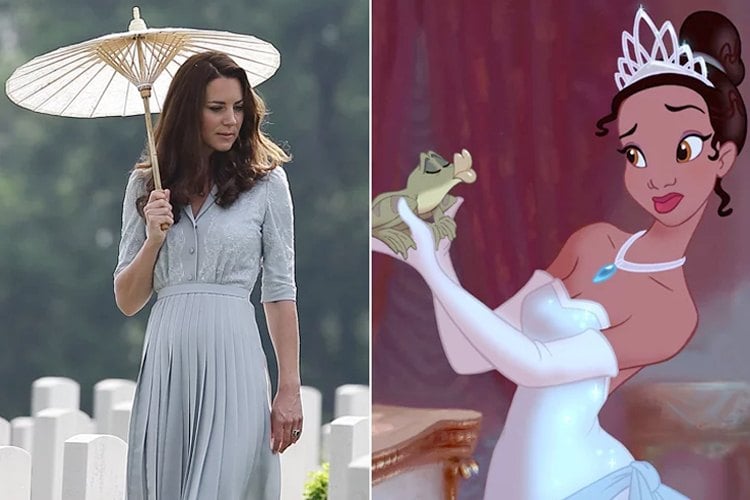 Kate Middleton stands out on many things – the very fact that she is the Duchess of Cambridge, she is the wife of Prince Charles and mother to two beautiful children – Prince George and Princess Charlotte. Plus her regal gowns and well-appointed jewellery which have always been in the news.
[Also Read: Kate Middleton Jewels]
Ever wondered about Kate Middleton looks that will remind you of a Disney Princess? How sweet and interesting it sounds.
Well, to cut the mystery, so gorgeous are the gowns of Kate Middleton that they bring up images of Kate Middleton look alike disney princess. Am not saying that Kate has copied those beautiful ballgowns Disney Princess style, but Kate Middleton looks seem to have taken inspiration from the priceless looks of the Disney characters.
So let's check out Kate Middleton's red carpet style to cocktail minis and coat dresses that are a celebration of Disney Princess style. Here's an ode to Kate Middleton looks that will remind you of a Disney Princess.
Kate As 'Ariel'
In this Temperley London dress, doesn't our lovely Kate look every bit Ariel from The Little Mermaid when she was on her tour to India and Bhutan? If you see the image closely, you will find her skirt fanning out something like fins.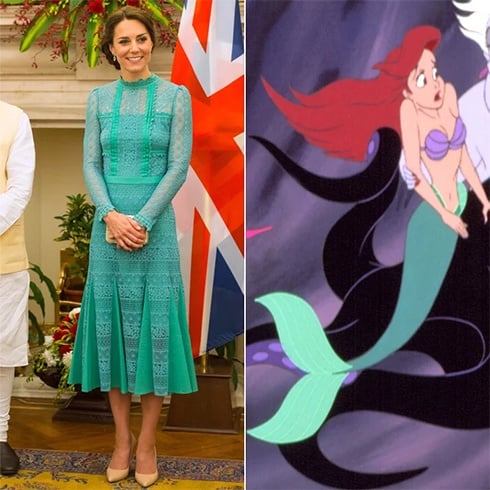 Kate As 'Belle'
For the Diamond Jubilee Tour held in Malaysia, Kate wore this lovely Alexander McQueen design. The interesting part is that just about everything from the gown's neckline to the metallic embroidery was like revisiting Belle's ballgown.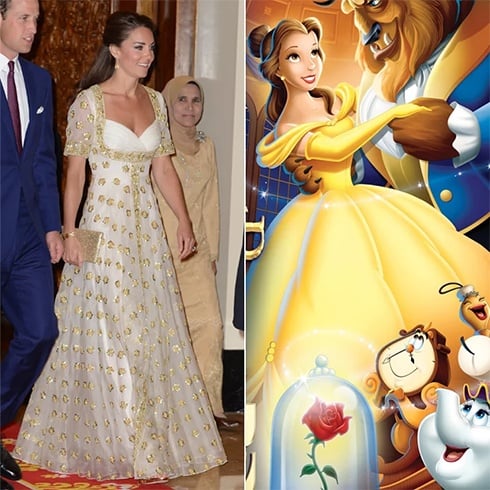 Kate As 'Jasmine'
What stands out most in the picture shown? Kate Middleton or her Matthew Williamson dress? Both!
Wearing it at a conference, Kate looks lovely in her jeweled neckline. The best part is that the gown's blue shade and turquoise gems take us back to separates and standout headband worn by Jasmine.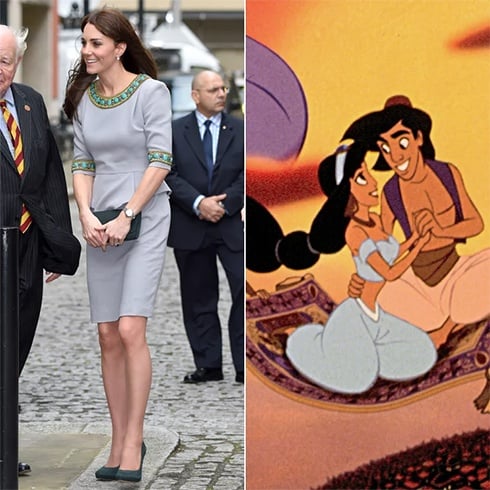 Kate As 'Mulan'
During her visit to Singapore Botanic Gardens, Kate was dressed in this satin Jenny Packham outfit which resembled a bit like the wrap style of Mulan's hanfu gown.
[sc:mediad]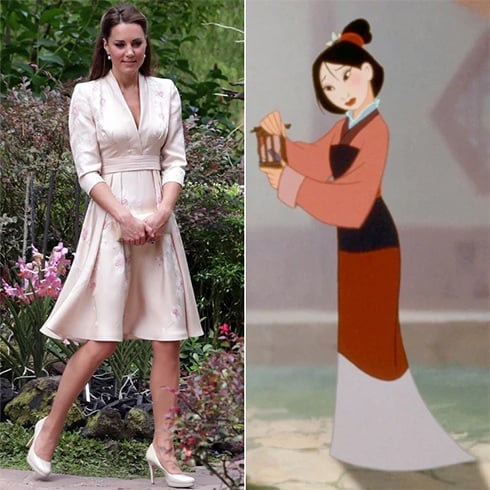 Kate As 'Snow White'
The gorgeous Kate looked like a modern-day Snow White, dressed as she was in this Jenny Packham outfit.
The puff sleeves of Snow White have teardrop detail, while Kate stands out with her sporting buttons and finishing touches rendered by the collar.
[Also Read: Kate Middleton Fashion]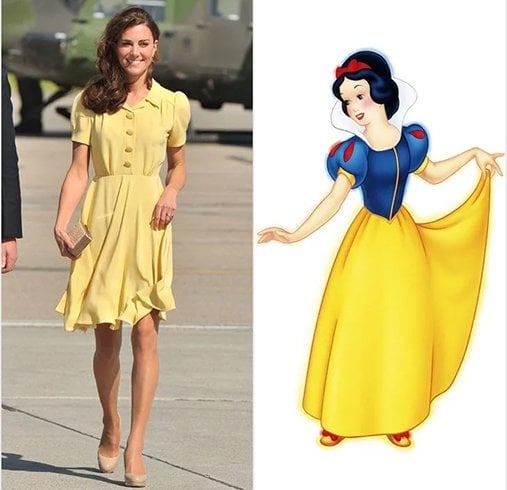 Kate As 'Merida'
This St. Patrick's Day coat worn by Kate has been designed by Emilia Wickstead which the Royal Kate further complemented it by wearing a thick belt.
The catch is how the Duchess let her hair down Disney Princess Style similar to the one worn by Merida, save for the fact that she let the British guards hold and handle the swords.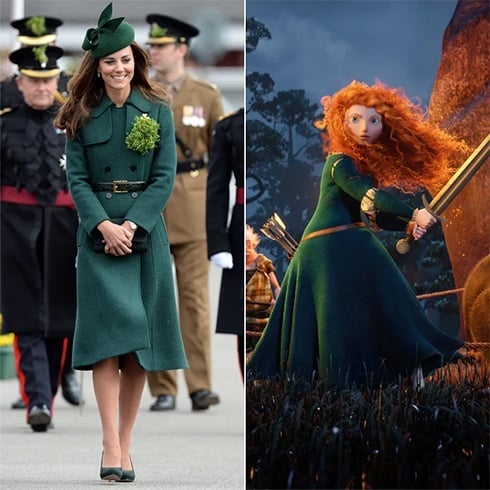 Kate As 'Anna'
During the time when the Obamas visited Kensington Palace, Kate chose to wear a printed L.K. Bennett design whose vibrant patterns have the same shades that Anna wears.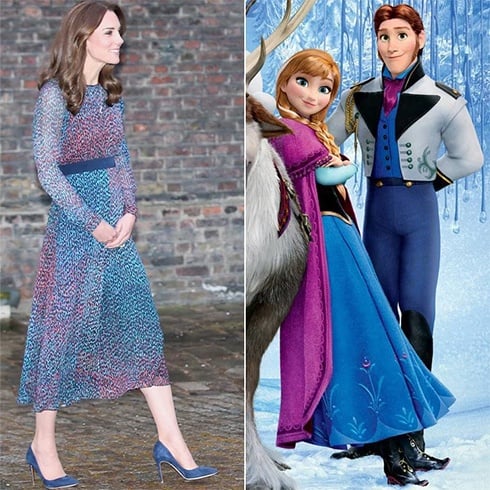 Kate As 'Elsa'
At the Olympic Concert in 2012, Kate Middleton looked a mind-blowing stunner in her Jenny Packham ballgown, which was a shade darker than Elsa's dress. Otherwise, it was a perfect match considering Kate's jeweled belt and lacy cap sleeves. Hope you would agree Kate Middleton looks that will remind you of a Disney Princess are not such a figment of imagination.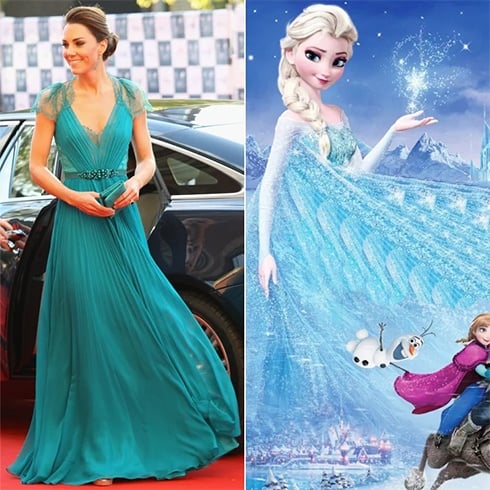 Kate As 'Pocahontas'
At the time when Kate Middleton and Michelle Obama hung out at Buckingham Palace, Kate Middleton looks were spotlessly regal. Her figure-flattering Reiss cocktail dress and her necklace stones take us back to the pendant choker worn by the Disney Princess Pocahontas.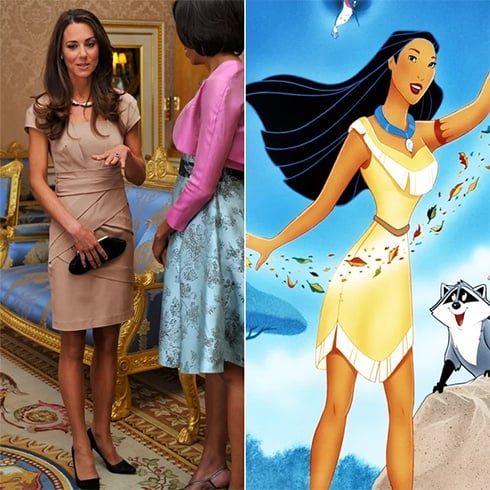 Kate As 'Esméralda'
During her royal stopover to India, Kate stood out in an outfit combination of turquoise, purple, and white. Though Kate's chosen Kelzang Wangmo skirt and Paul & Joe capelet didn't come close to Esméralda's dress, yet it was eye catching by all measure.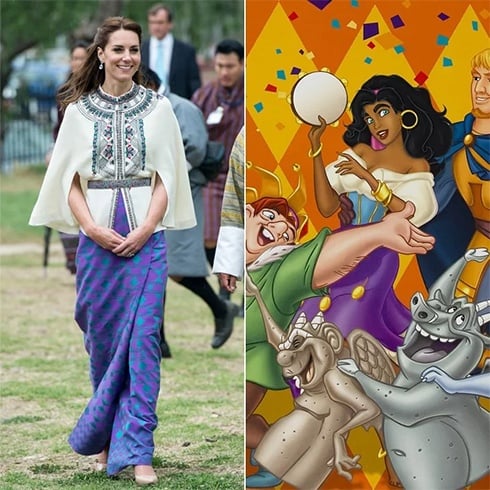 How did you find Kate Middleton look alike Disney Princess? Drop us a line or two and tell us your favourite Kate Middleton Looks?
Images Source: popsugar-assets.com