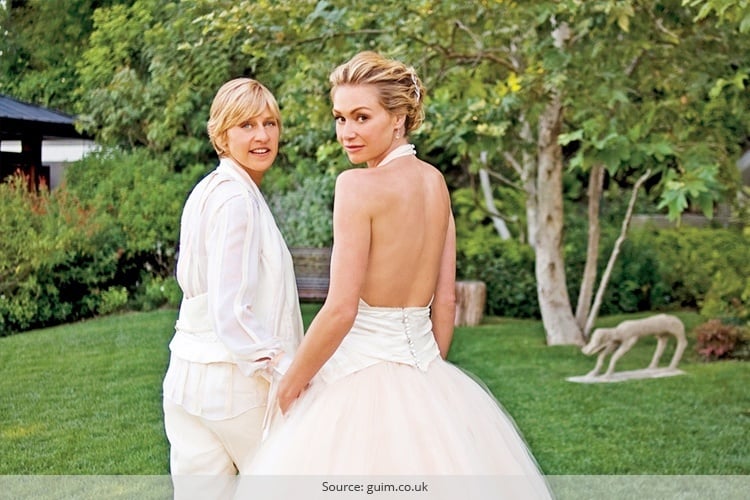 "Be good to one another" Ellen De Generes
Famous talk show host, Oscar host and a one-time sitcom actor herself, married to famous Australian celebrity, Portia De Rossi, Ellen De Generes has one too many lessons for us novices to learn from her civil union wedding with Portia!
[Also Read: Bruce Jenner Is On The Cover Of Vanity Fair AND Has Broken The Internet]
Love sees no limits
Love certainly sees no boundaries, no gender, no caste, no colour and no status-quo an individual holds in society, because LOVE is just as it is; pure and very unconditional. While Ellen De Generes and Portia celebrated their 10th wedding anniversary last year, the rosy pictures flashed across the tabloids, the print and the electronic media once again said it all. Being soulmates for more than five years and counting, the couple looks back no more at the times gone by. Here are a few lessons to learn from the cutest couple in Hollywood, Ellen De Generes and Portia!
The all-white bride meets bride
For those of you who couldn't catch the LIVE wedding of Ellen De Generes and Portia, which happened at the famous Beverly Hills, hold your breath when we told you who was responsible for their chic bridal couture. ZAC POSEN, ladies, the man who made them look heavenly and blissfully beautiful while the two souls proclaimed their endless love and companionship for life.
[Also Read: Mistakes To-Be-Brides Often Make: Makeup Mistakes to Avoid!]
Quite unorthodox
While Ellen De Generes and Portia made waves about the same-sex wedding, and the shutterbugs couldn't stop clicking, the couple decided upon a minimalistic private wedding at Beverly Hills. Both sides of the family graced the occasion, showering blessings on the couple for a marital bliss ahead. We may have expected both brides to be in long flowing gowns, orthodox sheer satin laces and veils, but knowing the two, Ellen De Generes and Portia decided on breaking all the shackles!
Zac Posen to the rescue
Not one, but two! Zac Posen dressed both brides to look a billion bucks on their D-Day and his numbers were talk of the tinsel town, the world over. The "I Dos" went well with Ellen wearing white trousers and a vest in the same colour, over a premium white shirt so crisp, while wife Portia was a demure Goddess to say so in a long flowing and very low-cut backless dress; sheer and satin lace trails following.
[sc:mediad]
Lessons learnt
Be original
Be who you are
Be brave and bold
Be fashion ready
Be experimentative
Be innovative
Be the idol everyone follows
If anyone had the audacity or guts to make white trousers her bridal couture on her D-Day, it would have been Ellen and no one else. While Portia rocked the scene in her fairy tale demure bridal gown, Ellen too stole much more than a click of the shutterbug!
Congratulations Ellen and Portia, the world waits with baited breath on the number of cats more the two of you can adopt!