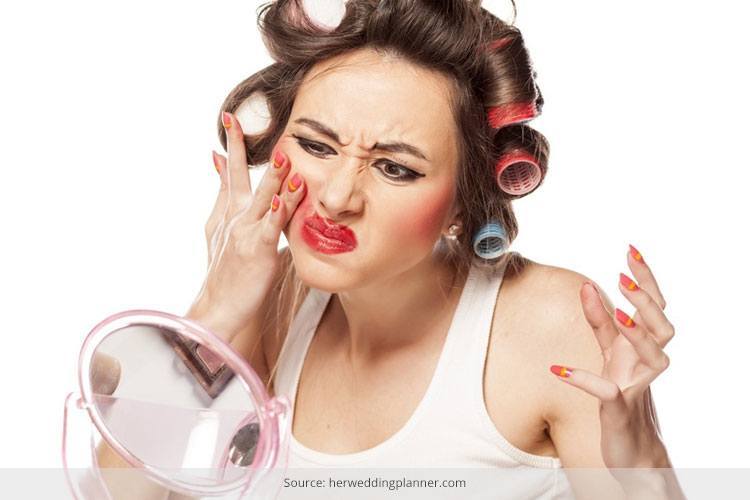 It's your big day and tensions are running high. There is so much to do and so much to keep track of! You definitely don't want a bad and runny makeup to ruin your day would you? Well, you can't be sure. Makeup is very tricky and if you don't get the basics right, you may end up spoiling your day! Here are some makeup mistakes that are often made and suggestive tricks to keep in mind for your big day.
[Also Read: Expert's Advice on Lingerie Selection for Bride and Honeymoon]
Opt for Makeup Trials:
Most brides have a makeup artist for their big day. You have zeroed in on a makeup artist, but you just decide to go for him or her on your big day. This is the cardinal sin that most brides end up doing! You must have a makeup trial. You may have seen the artist's work, but it doesn't mean it'll look the same on you! You have to see how their brushes do the magic for you. You need to and make sure that you and the artist are on the same page.
Choosing to Ignore Makeup for Your Body:
Yes, your face will be the cynosure of all eyes, but imagine how absurd it would look if your neck had a skin tone very different from your face. It would be an utter disaster! Never ignore your body when it comes to prepping up for the big day. This is one very common mistake that most brides end up making. Consciously make an effort and tell your makeup artist to also use makeup for your body. You definitely don't want to look like her!
[Also Read: Wedding Makeup Looks]
Waterproof Makeup Should Be Your Best Friend:
On your wedding day you would be the busiest person. Besides all those rituals, there would be lots of hugs, kisses and general anxiousness too. In such moments, your makeup will decide to run the show and start running all over. You don't want to look like a raccoon right? The best thing to do would be to invest in some good waterproof makeup. So whether you are buying foundation or primer or mascara and eyeliner, everything should be waterproof.
[sc:mediad]
Too Much of Everything:
You need to look luminous, we get it. But that is certainly not the reason why you should be going overboard with your makeup. Coverage is very important but layering and caking your face with powder and foundation isn't going to help. There are bright lights in the wedding and if the photographer decides to use flash, you would end up looking pasty. So ensure that you don't use excess of makeup.
You Ignore Your Lips:
Your lips are pivotal to your face. It is important to actually have to prep your lips before the big day. Invest in a lipstick which is long lasting. You need to be eating and drinking and talking a lot. So you would definitely not want your lipstick to be all over spoons and glasses. So before you glide on your lipstick, create a smooth surface with your lip primer. It helps to keep the lipstick in place and you wouldn't have to worry about marking everything.
Waxing Way Too Close to Your Wedding Day:
You would want to have smooth hands and legs, but it would be a bad idea to actually go for waxing one day prior to your big day. Often you may have some or the other kind allergy and your skin might break out in hives. It is better to have hair on your body rather than those unsightly bump right? Go for waxing at least a week before!
[Also Read: Top 4 Flats for Brides who are not sure about Heels]
These are some of the common makeup mistakes that a bride may make. Keep this list handy so you too don't fall prey to these blunders!