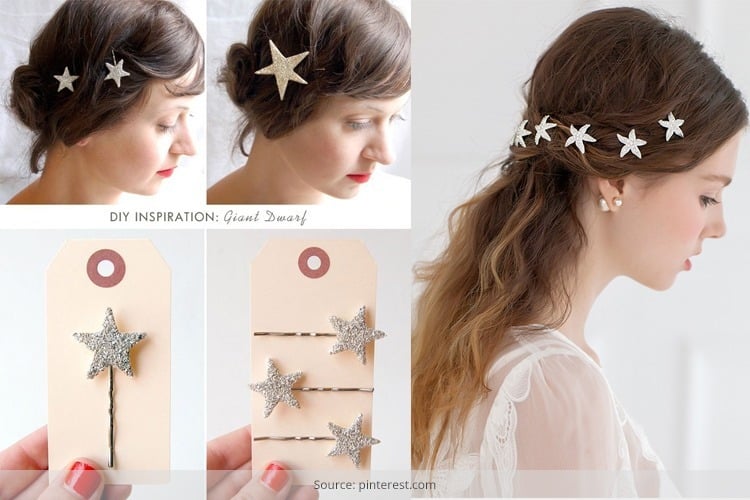 Who doesn't like a little shine, shimmer and bling in their lives, especially when it comes to dolling up and immersing in a plethora of fashionable options? We all do! But why spend a bomb on trendy and very chic bling fashionable items, when the good old DIY way can save the tightest of purse strings and yet make you look haute? Here are some easy-weasy options on choosing bling ideas to reuse your accessories at home for various fashionable needs. Go through these seven ideas as shown in the info graphics and your day would be made!
Embellish And Paint Your Bobby Pins
A bottle of shimmery nail polish, a few chunky cute precious stones, flowers, plastic motifs et al is what is needed, and a row of bobby pins too. Use your creativity and imagination, and get started embellishing them, one by one. In no time you'd have a box full of goodness to flaunt for the week. You can also make your own vintage bobby pins.
Rustic Bracelets For The Boho-Chic Look
Fancy wearing something rustic yet blingy to bring about the boho-chic look and appeal? Try this at home and your friends would want to place orders with you! A varied range of small nuts found easily at a hardware store, colour them with shimmery nail polish and let them dry. String them one at a time on a thick string, and place ten of them in the middle. Tie both ends into a pretty loop- your bracelet is ready!
Zipper Bracelets
What would you do with a pair of old denims, if not discard them away. And we are talking about the real dusty, dilapidated ones, which you can never ever wear again. Let's make a bracelet of out them. Cut a patch for the platform and pick up five to ten zips in bronze, gold, silver imitations. Mix and match them, while stitching them onto the denim platform, on either sides. Use Velcro patches on the denim to secure the bracelet on the hand!
[Also Read: DIY Beauty Projects]
Statement Neckpieces With Nuts And Clays Beads
Run to the local craft store and then to the hardware store; pick up a dozen of shiny nuts and matte clay beads, in equal numbers. If you do have a spare neck chain at home, an imitation one in gold, bronze or silver, bring it out and shine that piece now with the help of toothpaste. Once that is done, string the nuts and clay beads using your imagination and fancy. You now have a statement necklace to flaunt!
[sc:mediad]
Pearl and Ribbon Necklace
College goers would love this for the prom party embellishment to flaunt this time, and without having to spend a bomb that too. Grab a silk ribbon in pink and plenty of white imitation pearls. String the pearls with care, and at the ends of the string, use hooks with gum to stick. Let the piece dry and use it when need be. Money saved and style brought forth!
A cute pendant for the evening to wear
If you have broken pendants from the main necklace, and you wouldn't know what to do with them; turn them into a brooch or a cute pendant for the evening to wear and flaunt! Get to the goldsmith for this one, for he would need to weld into the pendant hook an imitation chain in the same tone! Fashion and bling, don't have to cost a thing!
Primrose For The Hair
What you need here is a metal hairband, a cute primrose in a colour of your choice, some silver wrap on tape and glue. Stick the silver tape on the head band to form a platform, and to this glue the cute primrose on one side. Let it rest and dry. Now use other embellishments or leave the piece as it is, and the minimalistic bling touch comes through! Hair accessories for hair are plenty. You can wear bandana hairstyles if hair ties and hair bands don't fancy you.
And there are many more ways to DIY accessories ideas and wear them too, for which you would only have to use your creativity and imagination. Do let us know if you want us to show you more hacks, which with pleasure we shall!