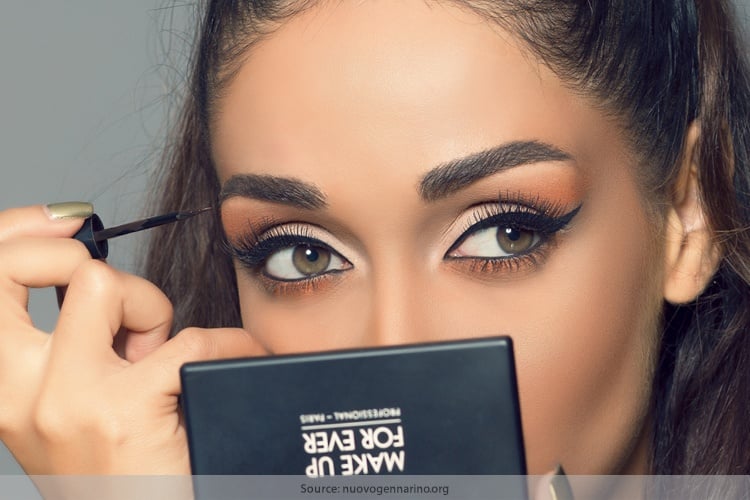 New Year means the new you. While you take up new year resolutions to refresh your diet goals, coffee machine, apartment, car, oven, pup (s), life, and everything in between, what about your makeup? Your Instagram account might be flooded with plenty of makeup artists ('Instagram makeup' is pure obsession these days) but you may not have all the time to check all of them up. Give New Year the makeup worth it deserves as we bring you 10 makeup artists to follow this year if you're in a beauty rut. You will love them, like them, follow them. Amen!
Here's a List Of Makeup Artists You Need To Follow:
So here are the celebrity makeup artists you need to worship and pursue. Or book, perhaps? Because they are taking beauty to a whole new level with their avant-garde styles thus proving to us that makeup is indeed a form of art!
1. Katie Jane Hughes:
Among the artists to follow, Katie Jane Hughes is one such makeup artist who has an ultra-glowy approach to skin. Her use of glitter and bright colors in makeup is an absolute delight. She says "I believe makeup is an accessory… One that should be used to make you feel like your best self".
2. Terry Barber:
M.A.C's Director of Makeup Artistry, Terry Barber has been with M.A.C Cosmetics for a little more than 17 years. The Instagram account of this experimental makeup wizard is truly inspiring. Says he "As a makeup artist, the fundamental rule of art is to make someone look better and it's only when you've satisfied that basic need that you can experiment with the unconventional." That truly makes him yet another name in the league of iconic makeup artists. Execution-wise, Terry Barber picks up ideas from the everyday sightings and then creates a makeup look out of it. Any guess what these ideas are like? Orange peels, garbage bags, toilet papers (yucks!)you name it!
3. Sir John:
The fact that he is Beyoncé's makeup artist makes him among the best artists to follow in the industry. Know it for a fact that it is he who did the makeup for the shoot of the April 2017 cover of the FASHION magazine.
4. Violette:
She is the French it-girl and makeup artist who has been appointed as the Global Beauty Director of Estée Lauder. Her signature tousled hair is never over-styled. Her barely there 'base' is flawless. Want more? She is the only person in the history of makeup to pull off a glittery lip as if it was hardly anything. Such bravery is one of the things that make Violette claim a spot on the list of 10 makeup artists to follow this year. For Violette, makeup is a form of artistic expression. According to her "Even when I put creative makeup on a woman, it has to be because she's a source of inspiration….She never disappears behind it, she's celebrated." What a fantastic thought coming from Violette.
5. Robin Black:
Meet the makeup artist behind @beautyisboring_. Robin Black produces some of the coolest and trendiest makeup looks on Instagram. Like for instance, this metallic charcoal eye which Robin obtained after mixing two shades from the Naked Eye Shadow Palette of Urban Decay in Creep and Gunmetal. For the lips, it was Vice Lipstick in Backtalk shade. Robin Black as a celebrity makeup artist needs no further introduction, does she?
6. Kate Lee:
Meet this Chanel makeup artist Hollywood beauties cannot do without. One of the most iconic makeup artists, Lee calls her technique "appropriate and balanced". Boldness is her second nature. She says "I sometimes go dangerously nude with skin because when someone has this light shining from within, it's blasphemous to coat them in a mask of the foundation". Though she was hand-to-mouth for many years in London, it was in the early '90s when she did headshot makeup (gratis) for Kate Winslet (the rising star then). Since then there has been no looking back for this makeup artist.
[sc:mediad]
Now Kate Lee's client list includes stars like Lily-Rose Depp, Sienna Miller, Rosie Huntington-Whiteley and Jessica Chastain.
7. Diane Kendal:
This celebrity makeup artist does backstage makeup at fashion weeks for famous international designers including Balenciaga, Roberto Cavalli, Alexander Wang and many more. Diane Kendal's claim to fame? As an ace makeup artist, she not only does beauty product consultation for Marc Jacobs Beauty but has also developed product lines for Calvin Klein Cosmetics.
8. Lottie S:
Why should you follow Lottie S? Her work is bizzare and fun going by her use of textures, colors and props. She has played a key role in doing the makeup for fashion shows in New York, Milan, Miami, and Los Angeles. Some of her well-known clients include Calvin Klein, Marc Jacobs Beauty, Hermes, Esprit, Cole Haan, Lucky Brand Jeans, Forever 21, Sephora. Lottie S is one of the hottest makeup artists to follow!
9. Kristin Hilton:
NYC based makeup artist, you will be endlessly inspired by Kristin's penchant for perfect skin and bright pops of color. These are in fact her signature makeup styles. To cut it short – she is a professional make-up artist who works for fashion and advertising shoots. Lobster red is her fav color.
Snapshot of Kristin Hilton's makeup portfolio –
10. Michelle Ramos:
She works with high profile talent in the entertainment industry. Artistry and edgy colors inspire her signature makeup aesthetics. Michelle Ramos is one of the three sisters – who collectively founded the company "Rituel de Fille". All three bring a unique take on colors and imagery.
These were some of the international makeup artists. What about the famous makeup artists in India? Oh, there are many faces, in fact, brands in their own right – starting from Ambika Pillai, Pattanam Rasheed, Subhash Shinde and many more.
So which of the 10 makeup artists impressed you the most going by their social profile and celebs they worked for. Write in and tell us the makeup artist (s) who floored you completely with his magic.