Loving is sharing. I just can't contain my excitement as I bring to you a post on dot-work tattoo designs. What makes dot-work tattoo exciting? Tiny dots created through the hand-poking technique. No use of tattoo machines in this case. That is the classic beauty of dot-work tattoos.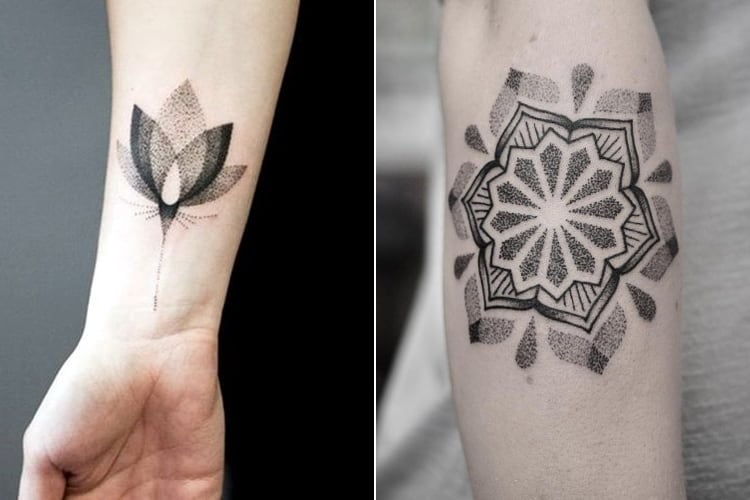 Okay, to appreciate the workmanship involved in creating the dot-work tattoo try and know the ideas behind this tattoo. Check out the shading and intricate detailing which is as impressive as the final dot-work tattoo design.
What types of ink are used in the dot-work tattoo technique? Black and gray inks. But those of you seeking color in dot-work tattoo have reasons to rejoice. Shades of color, especially red, are sometimes used to create a sense of contrast.
Are there any themes or subjects used in the dot-work tattoo? Yes, the common ones include dot-work tattoo mandala and dot-work geometric tattoo.
Sometimes animal designs and decorative patterns also look equally pretty in executing these dot-work tattoo ideas.
Dot-work Tattoo Ideas:
Let us look at the gallery of dot-work tattoos. You will love the designs including the dot-work tattoo sleeve ideas.
Mandala Arm Sleeve:
With such exquisite workmanship used to create the dot-work tattoo mandala, you cannot hide its beauty in a sleeved outfit. Let the world see its charm in full swing.
Geometric Arm Sleeve:
Heavy and light shading and different patterns – all combined together – give such a wonderful visual appeal to this arm sleeve tattoo.
Upper Arm And Forearm Dot-Work Tattoo:
This unique dot-work tattoo sleeve shows off two tattoos – seemingly connected but set apart.
Flower Dot-Work Tattoo:
Though flowers are a common element in tattoo designs, this one is more feminine in its appeal.
Flower Wrist Tattoo:
Doesn't this beautiful floral tattoo look like a bracelet? You don't need to wear an actual bracelet then.
Back dot-work Tattoo:
Covering the nape of the neck and the upper back, this dot-work tattoo looks like an intricate accessory and a gorgeous part of the traditional attire.
Flower Tattoo With a Dash Of Red:
The flower tattoo is essentially black. Thank the red shading in it to add color to this flower tattoo.
Moon Dot-Work Tattoo:
A trip to the moon made possible without the tickets. Yeah, go show the craters and shades of the moon on your elbow in dot-work style.
Arm Strip:
What makes this tattoo appealing is the design continuing from a little above the elbow down to the wrist. Near the elbow, you see a layer of dots followed by a second black-shaded layer and then a third thin line encircling the upper arm. This is not the end. There is a symmetrical geometric design in the middle which gives it a finishing touch.
Mandala Forearm Tattoo:
The inking of this dot-work tattoo mandala is simply stupendous.
Layers and Layers with Varying Shades:
This forearm dot-work tattoo technique is rich in multiple layers with different gradations – the top layer near the wrist is the darkest. As the tattoo moves up the arm, the shading becomes lighter. In short – the design converges into a circular element.
Upper Arm Mandala Tattoo:
Embellish your arm with this fascinating looking dot-work tattoo mandala.
Matching Animal Tattoos:
Ever thought of having couple tattoos? These tattoos perfectly complement each other, don't you think?
Optical Illusion:
Diamonds are not just for ears, they are also apt to adorn your arms. Explore overlapping diamond shapes in tattoo form creating a superb optical illusion.
Fern Leaf:
Hey, know the difference between ferns and flowers? The former are non-flowering plants consisting of fronds. Look how excellently they are depicted in this tattoo using the dot-work technique.
Plant Dot-Work Nape Tattoo:
The lines on the leaves and berries of this plant-themed tattoo say it all. It is one of the best dot-work tattoo ideas.
Jellyfish Tattoo:
Yay! It is one of the dot-work tattoo designs that is inspired by the marine world. The jellyfish design here shows a lot of details and artistry.
Arm Sleeve:
A combo of dot-work tattoo mandala and geometric themes, this arm sleeve shows off the dark shading in such an impressive way.
The Turbulence Of Waves:
Catch the turbulence of ocean waves amid a storm through this round tattoo which has an inspirational saying around it.
Nature-inspired Tattoo:
For the nature lovers, this is surely one of the most appealing dot-work tattoo ideas as it beautifully depicts the flora in all its blooming glory.
Michelangelo-Inspired Tattoo:
This well-renowned fresco painting by Michelangelo has two fingers almost touching. The painting is a Biblical illustration inspired by the Book of Genesis. This is just one of the awe-inspiring artwork of "The Creation of Adam", which adorns the ceiling of the Sistine Chapel. Look how extraordinary a dot-work tattoo can be.
Bracelet Art:
If you want to flaunt a design that looks like jewelry, then go ahead with this one. How the beautiful dots create a bracelet tattoo design is wonderful.
Dots As Tulip:
Catch the beauty of a tulip flower created with a bunch of dots. The shading makes the floral design exquisite in its appeal. Creativity at its best, what say?
Colorful Dots:
Just these four simple dots in different colors make the dot tattoo so simple and elegant.
[sc:mediad]
Moon In Dot-Work:
A moony affair made up with small dots. Doesn't this concept look ethereal?
Nautical Images:
For the adventure-seeking, this Mariner's compass look-alike is stimulating.
Dots and Numbers:
Remember when we were kids we used to draw dotted pictures with numbers connecting them to create animals. You can create this fun tattoo design to add that fun element to your personality.
Geometric dot-work Tattoos:
Two intersecting triangles, one of them is made up of dots.
It is the Dots that Matter:
Two triangles and two dots make up this unusual design.
Paper Airplanes:
Fluttering through the air is a cute little paper airplane connected by dot-work.
Two Dots:
…And shapes on the fingers create an unusual design.
Three Dots :
This is one of the most minimalistic dot-work tattoo ideas.
Large to Small:
Inspiring or what, this dot-work tattoo technique looks creative and imaginative. The wearer knows its meaning best.
Add A Dot To Every Finger:
There is a symbolic factor attached to the many dots on each finger.
The Little Bow:
Beautiful little bow made up of dots will look nice on the wrist or ankles.
A Handful of Dots:
Not just one or two fingers, the entire hand is made up of dots. Unusual but that is what you are looking for.
The Sun and The Moon:
Experience cosmic beauty through this dot-work geometric tattoo. The dots come in a circular pattern around the design.
Hope you loved the beauty and art of dot-work tattoo and now know the ideas that inspire this tattoo. Which of them did you like the most and want to get inked? Tell us in the comments box below.