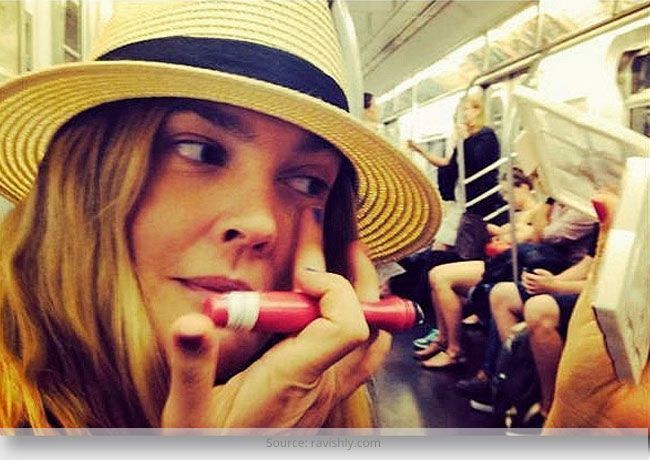 Last night I finished reading A Guide to Elegance: For Every Woman Who Wants to Be Well and Properly Dressed on All Occasions, an amazing book written by French style guru Madame Genevieve Antoine Dariaux. While this book offered me every soupcon of decorum the new age woman possibly needs, right from being poise and graceful to shopping with girlfriends and marriage; the book inspired me to share makeup manners you should always remember.
Do have a read and stay inspired!
Just as the choice of our outfit says a lot about our personality, there are also certain beauty manners that should be followed while in public. There are certain dos and don'ts to consider as we conduct our beauty rituals. While some may consider some habits, say filing nails in public as 'cool', it may actually seem rude to the onlookers. In order to help my readers stay graceful, I've shared makeup manners that should be followed while in public.
[Also Read: Nude Lipstick]
Do not touch up your makeup at a dining table in public
There are many people who may feel awkward seeing someone doing touch up while at the dining table. While you may be absolutely comfortable in taking out your mirror and dabbing a quick dash of lipstick or run your compact sponge all over your face; some people may take this behavior in a negative way. So the best is to avoid controversies and instead sneak into the restroom and come back fresh and glowing as ever.
Think twice before wearing an invasive perfume
Whenever I wear one of my favorite perfumes, my dog runs away from me. While dogs are highly sensitive to strong fragrance, it may annoy people too. Beauty etiquette guide book even recommends avoid wearing too much of perfume. While some people who are in your close proximity may be allergic to strong smell of the perfume, others simply may feel uncomfortable especially when you are in a suffocating room, like a lift. So, whenever you are attending any meeting/seminar or visiting someone at his/her place avoid wearing too much of perfume and also consider twice before wearing anything that has strong fragrance.
[sc:mediad]
Avoid grooming nails in public
Even the coolest style guru in the world will suggest you to avoid grooming your nails in public, including nail art and applying nail polish. When it comes to beauty manners, nail etiquette tops the list of things to follow. And this can be an extensive list as well right from avoid filing, cutting, painting and pruning to biting nails in public. And it's a strict no when you are in a restaurant, as pruning away dead skin and nails isn't appreciated much at a dining place. Even the smell of the nail paint can annoy many people sitting around you.
Do not start combing wherever you feel like
Just as with the nail etiquette, you should also consider time and place before brushing your hair. Unlike any hair product commercial that shows zero hair fall with 100% dandruff-free locks, reality is something else. No matter how healthy our scalp is, we tend to lose a few hair strands every time we comb. So avoid taking out your brush and start combing, as it may not be a hygienic scene to many watching you, especially when you are in any restaurant, workplace or public transport.
Do not promptly point out makeup blunders to others
You just cannot have the audacity to straightaway point out makeup malfunctions say cake face, lipstick on teeth or bleeding lips to anyone at a public place. It may offend her, hurting her feelings. You can instead always help her out in a polite way without letting others know about her blunders.
So those were my top picks on makeup manners you should always remember. Hope you found this post useful!