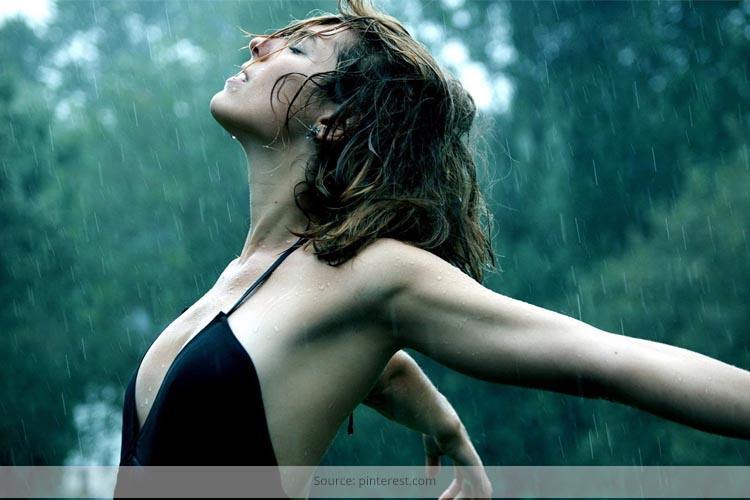 Although monsoon is a season that everyone craves for especially to get a sigh of relief from the scorching Indian summer days, the season yet comes with its own restraints along-with do's and don'ts' list.
The rainy season is when make-up becomes a quirky task. Regardless of your best efforts to save your face from glaring eyes, the sudden downpour smudges your make-up badly.  The dense make-up always involves the risk of being badly smudged, just go through our tips to keep your make-up long lasting without worrying for any unexpected downpour.
Play safe
We know there is no need to say this but during rainy season, you should always step out with waterproof make-up.
However, some extra precautions are also required like before applying make-up, rub an ice cube on your face to maintain it for longer period.
If your skin is oily then go for an astringent after applying the ice just to make your skin look fresh.
And those with dry skin, they should go for a good toner in place of astringent.
Pick a color
For eyes 
Different neon shades for eyes
Bright neon shades are commonplace these days in fashion domain. Such shades with subtle sheen can work for your eyes. You can even go for lemon green, frosty blue or any silver shade. These colors are vibrant, young and pappy making you all set to make your fashion statement.
[sc:mediad]
For lips
You should go for dark colors, as they will make you look a shade lighter than your actual complexion. However, try settling down for any long-lasting lipstick.
Matte is the best option to go for. Avoid lip gloss, as it will smudge easily if you get wet. You can go for any matte colors including red, orange and pink.
For nails
Try something different this monsoon. Go for lemon, blue, pink, ivory or mauve for your nails this season.
Fashion alert
This season the fashion is high on contrast. Don't go for nude make-up, as it will even make your face look more washed out and pale. Instead, go for a dash of bronzer along-with pop tints.
This will add the required doses of drama to your personality. You can either opt for a heavy eye-lasher with matte pink mouth or a bright mouth with subtle eye shadows; anything works well.
Quick fix
An unexpected shower can end you up with a bleeding kohl, thereby leaving you with 'Panda eyes'. To avoid such embarrassing situations, you should keep a fix it-spray, which you can easily get from brands stores like M.A.C and Body Shop.
Just spray the mist and pat the spoilt area with a thick tissue to give it a quick fix-it and refresh your make-up.
Things you should avoid
Cream based makeup products, as they are likely to make you sweat more
Too much glitter and shimmer, as it will overdo the shine on your face
Sticky/thick lip-gloss, as it will easily get smudged when you get wet
Now you're all set for monsoon