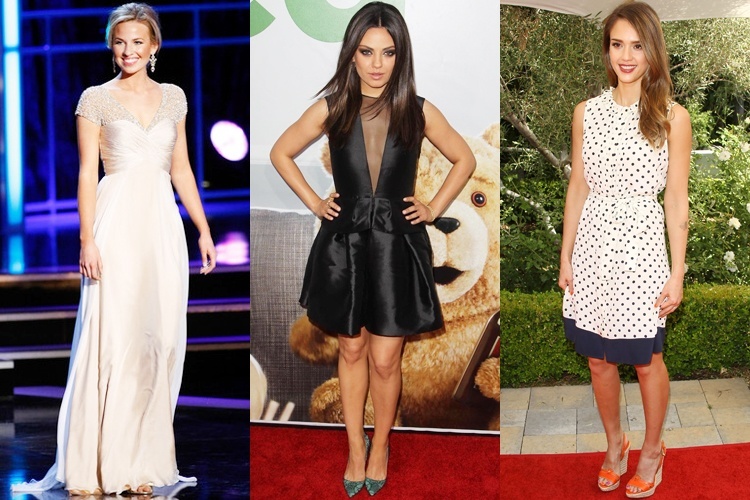 If you are a girl who loves to be in style and is on toes with the trends, you would know that since the past couple of years dresses have taken over the market from skirts. And they don't have any plans of becoming obsolete and off-fashion any sooner.
8 Must Have Dresses
These are in for day wear, and they are in for evening wear as well. So let me list down a few must have dresses for your girly wardrobe.
1. Polka Dots Dress
We will start our list with this number that just doesn't go out of fashion. Never! They look perfect on every body type. Though available in many cuts, polka dot dresses look best on a skater knee length number. You may go for a fabric with a lighter base color with darker dots scattered all over if you are getting out in a day-time, and do just the vice-versa, like a darker base with lighter polkas to make it for an apt night-out dress. Team it up with a contrasting summer jacket and you are ready to go.
[Also Read: How to Wear Polka Dots]
2. Floral Dresses
Beautiful floral dresses are your go-to dress for summers and springs. And so, you will find the spring-summer collections of all the designer garments houses over spilling with floral gowns, floral maxi-dresses, floral midis and floral mini dresses. If you have a thingy for dresses, you can just not afford to miss owning a bright, colorful floral dress in your closet. Depending up on the climate and geographic situation, pick up a fabric that keeps you comfortable. My personal favorite in cotton though. Cotton dresses for summer keep me breathing throughout the season and the flowers printed on the textile makes me feel fresh.
3. Beautiful Satin Dresses
This smooth and silky fabric knows how to create magic. It can give any ordinary look an extra-ordinary appeal. Sexy satin dresses go hand in hand with evening and late-evening parties and clubbing. I's rather have a satin dress that in solid. Though prints are also in, satin dresses look good in solid texture. Pick one up that has lots of ruffles or layers to give that extra girly touch to the attire, or on with a plunging neckline to make you look sexy. Team it up with a metallic or faux leather footwear with studs or other embellishments. Try to accessorize this look with big metal earrings or neckpieces.
[sc:mediad]
4. Animal Print Dresses
Mind you people, here we are talking about animal prints, and NOT animal skin. We are totally against animal cruelty. But we love our wild buddies and to appreciate their natural beauty we embrace clothes that are inspired by them. Animal prints are the next big deal with the textile world. Back in the days, animal prints were limited to leopards and tigers. These days you get an added choice from zebras, to snakes, Dalmatians, giraffes, and so on. These animal print dresses make for a glamourous evening wear. I would recommend that you buy an animal print dress in velvet. Velvet gives the added softness like the actual animal fur.
[Also Read: Animal Prints]
5. The Evening Gown
These could be a li'l not-so-friendly on the pocket ladies, but then these are the collector's item. You must own one as it will absolutely take your wardrobe to a different level.
Just a small style alert here– you don't wear an evening gown to a night club or a casual evening party which is more of a get-together with friends. They are made for some serious business. Make sure your hair and make-up is prim and proper when you don an evening gown. I'd rather have my hair up secured in a sophisticated bun, with some elegant pieces of jewelry on my neck and ear. Perfect to the T!
6. The Little Black Dress
When they say, 'When in doubt, go LBD' there is a reason for that. And the reason is pretty much that you can just not get it wrong with a little black dress. It is safe to infer that there is precisely no one in the planet who doesn't look good in an LBD. And that is exactly the reason why it is voted as the most preferred 'date-night' outfit. Especially if it 'the date' you had waited so long. But who says that the only purpose of the little black dress is to impress your sweetheart? LBD outfits also serve as an impeccable choice for official dinners or any other formal parties.
[Also Read: Summer Prints]
7. The Lacey Affair – Lace Dresses
Lace dresses bring out the most delicate and feminine side of you. Laces can be used as a layer over a satin or cotton base of the same color or a contrasted one. They look flawless in both the versions. There is a certain flow about the lace dresses that makes it look very Victorian yet not outdated. Lace dresses are always classy and exuberant serving as a safe option for an evening occasion. They also make up a great 'date-night' outfit and adds a romantic aura to your look.
8. Denim when in Dilema – Denim Dresses
So if you are 'jeans and tee' kind of a girl, and you have to go dressy for a change, try the denim dress. These are super comfortable, totally casual and you almost need zero maintenance on them. You can rough use them as much but they won't ever ditch you. They are the dress version of your dear old pair of jeans. So pick one up from the store and keep them handy always. Just in case you grow bored of those shabby old pair, yet don't want to give up on the comfort part, just slip into the denim dress.
Nothing to wait for. All these dresses are easily available at a mall near you. The price ranges are varied and you can pick and choose what suits your pocket. Dresses, if opted for the right cut, suits every body type – lean, heavy, apple-shaped, pear-shaped, or hour-glass shaped. Spend some time in the trail room and try on as many of the styles and cuts as possible. Then make the decision depending upon what brings out the color of your pretty eyes. Happy Shopping, ladies!
Hope this article on must have dresses is helpful to you.