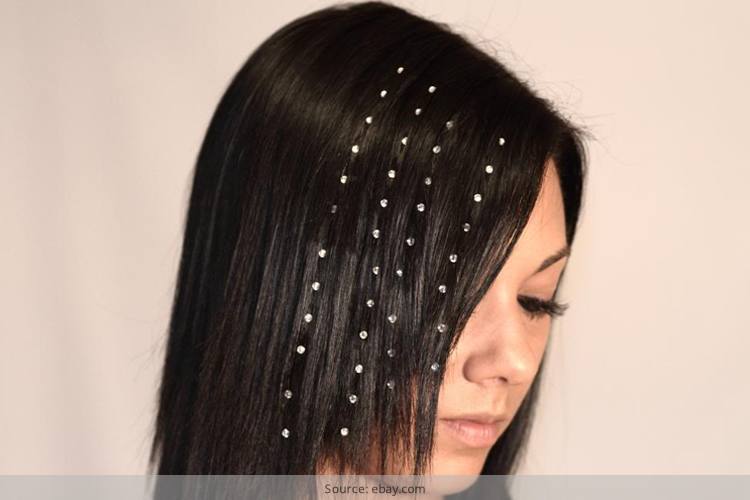 Some sartorial and makeup styles are all the rage as long as these are trending. But once these go out of fashion, most become extinct never to make a comeback. Nevertheless, there are some style trends that do stage a comeback owing to popular demand. For instance, a hair trend that created waves when you were probably in middle school is on the comeback trail.
If you've guessed it by now, then yes we're talking about hair gems – a hairstyle that started trending in the nineties and kept being sported by fashionable ladies till the turn of the century. If you considered yourself hep enough, you surely must have branded this hairstyle sometime while you were in high school. Thinking about this hair trend, brings back memories of spiking your gelled hair and thereafter punctuating the strands with scintillating butterflies, rhinestones, star stickers, hearts and pyramidal studs.
[Also Read: Glam And New Age Granny Hair Trend For The Sassy You]
Makeup styles including hairstyles keep fleeting in and out fairly quickly in tinsel town-hair tattoos, hair tapestries, hair braids, and now hair gems are clawing back.
Trending Hairstyle: Hair Gems
What are the hallmarks of this trending hairstyle? For starters, you still spiral the stars, diamantes, and the sequins into your hair or simply stick these spangles just as it was done in the nineties. However, the new gems that now sit on your spiked strands have changed quite a bit since the last sixteen years. The modern-day spangles, sequins and diamantes have a subtlety about them that was not there earlier and also have a flimsy edge.
[sc:mediad]
Back then, you looked like a gorgeous sorceress with all those starry flecks adorning your locks. And if you can get all the steps of this resurgent styling of hair correct, you'll still look like that vintage thaumaturge waving the wand without rumpling your hair. All you'd ever need are a pair of tweezers, varying shapes and sizes of confetti, hair glue and some bobby pins to flaunt this hairstyle.
Hair Gems And Hair Jewels
In order to brandish this classic 90's hairstyle, you'll invariably need hair gems that you can either procure from a fancy jewelry store or buy high-profile brands of hair jewels. You'll come across an eclectic range of diamantes, spangles, sequins, and star-shaped confettis stacked away in stores and get started on a DIY project. Alternatively, choose from a range of fashionable brands and narrow down your selections to three at the most.
Scünci is one reputed brand that retails sequins for hair besides hair tattoos. Go for Scünci's pearls or metallic stars available in packages. You just have to peel off the Scünci pearls and fasten these wherever you feel like on the hair.
Charmsies is another admired brand owned and marketed by Kiara Bailey, an iconic hair stylist. The Charmsies spangles are like self-sticking stamps whose adhesive get activated once you smoothen these with an iron. Stick these on your hair while they're warm, and taking the same off is a no-brainer.
Use a good-quality brush to brush these off or you could remove the same with the help of a conditioner before showering. You could place an order for a pack on the e-commerce store of 'In Your Dreams'- a fashion outfit that exclusively retails face gems that can be stuck on your strands as well. A single pack contains an assortment of colorful hair gems.
How To Use Hair Gems
Using hair gems should be one of the easiest tasks in the world. Just pick up a packet having an ensemble of rhinestones, twinkling stars, and studded sequins from the neighborhood store. Take some of these off and simply stick them to your locks. Kristin Ess, a celeb hairstylist who co-founded 'The Beauty Department' has offered step-wise instructions on how to use hair gems that makes the already simple job simpler for you.
First obtain the following supplies- confettis, rhinestones, spangles, some bobby pins, lash glue and a pair of tweezers. Thereafter abide by the following steps-
Separate tufts of hair and secure each clump with the bobby pins.
With the help of tweezers pluck out the confettis one at a time and stick glue on the backside.
Transfer the stars onto the locks of your hair by lightly tapping the same.
Keep on repeating the process until the spangles are evenly distributed on the hair tufts.
Pulling the confetti's out of your hair should not be a sweat either. With some kind of hair jewels, you could take these off straightaway. For other types, you could use serums and hair oils.
Share your thoughts with us on this latest hair trend in the comments below.