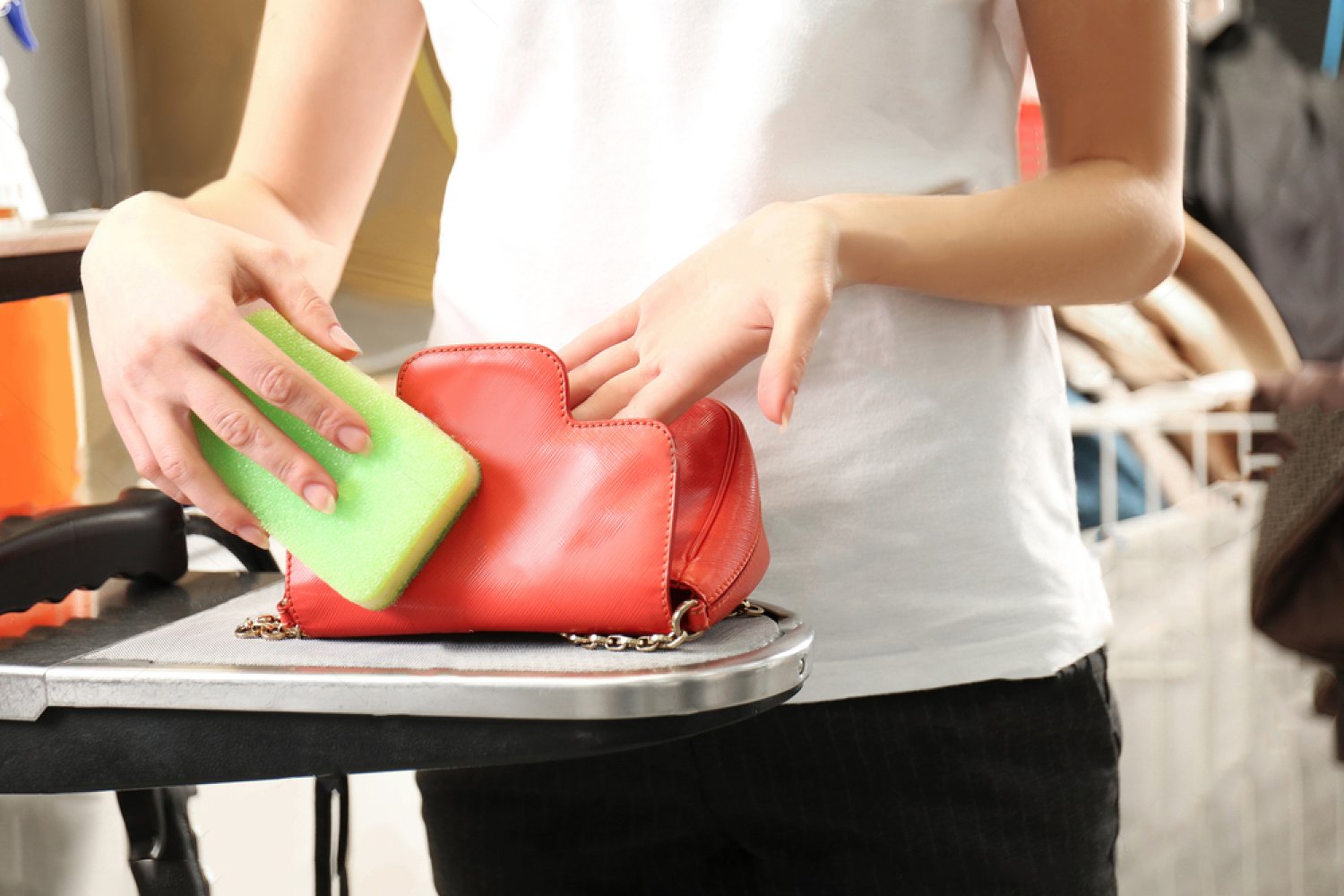 Fine and expensive leather bags crafted with painstaking, ritualized technique deserves good care. For those who cherish their expensive leather handbags, understated, buff and heady smell, rich luxurious and supple feel, upkeep of leather bags is also important if you wish to enjoy them as long as possible. Being organic in nature, leather accessories tend to lose their lustrous texture and feel over time when left to their own devices. To avoid making your precious leather handbags become dull and desiccated its right care and appropriate upkeep is necessary.
HOW TO CLEAN A LEATHER PURSE
The ensuing DIY clean leather bag guidelines offer you practical suggestions on keeping leather products in excellent condition by ensuring that these remain clean, dry, and free from stains.
1. Conditioning Leather Bags
Talking about conditioning leather bags, there are umpteen ways of how to clean a leather bag on a DIY basis.
To clear normal blemishes, smudges and spots from the surface, rub a blend of tartar or cream with lemon juice (1:1 ratio) over the area with a soft rag. After letting the paste remain on the affected area for about 3-4 hours, reapply the coat extensively and wipe off after half an hour.
In order to clear dirt, grime or soot from your expensive leather handbag or tote, clean their surfaces with a blending of olive oil and white vinegar.
For making the blend, mix ½ and ¾ cups of olive oil and white vinegar respectively; transfer the mixture to an aerosol, and shake the blend vigorously.
Dip a clean piece of cloth in the solution and apply evenly throughout the surface. Let the handbag or carryall remain untouched for the next 12-14 hours. See the lustre and shine coming back on your bag after you start polishing the facade with a cloth rag.
[Also Read: Branded Leather Bag Patterns]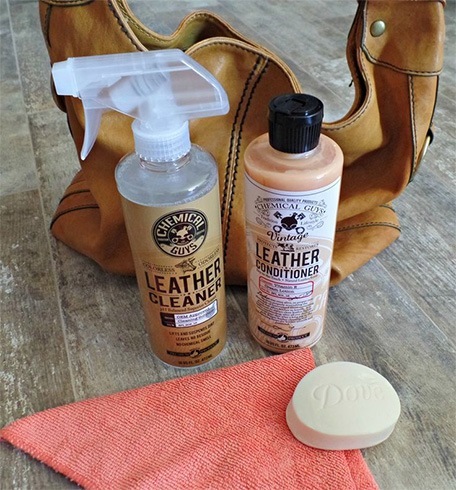 2. Removing Moisture From Leather Bags
Contrary to what you may think, removing moisture from leather bags is not much of a trouble. You can always wipe away water spots by remoistening the area using a small quantity of water and then blow drying the surface. To make your leather bags completely free from moisture, smear saddle wash to the area with a piece of cloth that is dry and clean. Keep rubbing till you've worked up a good lather, and rinse the cloth in water after rub cycle. After you're done with cleaning the area, wash the lather using a clean and damp cloth. Immediately wipe the surface with a dry towel in order to soak up all the droplets of water.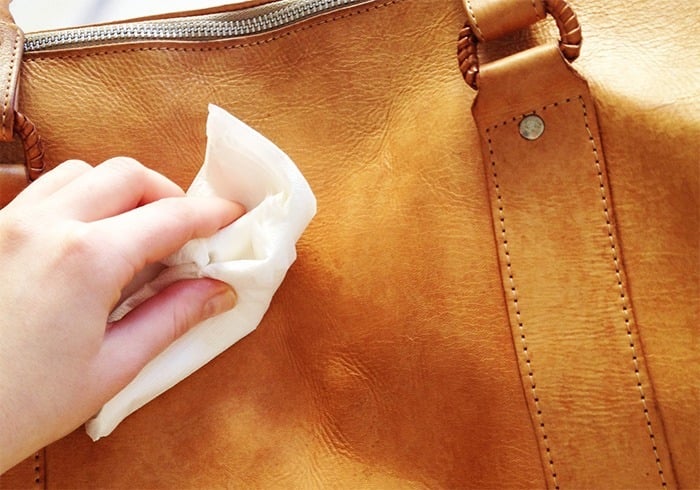 3. Stain Removal
Before a quick stain turns into a stubborn spot – react. Water acts as counterintuitive when removing greasy stains, they may further set the stain deeper, discolour your bags or even crack and dry the surface. Wondering how to clean leather purse of stains in that case?
Chris Moore, from Artbag, a handbag repair shop in New York says to use vinegar on a cheesecloth or a cotton swab with mild acetone to remove stains and blemishes from your leather handbags instantly.
[Also Read: DIY Leather Bag Tutorial]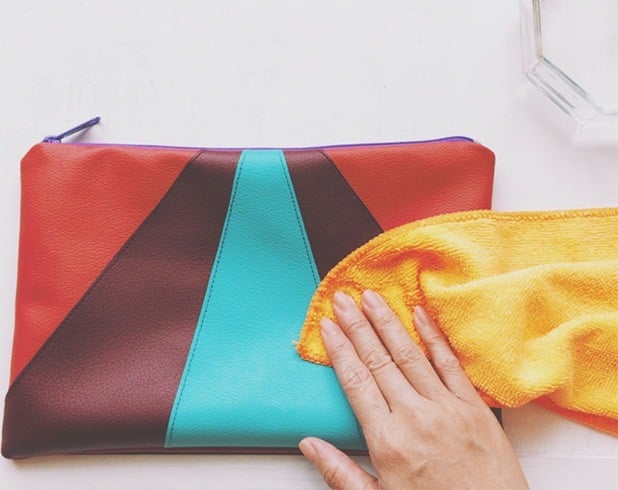 4. How To Clean A Leather Purse
To clean leather on regular basis, make sure you spare few minutes from your everyday schedule. Use a dry and clean microfiber or velvety cloth to wipe off dust from the surface. To remove dirt building up on the surface, use cleaners meant specifically for the leather your handbag has been crafted from.
Abstain from using any water on vegetable tanned bags as they will go from rich to dull when exposed to moisture. Always check the label for manufacturer's warning or wash instructions. Never spray cleaning solutions directly on your purse, leather cleaning is tricky and can leave stains or embed stains further in the material. So spray some solution on a towel and then further use it to for further cleaning.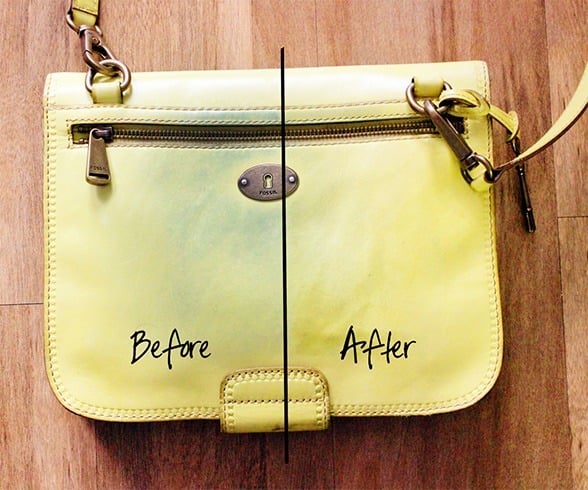 [sc:mediad]
5. Storing Of Leather Bags
In the context of DIY clean leather bag tutorials outlined above, heeding some practical tips will ensure that your suede purses, handbags, cases, and totes stays clean and durable.
Store all your leather goods in a cupboard, away from direct sunlight. Ideally store them in breathable fabric covers when not in use, this helps prevent growth of mildew and bacteria when stored for long.
Always fully stuff your handbag when storing, it helps them retain their shape. If your handbags come with dust bags – use them when storing the purse. They are not just meant for pretty packaging but intended to keep our totes dust-free when not in use.
[Also Read: How To Preserve Expensive Leather Bag Patterns]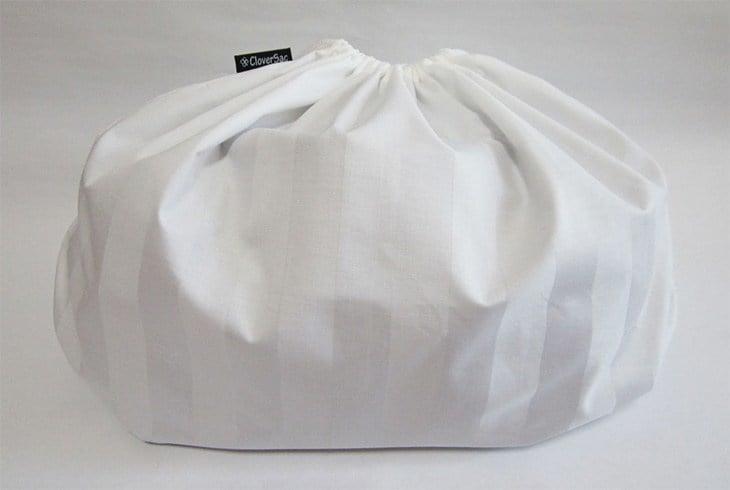 In order to maintain the texture and versatility of these leather goods guard it from any and all kinds of wear and tear. With the aforementioned DIY clean leather bag hacks you can now increase the shelf-life of your expensive leather accessories. For fashion tips stay tuned to our digital fashion magazine, better still sign for our weekly newsletter.
Images Source: pinterest