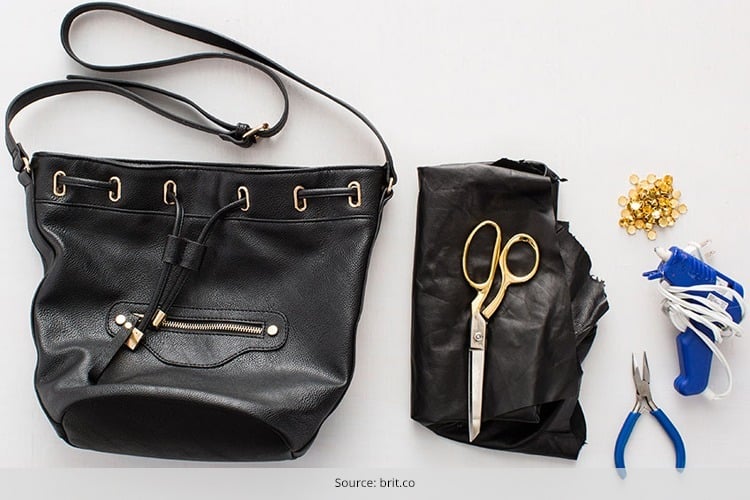 With Christmastime little more than a month away, the Yuletide spirit of revelry has already set in. One extraordinary way of making your Christmas 2015 celebrations memorable is to present leather bag gifts to friends and relatives which you can create, courtesy DIY leather bag tutorials. Abiding by the DIY fashion projects on leather outlined in the following paragraphs will help you to craft exquisite gifts that'll be regarded as memorabilia and keepsakes by recipients.
[Also Read: Stylish Leather Travel Bags for your Weekend Trip]
DIY Fashion Project
Quite significantly, you'll be able to save a considerable sum of money that you'd have blown away had you bought these gifts from a retail store. Most importantly, you'll be able to pass on the handcrafting skills to your kids who'll be really grateful to you for having imparted the same to them. So let's get started with out DIY fashion project.
1. Leather Wallet
DIY leather bag tutorials available all over the internet can help you craft your own leather accessories. Furthermore, making these wallets work out much cheaper than when you opt to buy one. These wallet clutches are ideal for holding smartphone, credit cards, passport, driving license, cash, lipsticks, and other routine essentials. Handmade items not only hold a special place in the receiver's heart and cupboard but is a valued asset with much longer shelf-life for the emotional quotient attached to it.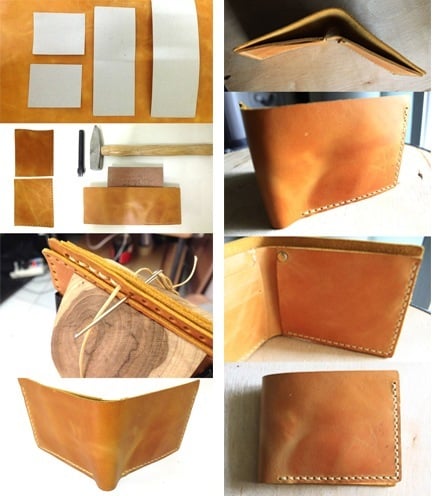 2. Leather Fringe Clutch
Fringe fashion trend has made a comeback and that too with a bang. Of all learn to sew leather handbag patterns you'd love to experiment with the fringe clutch project as they are easy to make and add a bohemian style quotient to carrier's personality. A clutch with long and flowing leather accents accentuates a trendy outfit by several notches as the picture below clearly demonstrates. In order to produce a clutch with leather fringes, you'll essentially need leather sheets, leather cords or strings, multi-hole puncher, scissors and voila! You can attach fringes to any purse with the given DIY leather bag tutorial.
[Also Read: Leather Briefcase Bag]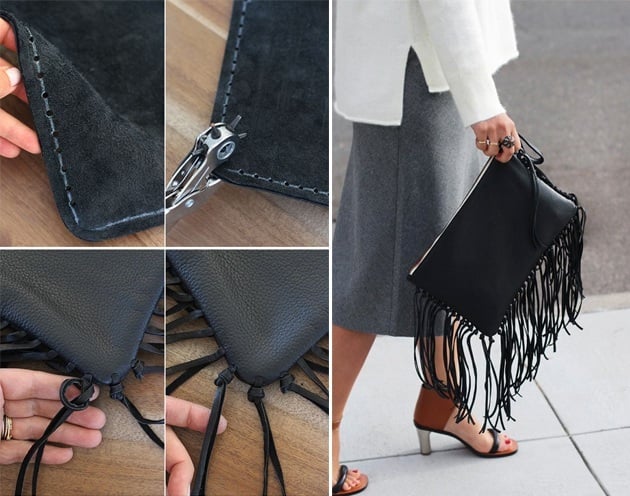 3. Sunglass Case
Sunglasses are more prone to wear and tear owing to the active and outdoor lifestyle they are subjected to. Nothing is worse than finding your sunglasses scratched or broken when left unattended without a case. A hard case offers perfect protection to your favourite eyeglasses but its bulkiness might not allow you to carry it easily. But a case made of soft leather is not only comfortable to carry but also ensures that your spectacles doesn't break or gets scratches. You can make a case for your eyeglasses from old leather stuffs lying stashed in your cupboard or scraps from your worn out bag, leather seaters etc.
[Also Read: Facts While Shopping for Sunglasses]
4. Cuir Sac
Simple sac like leather bags for toting your laptop and other essentials can be easily crafted at home. This diy fashion project can be created from any worn out leather upholstery material or scrap leather pieces. Easy handmade sewing pattern and modest shape make it one of the easiest leather needlework project. Hard-wearing and durable cuir sac pattern leather bags are ideal choice for field outings and carrying books, files etc. Elongated bucket like shape of this leather bag makes it a favoured DIY project with leather that is in need of upcycling or repurposing.
[sc:mediad]
5. Wrap Clutch Bag
Pick up some leather remnants from your old scraps or leftovers from your sofa or chair covers. Sew a simple wrap clutch that can be crafted in minutes. Unlike fabric, leather does not sway so you may not hem the edges or line the interiors. The soft, luxurious feel of the leather feels just so good to hold, what better than making this expensive accessory in an economical package at home. Some leather remnants, matching threads, leather needle and sewing machine is all you need to get your very own wrap clutch ready in minutes. Take a small, thin strap – loop it and tuck it to wrap your clutch bag.
[Also Read: Cross Body Leather Bags]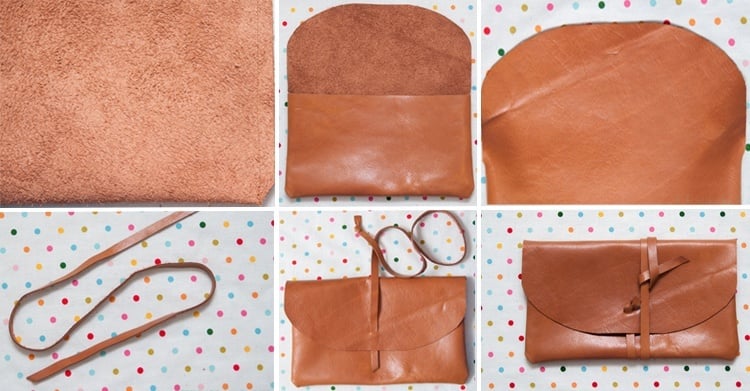 6. IPad Case
All of us love our gizmo and gadgets, most of us have drooled over them and many of us have shelled out a good amount to get one. So why not keep our beloved ipad safe and well protected, without investing more on expensive covers. Sew your own leather ipad case that will complement your personality and make your gadget look nice. Give it a minimalist chic design or elaborate it with embellishments and adornments the way you like, but the basic suede covering remains the same. You can create the ipad case using a single piece of leather and use a string for closing it with a loop.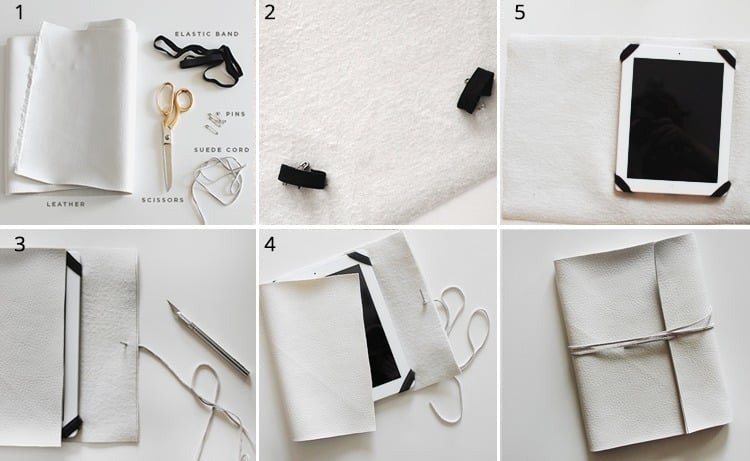 7. Tote Bags
You'll definitely find the seventh and last in the list, DIY leather bag tutorial on tote bags immensely handy as this type of handbag is capacious enough to hold a range of items. Depending upon the size, form factor, nos. of compartments, handbag accents, texture, and other essential design features, you can easily source the staples or raw materials. If you want to make a tote bag that exactly resembles a branded carryall, consult a leather products designer or couturier for practical guidelines. Use a good quality sewing machine for stitching together the components in a manner that'll make the DIY tote incredibly durable.
[Also Read: Tod's Wave Bag Is In Vogue This Season! Especially While Travelling!]
Now that you know how to make leather bags gifts from worn out remnants and old scraps, you can sew ample of leather handbag patterns to be gifted on special occasions to loved ones. This trending fashion trend of handmade gift items from soft suede and rich leather not only makes a useful addition to the guests wardrobe but also makes for a great memorabilia to be shared on special occasions.