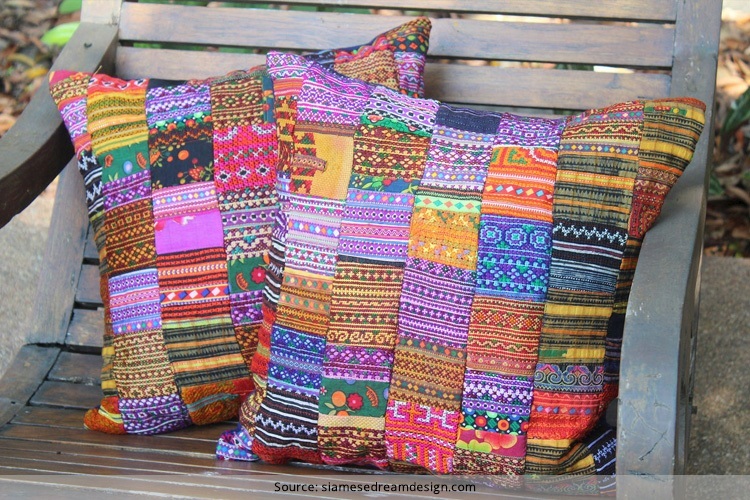 There are many a times when the fabric wears out but the embroidery still looks good, so neither can you throw it nor can you use it. Or maybe you have many lace bits, vintage embroidery pieces or old hand embroidered table cloths of which few patches are in good condition so you regret to throw them out. Then save them! We at FashionLady get you some great hacks on how to repurpose, reuse and recycle old needlework art that is still new.
HOW TO REPURPOSE FABRIC USING EMBROIDERED PATCHES
Fabric Buttons
Although the clothes are worn-out, the memories associated with them are close to our hearts, so why not give them makeover. Do you get sick in the stomach at throwing out lovely embroidered designs with stained linens, upholstery and tablecloths? Then why not save them, better still, upcycle them in unique creative ways.
Cut the much loved embroidery patterns, sew them on fabric scraps that you've been stashing in your closet. Take a bunch of buttons from button-making craft kit, cut the fabric a tad bit larger than the button and work your way with the tools given in the kit. Trim the edges and voila, your crafted piece of embellishment is ready to be used.
Now use this upcycled embroidery in your scrap books, felt flowers, kid's jacket, re-fashioned bags, hats and more! It is a great idea to use embroidered patch and also give a new lease of life to this traditional art.
Patchwork Upholstery
Wondering how to repurpose fabric that have been long kept unused and stashed in your closet? Sentimental fabrics (ones that hold emotional value), leftover scraps from crafts or collected embroidered and ethnic fabrics that could not be put to best use. You can't chuck them nor get them to any work. At FashionLady we will share with you tips on how to repurpose fabric junk treasure.
[Also Read: Embroidery Stitches]
Patch them all together to create a heart-warming fresh feel in your ambience. Rooted in craft traditions, speaking of cultures and communicating sentiments these fabrics when sewn together can add a dash of charm to your interiors. Cut them in different shapes, sew them in abstract format and stitch them together. You can also add a touch of creative machine embroidery like a figurine design on top – it will not only add grandiose but also enhance the overall aesthetics of the creation. Now use these fabric art pieces to make cushion covers, revamp sofa sets, make quilts and more.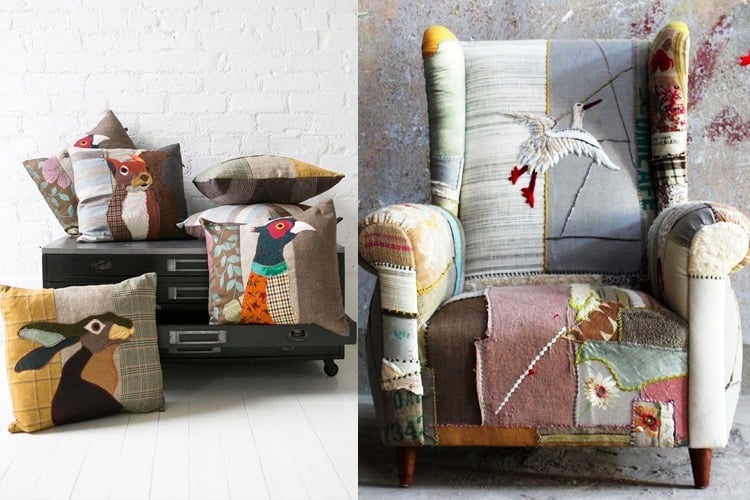 Wall Display
Got a collection of embroidery motifs sewn on stained or worn out fabrics or maybe snippets of hand embroidered vintage linens? Can't discard them for the traditional art and beautiful patterns they hold? Let us fish through some ideas for old embroidery preservation.
Well, they sure can't be used anymore for the purpose they were meant for, i.e., as tablecloths, upholstery, covers or other home decorating solutions. So why not flaunt the traditional art and beautify your walls while you conserve them! There are several ways to do it.
For beginners, take a snow-white linen, sew in all these embroidered patches onto the fabric, dye all the artwork white and use it as covers or runners – enhancing the aesthetic beauty of your home. Else, you can place them together and embroider the edges together with beautiful embroidered pattern covering the gap between two patches. Get it framed, sealed with glass sheet and hanged on wall for others to awe. Hoops are another brilliant idea to showcase the vintage collection and beautiful needlework craft designs. Group half-a-dozen of these in assorted manner and let every onlooker admire the art.
[Also Read: Tips For Hand Embroidery Designs]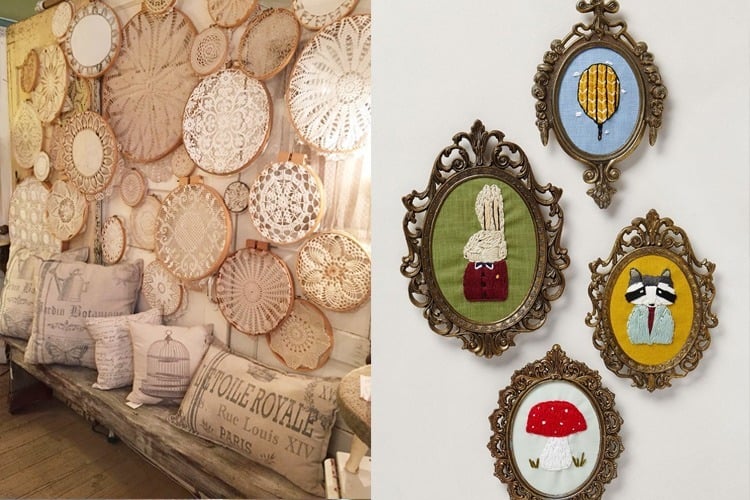 [sc:mediad]
Notebook Cover
Give your notebooks and journals an artistic touch with needlework craft. Machine stitched embroidered jackets for books can make them look quite sophisticated and enticing. Preserve embroidered bits by sewing them on removable covers that fit standard sized notebooks or use snippets from vintage linens patched together to cover journals. These can be gifted on holidays to loved ones or kept as memorabilia to jot your personal notes. A journal, notebook or a sketchbook should speak your personality, give it a life of its own. Alternately you can also give your gadgets a touch of ethnicity with custom needlework crafted sleeves. Sew patched embroidery snippets to make laptop sleeves or tablet covers.
[Also Read: Embroidery Stitches]
Now with these ideas for old stuffs you will never have to waste those lovely embroidery patterns or vintage linen treasures. Easy, simple, cheap and quick ways to quirk up your personal space, these ideas to use embroidered patch can bring a new lease of life and repurpose old items effectively. If you have more ideas up your sleeve, don't forget to share with other readers – upload pictures and procedures in the comments section given below.