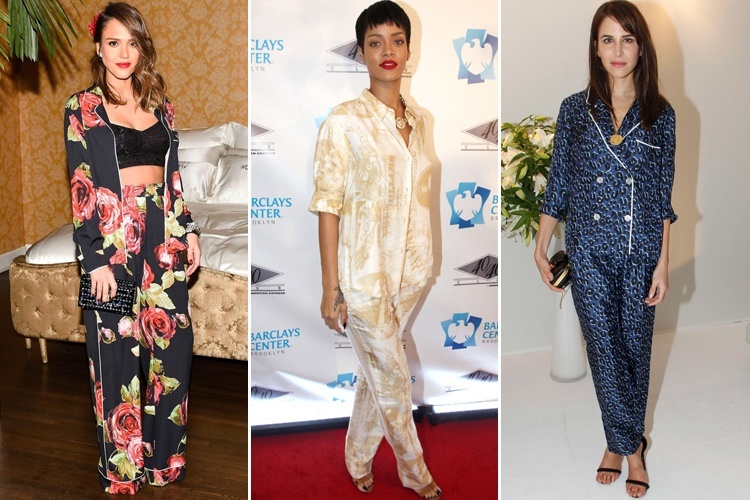 By now, most of us are used to waking up to the morning alarm. While there is coffee and tea waiting for us (move over you nasty milk), there is a new runway trend that would attract the girl crowd every minute. pajamas for women, cutie pie as I would call it.
The Pajamas Trend
It all started with silk pajamas and drawstring elastics. The next season it was a lacy affair when it came to womens pajamas. This was followed by pretty camisoles and slip dresses. Designers have taken the pajamas trend to a new level for spring, with full pajama sets and robes, piped pajama shirts, pretty night time chemises, and little lace things. So much so that it has become socially acceptable to wear pjs in public. Plus there is a new thrill in wearing your pajamas outside of the house!
I have rounded up pajama dressing trend which will help you shop the lovely silk and cotton pairs of girls pajamas as daywear and nightwear for women.
Tracing Pajamas From Ancient Times To Present
The word 'pajama' finds linkage to the Persian word 'payjama' which means leg garment. The English people used to wear pajamas in the summers since they were made of light weight material.
Until the late 1800s, Americans were in a habit to wear a long shirt to bed. It was in the 1920s, when fashion hit the U.S. that people started to wear pajamas in the cold season since the pajamas were made of heavier materials such as wool and flannel.
Pajamas are usually made of cotton, silk, linen. There are footie pajamas too that are worn in winters.
Hollywood Celebrities Loving Pajamas
Pajamas for women is the most wearable and most adorable trend which is nothing less than a runway statement.
Coco Chanel made pajama dressing a fashion statement hundred years back. And the pajama look is still fresh going by the Spring Summer 2017 runway show.
Givenchy used sensual silk and lace to elegant proportions in Pajamas, while Valentino silk pajamas have stayed in memory since last fall. Let's check out few international celebs who have made pjs an uber cool statement.
[Also Read: Menswear For Women]
1. Rihanna
She has the guts to bring bed wear to the streets. And look how Rihanna's pajama party ideas are anything but boring.
For three different occasions, Rihanna wore a silk robe, silk pajamas (short-sleeved), and a blue coloured waist-tied pajama set.
2. Selena Gomez
She made a splash with her street style looks in pajamas. And the best part is Selena Gomez's cute pajamas came in just over $200. Did you know that Selena is singlehandedly responsible for making Pajamas an acceptable daytime look? All you need are strappy heels and a red pout to glam things up.
[Also Read:  Selena Gomez Fashion Trends, Teens & College Goers Could Emulate]
3. Heidi Klum
Looking flawless came natural to Heidi who sported a pyjama set and flip flops in public.
4. Cameron Diaz
For the premiere of her film Sex Tape, Cameron was spotted in silk bedroom wear.
5. Rashida Jones
Gracing the red carpet, Rashida sported her navy pajamas with simple looking pumps and an envelope clutch.
[sc:mediad]
Pajama Types
Pick your pjs to your heart's content with the wide range of womens pajamas.
1. Maternity Pajamas
Moms-to-be get most comfort with maternity pajamas that will make motherhood look so very cool.
2. Christmas Pajamas
Play your game well in part sporty and part sexy christmas pajamas which would be a nice way to celebrate Santa festival.
3. Onesie Pajamas
Perfect for lounging around the house, onesie pajamas give you grips on the feet, so there is no fear of slipping around.
4. Knit Pajamas
Slip into these menswear-inspired pjs that come in ultra-comfy stretch-knit fabric along with contrasting piping.
Drop in a line on how you found pajamas for women as the new age fashion staple for ladies. Like? Love?