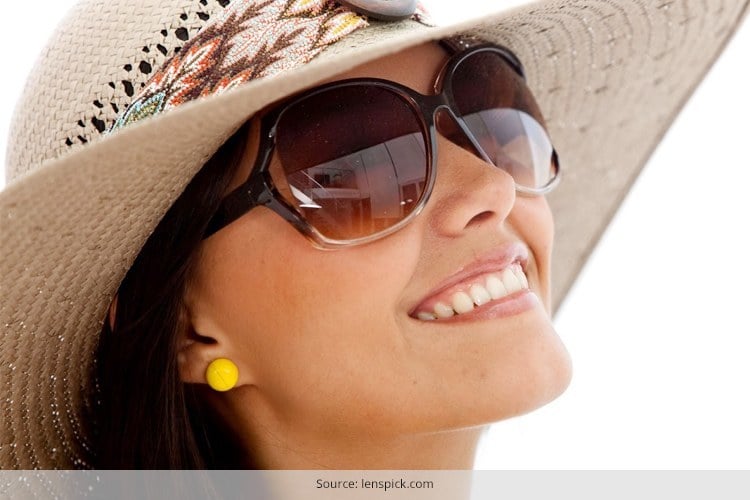 Let's face it. Buying a pair of sunglasses is no easy task. Add its compatibility to professional wear and it becomes, even more, difficult.
A humble pair of sunnies has the ability to elevate any look and lend an uber cool demeanor to even your professional garbs. A great pair of sunglasses that goes well with a tailored pant-suit or a crisp cotton shirt never goes out of fashion.
Round face female may find it difficult to select a pair of professional eyewear that compliments their face shape as well as their outfits. Compiled here is the list of sunglasses styles for a professional outfit that suits the contemporary women. Classics or the contemporary trends we have your eyes covered.
[Also Read: Trendy Oval face Sunglasses]
Rules to follow while buying sunglasses for professionals
Snug Fit:  Every face type is different.  Round glasses which look great on the oval face doesn't go too well with round face shape. A great pair of sunglasses complements the shape of your face is comfy and snug fit.
Arms:  While buying a pair of sunglasses; always pay attention to the temples. Otherwise great looking sunglasses have thin temples that can easily break.  Always look at the temples, the arms on the sunglasses that rest on your ears.
Color:  Color of the lens of your sunglasses is one of the most important factors to consider while buying sunglasses.  Light colored sunglasses are good to be worn with formal wear. Black, brown and tortoise-shell glasses look best with professional outfits
[sc:mediad]
Purpose: keeping in mind the purpose you should select the shades.  Are you going to pair them with a blazer? Or with semi-casual attire? With casual wear?  This is the first step in deciding a frame.  A formal frame looks good with your professional outfit and is slightly heavy on the pocket. Avoid pairing your wrap or sporty glasses with a formal dress or a blazer.
[Also Read: Retro Sunglasses For Round Face]
Style: Lastly, the most important factor – style.  Do you want some retro vibe? Or maybe classic is more like your thing, like wayfarers and aviators? Whatever your style is, there is a sunglass suiting it.
Understanding Round Face
A round face is same in length and width, giving it a rounded effect
The forehead in case of round face shape is curved at the hairline
Rounded face shape people generally have high cheekbones
Round Face Sunglasses Style That Will Flatter You
Tortoiseshell wayfarers
They are extremely glamorous and have been worn by some of the most glamorous stars in Hollywood. Its mixture of round bottom and angular tops, balance out the roundness of a face and has an androgynous vibe to it. It is timelessly classic and can be worn with a well-tailored blazer or a pant-suit. It is the most versatile round face sunglasses style that can be even worn dressed down.
[Also Read: Points To Consider Before Buying Sunglasses]
Cat's Eye Sunglasses
Give a retro vibe to your outfit with vintage cats' eye sunglasses. They are extremely glamorous and give your outfit a bold definition. Switch things up in bold red, electric blue, and classy black. Its upswept style sets off the roundness of the face. Wear them with a beautiful A-line skirt or a sleek long kurta and cigarette pants to create a professional style that is on fleek.
[Also Read: Mercury Sunglasses]
Oversized Square Sunglasses
The opposite is the key when it comes to face shape game. Angular frames look good on round face since they break the roundness of the frame. You can pair these oversized square sunglasses with a formal sheath dress and stilettos
[Also Read: Reading Glasses]
So, take a clue from our guide on face shapes and round face sunglasses style, and choose a pair wisely.