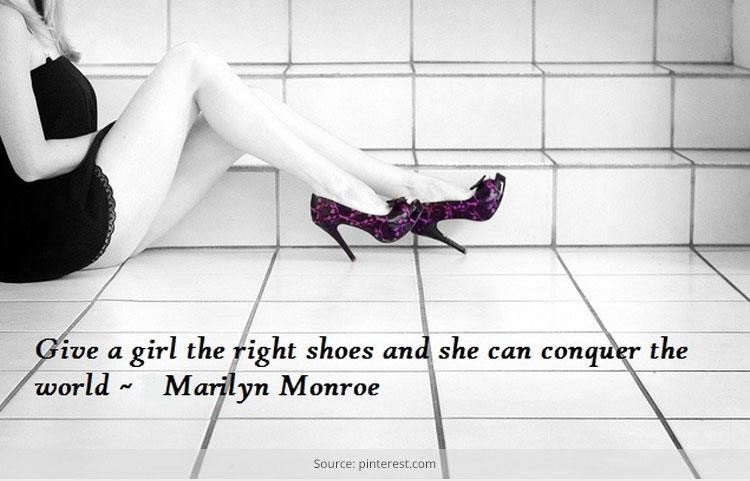 On popular demand, I'm back with a post on shoe care. In this edition, I'll share with you my experience and some hot tips to care for anything from leather to suede.
So rightly put! Marilyn used to blend feminism with fashion like no other.
Since footwear is such an essential accessory, every woman should know how to take care of shoes.
I have inherited my mother's feet and I'm in quest for right pair of shoes fitting my cute little feel till the hell freezes over.
With busy metro life, where we hardly get time to spend with family, I always make it a point to go shopping for shoes with my mom. Actually, this is our very own mother-daughter bonding time, making every bargain we do at the flea market or every new stuff we check-out in shopping malls meaningful and special.
Whenever I stumble upon any splendid yet ritzy pair, my mom warns me that I should buy them only if I can maintain them.
This is perhaps common with every other girl – we just get allured by their beauty and stack them in our wardrobe and months later, we just discover them while searching for something else. And by then, those expensive pairs would be in no wearable condition.
I have learnt from my mistakes and urge all my readers to start caring their shoes the moment they leave the box.
Here are 6 hot tips I've picked from my mom to help you keep your shoes in good condition for years to come. Read on!
1. The first thing you can do is to add an anti-slip (sole protector) adhesive sole to your heels. This not only adds years to your heels' life but renders grip to your soles, mostly on carpeted flooring.
[sc:mediad]
2. Always make sure you never slip in your dirty feet into your shoes. It always irritates me to find the inner lining of my stilettos with imprints of my toes and arch.
3. It may sound boorish, but most ladies have sweaty feet. If you quite often put on leather footwear then it becomes important to let your leather heels breathe. It's better to wear socks with leather shoes.
4. During rainy season, it's quite natural to drench your shoes. Just out your wet shoes elevated on a shoe rack and let them dry naturally before you put them inside.
5. Never store your footwear in hot places. Heat spoils leather and dries out suede and exotic skins, thereby making it prone to cracks.
6. Try storing your shoes in closet stuffed with tissue paper, newspapers or shoe trees. By this, you can ensure your shoes to maintain their shape.
Here are some added tips. Have a look!