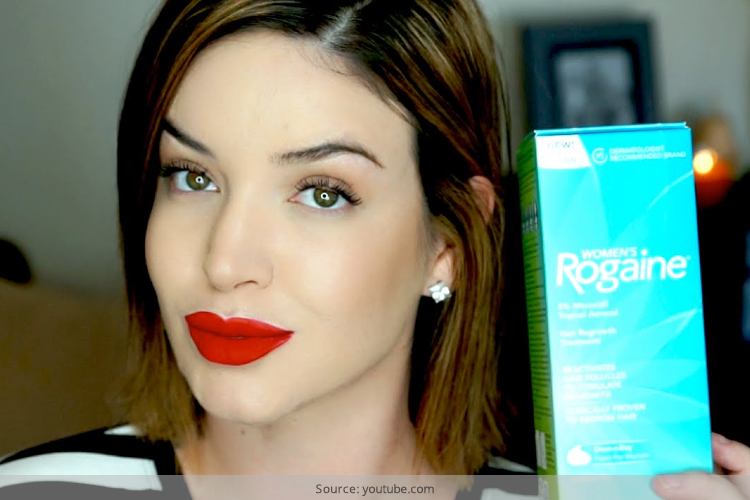 When you come across a product that you absolutely love and it seems all godly and miraculous to you, it might be a good idea to have a back ground check done on the pros the cons related to the product. Trust us when we tell you this, it might be life-saving at times.
[Also Read: Rosehip Oil For Skin & Hair Care]
In the same light, though you might find a lot of positive rogaine foam reviews on the internet today, it is best that you consult with dermatologist before taking the plunge yourself. What might work for your friend does not necessarily have to work for you. For that fact, it might not even be safe for you. So a doctor's consultation is important before you start using Rogaine just based on the rogaine for women reviews.
On a generalized basis, Rogaine has been associated with side effects and you might want to have a look at them before even thinking of consulting your doctor regarding the product.
Side effects of rogaine
Basically, Rogaine minoxidil is a topical treatment and does not affect your hormone levels in any way however, there are other possible minoxidil side effects that you need to be aware of.
These are a few side effects that may or may not have been caused by using Rogaine directly, but in any case, you should immediately get yourself checked by a doctor in case you experience any of these given below:
[sc:mediad]
1. A Change In The Texture Or Color Of The Hair
When you visit the Rogaine website, you will find that slight discoloration of the hair in the initial phases of Rogaine is said to be treated as normal working of the product. But, if you continue to observe changes in the color and texture of your hair, it is advisable that you walk yourself to a hair specialist immediately.
2. Dry Or Flaky Or Itchy Scalp
This is yet another side effect that is attribute to a myriad of products that a girl uses but if you observe such a thing when whilst using Rogaine rush yourself to a doctor. This side effect from using Rogaine is essentially more common with the 2% solution of Women's Rogaine since it contains propylene glycol, a known irritant in comparison to the later introduced 5% foam Rogaine which does not contain propylene glycol.
3. Initial Increase In Hair Shedding
Time and again it has been stated that the initial effects of using Rogaine can be quite alarming since many users experience an increase in hair loss in the initial phases when they start using Rogaine for the first time but that's really nothing to be worried about since the Rogaine's manufacturers themselves and hundreds of other Rogaine reviewers on the internet point out to this as normal and temporary. They say this hair loss happens because the minoxidil in Rogaine prompts the beginning of a new growth cycle and the lost hairs, that is, the 'old' hairs make way for the new hair growth. This extra shedding should only bother you for about 2 weeks or so. Speak to your hair doctor if this goes beyond 3 weeks.
4. Rapid Heartbeat And Chest Pain
Another side effect associated with the use of Rogaine is the increase in the user's Heart rate and cause chest pain. It has been stated after extensive research that Edema, salt and water retention, pericardial effusion, tamponade, pericarditis, tachycardia, and angina have been related with the use of minoxidil extensively. Patients with underlying heart diseases may be at increased risk for these or other cardiovascular adverse effects if they continue using Rogaine even after experiencing the side effects.
[Also Read: Side Effects Of Amla Juice]
But, the good news is rarely, cardiovascular side effects have included chest pain, edema or any blood pressure changes, palpitations, and changes in pulse rate has been associated with minoxidil topical therapy.
5. Dizziness, Light-Headedness
Headache, dizziness, faintness, and in some cases light-headedness have been reported with minoxidil topical solution and consulting a doctor immediately might be a good idea if you experience these side effects.
6. Weight Gain
Surprisingly, the use of Rogaine has also been related to Weight gain issues. Do visit a doctor if you are excessively gaining whilst on a Rogaine cycle.
7. Swelling Of Stomach, Face, Ankles or Hands
Talking statistically, nonspecific allergic reactions, allergic rhinitis, facial swelling, hives and sensitivity to minoxidil topical solution have been reported, but rarely.
We repeat, you should speak to your doctor immediately if you experience these symptoms
[Also Read: Biggest Hair Care Mistakes]
Having said that, let us talk about an extreme yet rare side effects associate with rogaine results.
Rogaine Makes you Grow a Beard
Unbelievably, this is quite a common concern among people who are potential users of Rogaine and sadly, there are some reported cases of hair appearing in the facial region and other parts of the body. This side effect may be caused essentially due to not properly washing the hands after using the product and therefore transferring it to some other parts of the body.
Rogaine Gives you Aging Symptoms
In very rare cases women have claimed to have experienced
Dark circles under the eyes
Enlarged pores
Premature wrinkles
Sagging skin
puffiness
Nasolabial folds
Loss of fat from the face
Premature aging
Scientific study say that minoxidil has a negative impact on collagen production causing aging symptoms in some women.
Though these side effects are both concerning and intriguing, it is unlikely that they are all caused by Rogaine since there is no published clinical research into a direct relationship between the use of minoxidil topical solutions and these side effects. There could be various reasons for these side effects.