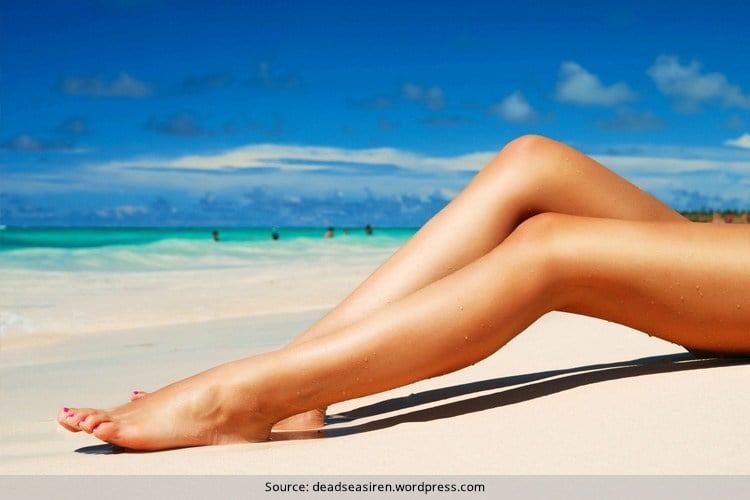 It's the season of warm temps, and cool drinks. While you are busy preparing your summer wardrobe – chic looking capris, sunglasses and summer-friendly footwear, makeup and clothes, what are you doing about your legs?
[Also Read: How to Get Better Legs]
Yes, me knows you can't make your legs longer, but you can certainly make them look softer, smoother, and tanned. Or else how would you slip into your minis. But first you need to check out the complexion of your legs. How deadly smooth they are or not and what all they need for your leg confidence to come back.
Here's How To Get Smooth Legs
Look positive as I take you on a beauty trip of how to take care of legs in summer. The formula to get smooth legs is simple. It just needs you to be punctual in exercising it.
1. Exfoliate
The first step to getting Summer Ready Legs is exfoliation. Yes, your legs need to be exfoliated in order to remove dead skin cells.
Asking which is a good quality exfoliator? Try out AHAVA Dead Sea Water Mineral Body Exfoliator. It cleans, exfoliates, hydrates and renews leg skin with red seaweed granules and mineral-blessed Dead Sea minerals.
2. Moisturise
Just like your face, even your legs need proper hydration. In order to get smooth legs, go for Orico Superico Omega Rich Body Oil which you can apply after your shower is over. So that it can sink into your skin and dry out quickly.
3. Tone
Your skin needs proper toning, whether it's of your face or legs. Hence, using body firming serums to tighten your legs becomes important. Pick Soap & Glory Super Sit Tight Intense XS Special Super-Strength Body Firming Serum. It not only aims to smoothen out bumpy areas on your legs using pressure-sensitive microsphere technology, it also reduces puffiness to a great extent, thereby giving you summer ready legs.
4. Shave
Yet another component of how to take care of legs in summer is shaving. You can go ahead and buy Venus & Olay Sugarberry Scent Razor (a product of Olay and Gillette) which moisturises your skin as you shave. The other option is to go for a good quality razor such as Veet EasyWax Electrical Roll On Kit which is easy to use since it needs no temperature regulation.
[Also Read: Types of Razors For Women]
5. Level
When you have a beach date coming up, swimsuit is a fashion must. But for the cellulite which becomes the biggest enemy when it comes to flaunting upper thighs, what do you do?
Vichy CelluDestock Intensive Treatment helps you come out of the fear. Just massage this cream into your skin on a daily basis and see dimples on your thighs get reduced.
6. Smooth
Stretch marks are the ugliest sight on the legs. In order to overcome it, apply Celtrixa Intensive Stretch Mark Treatment which fades stretch marks by about 66%. It is a good technique of how to take care of legs skin.
7. Colour Dab
How about looking bronzy on your legs? To get that effect, dab Jergens Natural Glow 3 Days to Glow Moisturizer. It creates such a colour difference on your legs that you will be amazed for sure.
8. Protect
You can't hide your legs under a full body swimsuit, can you? It's time to apply sunscreen on your legs. Use Suntegrity Natural Mineral Sunscreen For Body, Broad Spectrum SPF 30
on your legs in order to give them a natural and well-protected look.
[Also Read: Sunscreen For Different Skin Types]
9. Highlight
Now that you done the most in getting Summer Ready Legs, it's time to step out. But before that apply the shimmering Victoria's Secret Instant Bronzing Shimmer Dry Oil to get that natural looking sheen on your legs that will help hide imperfections in the sunlight, if any.
[sc:mediad]
10. Soothe
Should you be basking in the sun for long, give your exposed legs the benefit of after-sun serum. Use Yes To Cucumbers Natural After-Sun Serum (With Shimmer). It's a mixture of sea kelp, aloe and green tea that calms down sunburnt skin.
Now that you have noted down tips on how to take care of legs in summer, go ahead and flaunt your sexy and shapely legs.