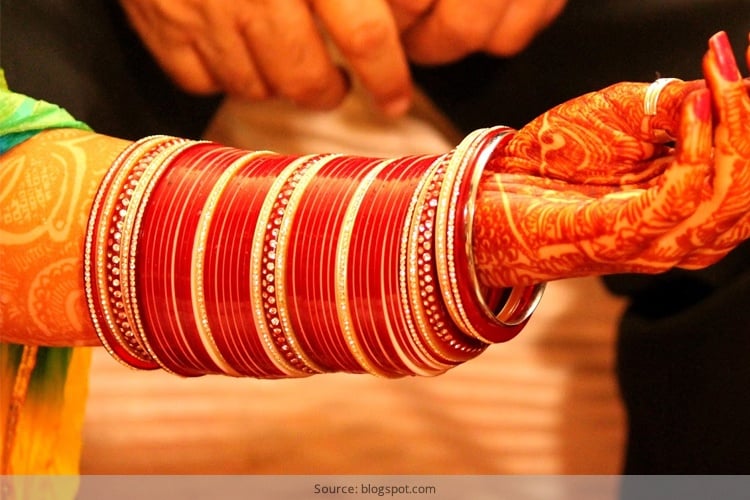 Amongst the many chic statement bridal jewelry pieces worn at weddings, the Indian chura holds great importance. New-age brides aren't overwhelmed by the Indian chura, and hence choose from very classy touches to the vintage glitzy glam ones to wear on D-Day too. Churas and bangles are basic embellishments that a bride cannot do without. From the rokas to the mehendis, sangeets to the wedding and the reception too, you would find bangles and the Indian chura, making its presence felt.
Bridal Bangles For Indian Brides
[Also Read: Different Types Of Bangles Worn By Indian Married Women]
Some brides opt for silver ones, some opt for glass, some opt for traditional bridal bracelets, and some look for various touches on them, such as beads and rhinestones, crystals and shimmer glitter too. Hence, quite an impressive range of bridal churas and wedding bangles to choose from if you ask us.
Let's Look At Some Wedding Bangles For Brides
For The Mehendi Session
Instead of investing in precious golds and silvers for the mehendi, brides these days opt for scintillating red glass bangles. It is a conventional wedding color and matches up with just about any outfit you wear, bringing on a vibrancy so delicate and nice. Most wedding bangles made from glass have amazing intricate designs on them, and embellishments quite opulent to the eyes to say so.
For The Sangeet
The sangeet ceremony is one where the bride would want to dazzle and shine a little more than she did at the mehendi. And this is why one could opt for tantalizing rhinestone bangles to match up with the sangeet haute wear chosen. One can wear them with any Indian wear, and in any color tone too, and still have a fabulous juxtaposition of the adornments thereof.
For The Bachelorette Party
If you are planning to go all desi for the bachelorette, and want more color to be thrown in, colorful glass bangles of chunky Indian bracelets can be the best statement pieces to wear and flaunt. They come in various impressive designs and styles, with intricate karigari done on them and sensational elegant as they are, they create a stir with whatever you wear as well.
For The Wedding
Apart from the gold bangles and wedding accessories that form part and parcel of the solah shringar, bridal jewelry can have some multicolor rhinestone bangles to charm the onlookers at the wedding reception too. Amidst all things traditional, one can even have a touch of modish in the look, which evocates loveliness for sure when worn with multicolor wedding sarees or lehengas.
[Also Read: How to Reuse Bridal Jewelry]
Pearls On Bangles
Indian churas and wedding bangles these days have excellent work done on them. Some with pearls and crystals too, and you could choose one that matches your style and personality along with your outfit as well. Think about the glimmer and sheen of white pearls, and the magic that they create when caringly interwoven with the look of the bride- priceless! Quite vintage is the touch for sure, if you are wearing lace gowns or lehengas for the wedding, pearls to add as an accessory does justice.
[sc:mediad]
Full On Sparkle
We know how blingy and flashy Indian bridal jewelry can be, and full-on sparkle is the name of the game with most Indian brides as well. From glamorous wedding gowns to figure hugging mermaid lehengas, cocktail sarees worn at wedding receptions to trails of lace and net or sheer from wedding salwars as well, the Indian bride knows what she wants to dress up as at her own wedding. However, to create a very dramatic red carpet look, opting for diamonds on wedding bangles makes sense!
Don't Over Accessorize
In a bid to wear them all, or to follow traditions, most Indian brides make the mistake with over accessorizing. And if you tell them not to over accessorize, also mention that they shouldn't under accessorize as well. Lace and heavily embellished wedding bridal wear or heavily embroidered bridal lehengas should be complimented with light bridal jewelry at the wedding. The Indian chura is a heavy statement piece, which shouldn't be worn with heavily embellished gowns and lehengas. But if you have to do so, wear it without too many wedding bangles on your arms and forearms.
Get in touch with a stylist before you wedding and seek help if need be wearing the wedding chura along with the solah shringar!