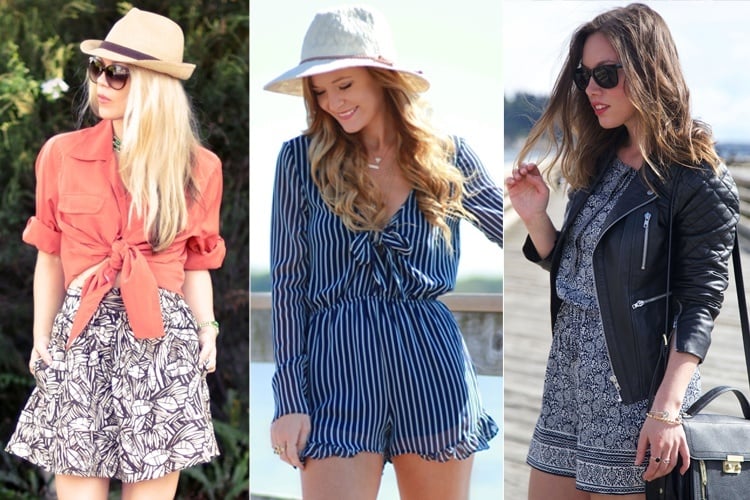 With the season of summer, donning a romper, or what you may be more familiar with as jumpsuit, is simply perfect. What makes them so ideal? Well, they are facile to wear and need hardly any upkeep (because you needn't wear them with anything else!). What's even better is that they can be conveniently paired up with nearly everything and create a brilliant style statement! So if you're wondering 'Can I wear a romper?'. The answer is – Yes, of course!
What Is A Romper?
A one-piece garment with short-like bottoms is called a romper. They are usually loose-fitting which makes it the perfect outfit for the scorching summers.
Different Types Of Rompers
There are different types of rompers that you can choose from in terms of length, design, colors, style, etc. You can opt for halter neck rompers to sleeveless rompers to spaghetti straps rompers to denim rompers.
In this post we have listed down some great ideas on how to wear a romper and how you can style your rompers by adding a thing or two. So take a look and pick out your favorite romper style.
What To Wear With a Romper?
Although, they don't really need to match up with anything, but you could spawn a new appeal by teaming your romper up with other piece of clothing. So what to wear with a romper? Here are some fashion tips on
How To Wear A Romper
1. The Blazer Ensemble
For the chic look team up your romper with a blazer. The blazer should be of a light pastel hue. This ensemble will even work if your jumpsuit has a floral or geometric pattern on it. For a professional winter vestment put on some tights and ankle boots as well. Finish the getup with some alluring accessories.
[Also Read: What To Wear Under A Blazer?]
2. The Denim Ensemble
Team up a denim vest or denim jacket with your romper. You could accessorize with a statement necklace or some simple accessories and just slip in to some wedges. An offhand yet sophisticated attire!
3. The Leather Ensemble
Pair your leather jacket with a tender romper for a nice amalgam. It looks super stylish and gives a defining bold look. If you own a light coloured leather vest instead, just out that on over a floral jumpsuit for a fresh garb. Add on a statement necklace to furnish the apparel.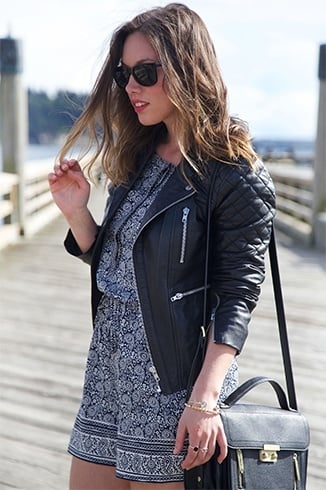 4. The Kimono Ensemble
Have a gracefully printed kimono? Don it on top of your jump suit. Jump in to some gladiators or strappy sandals and don't forget to wear your shades. A light summer outfit perfect for a day of travel.
[Also Read: The Kimono – Fashion Hit for the Indian Summer]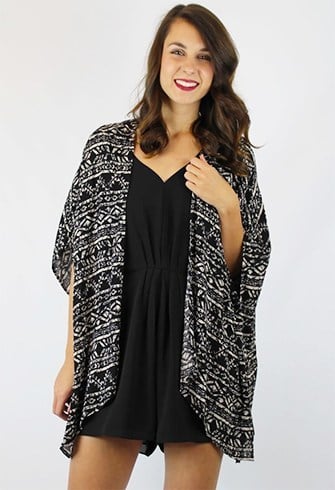 5. The Sweater Ensemble
For the chillier days a sweater or cardigan with your romper is a great combo. Bedeck a pair of tights and slip into some flats. This is the perfect vestment for the spring and autumn seasons.
[sc:mediad]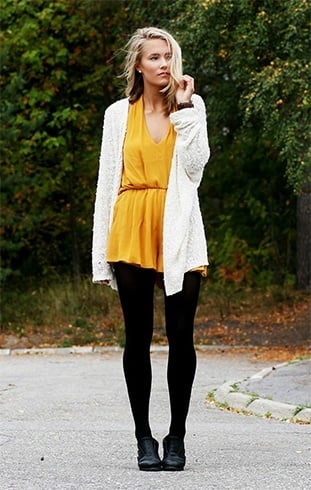 6. The Button-down Shirt Ensemble
For a more laid back demeanor, select out light flowy button down shirt and wear it with your romper. Just leave the buttons open to give a laid back aura. The shirt could even be patterned.
[Also Read: Pajamas For Women]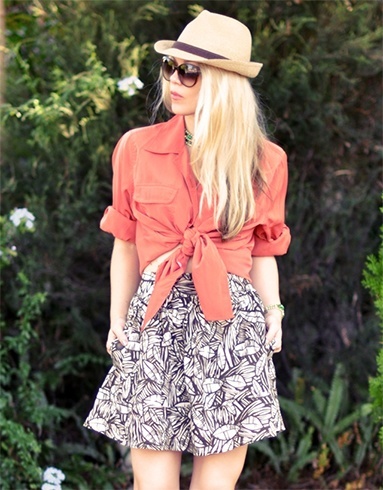 7. The Belted Ensemble
Show off your body curves by belting up your jump suit at the waist. Brilliant way to shape up your body and make your romper look even better than it already does. On top of this you can wear any of the listed piece of clothing!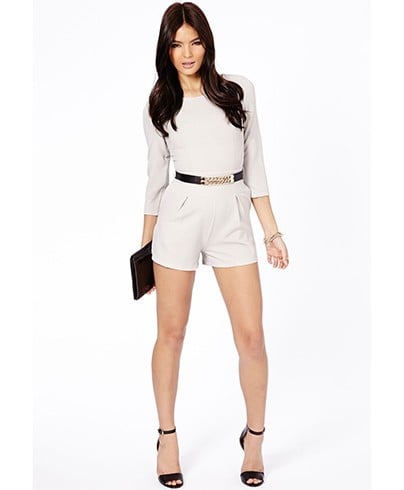 8. The Hoodie Ensemble
For a very laid back ensemble select a comfy hoodie and pull it over your romper. Put on a statement necklace or some minimal accessories, grab a bag pack and slip into some sneakers. You're good to go!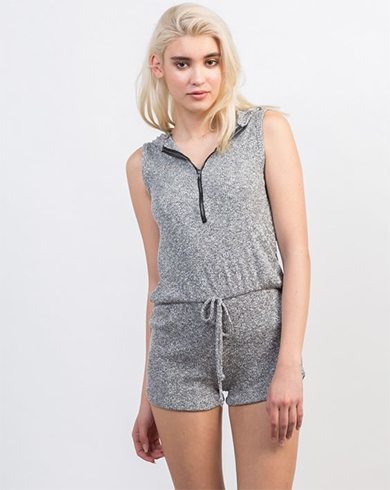 9. The Scarf Ensemble
For a sleek look for the bleak days don your romper with a scarf. Complete the garb by accessorizing to the minimal and jumping in to some ankle or combat boots. A brilliant autumn or spring getup.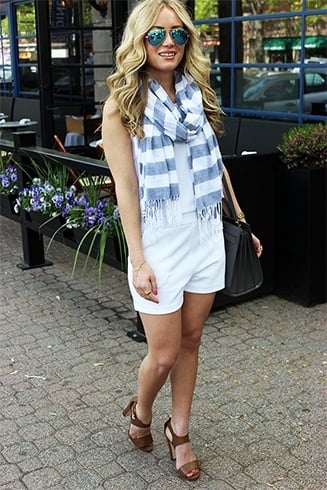 10. The Hat Ensemble
For a more of a boho sorts attire why not enrobe socks that comes all the way up to your thighs along with platform shoes and a wide hat? Or you could transform this in to a beachy look with just a pair of flip flops and a hat. Or just grab a fedora hat and slip in to some wedges. There are many hats to choose from!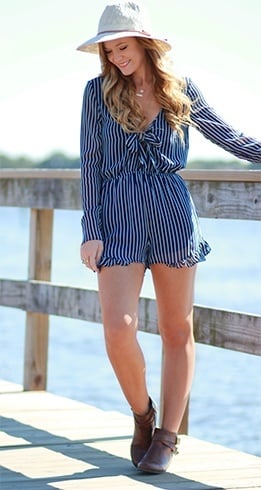 11. The Flower Crown Ensemble
Wearing a flower crown with a white romper is another great way to give off some cool boho vibes. Rompers and flowers are the best way to enjoy your summer evenings.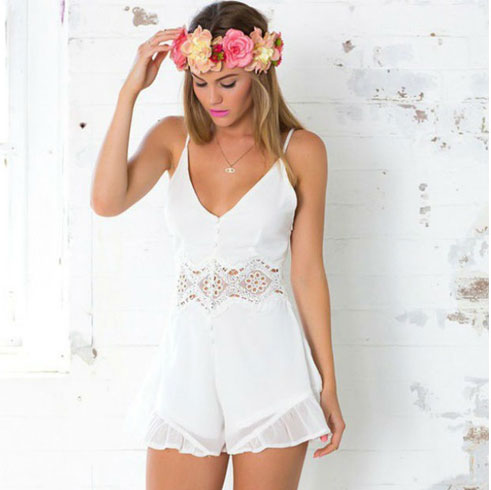 12. The Combat Boots Ensemble
Have a sexy black romper that you are dying to wear? Well, am sure you would have thought to pair it with some sexy heels but give those heels a rest and instead wear it with your combat boots for a rocker chick look.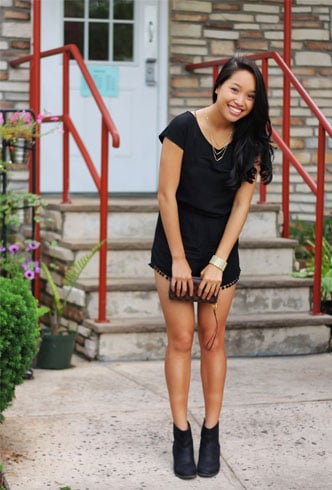 13. The Printed Shoes Ensemble
One of the best ways to grab attention while wearing long pant rompers is to wear a gorgeous pair of printed shoes.

14. The Denim Ensemble
Denims are an all time favorite and a denim romper is a must have in your summer wardrobe. There are loads of different denim rompers to choose from and you will be definitely spoilt for choices.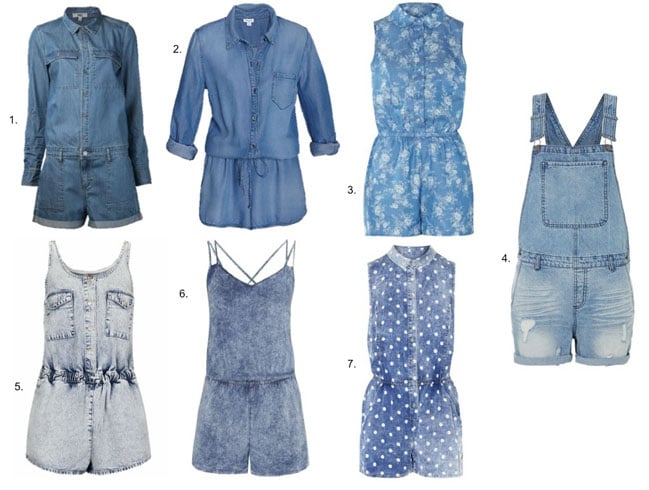 15. The Statement Necklace Ensemble
One of the best ways to style an all black romper outfit is to just wear a statement necklace which is sure to make all the heads turn towards to you.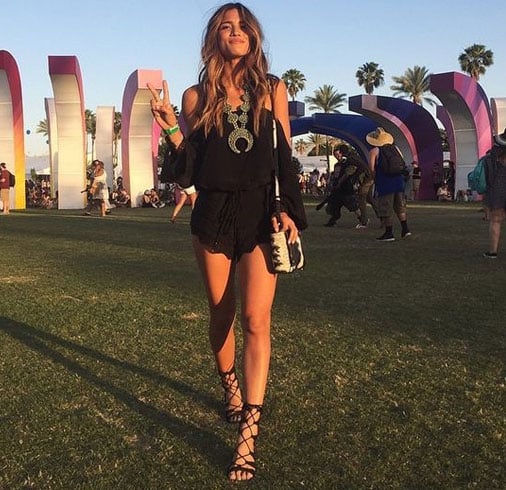 16. The Sneakers Ensemble
Drive away your Monday blues by wearing your navy blue romper with a cool pair of white sneakers.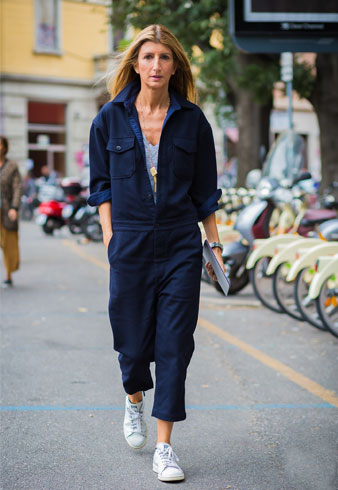 17. The Gladiator Sandals Ensemble
Gladiator sandals are one of the best footwear styles to wear with your vute romper outfits. Take a look at the below image and you will know what we are talking about.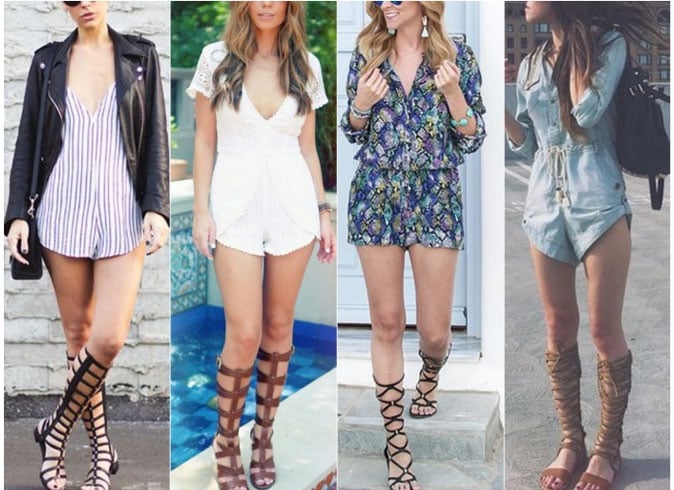 18. The Metallic Romper Ensemble
Hit the party scene with this cool metallic romper. The bright shine of your outfit eliminates the need for any other accessories.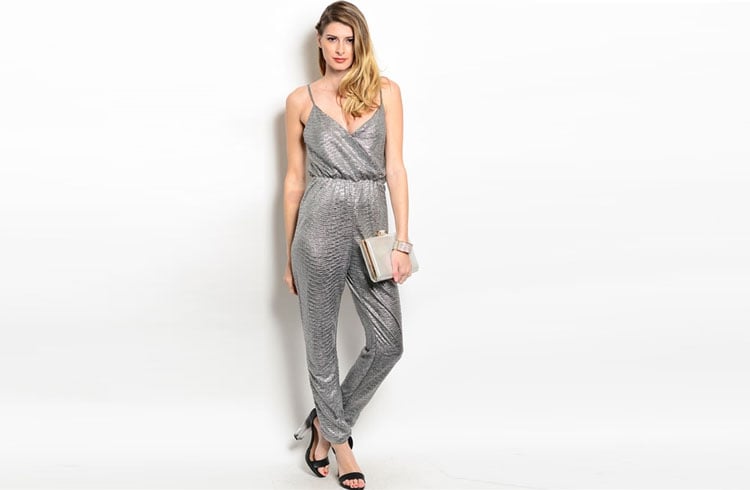 19. The Strapless Romper Ensemble
Let those summer temperature sore up as you step out in a gorgeous strapless romper. You really don't need any accessories to go with it. Wear it to the beach or to the mall, just be ready for all the appreciative glances towards you.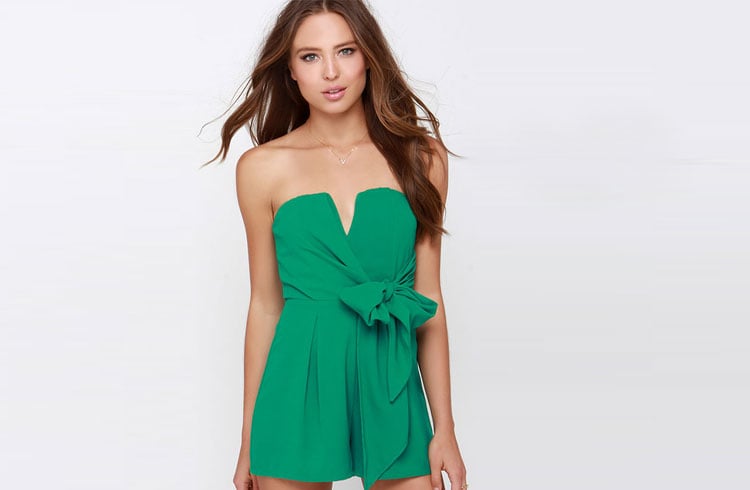 20. The Floral Romper Ensemble
While wearing a floral long sleeve romper, make sure you carry along a matching handbag.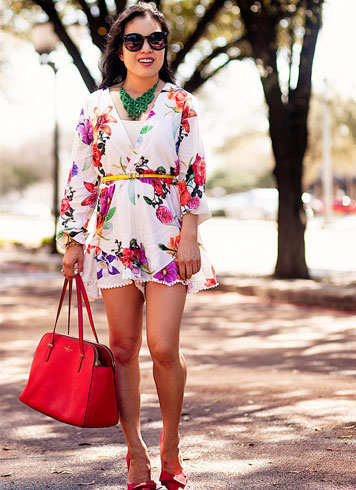 So those were a few of the best ways to wear a romper. You can try on alternatives for the various occasions. Like, why not bedeck a flower crown for a charming appeal. Sometimes all that's needed to stand out is a; large statement necklace or printed bellies. In fact, sometimes a bold defining or intricately patterned romper is all that's needed!
Just be careful to select out and purchase rompers that are fitting properly. Don't choose an immensely breezy one or it might look like you're wearing pajamas. Also too tight, just won't give a proper jump suit look. Pick out one that just fits right and is breezy but gives you a flaunting silhouette.
Apart from that rompers are really easy to mix and match up with! So go get styling.
Images Source: pinterest.com, upbeatsoles.com